For lunch or dinner, America's favorite sandwich is topped off with a piece of cheese and then enjoyed by millions and celebrated each year on September 18 as it is National Cheeseburger Day.
There are many theories to the beginning of the cheeseburger dating back to the 1920′s. One story suggests that Lionel Sternberger is reputed to have invented the cheeseburger in 1926 while working at his father's Pasadena, California sandwich shop, "The Rite Spot". During an experiment, he dropped a slice of American cheese on a sizzling hamburger.
To celebrate National Cheeseburger Day, gather some friends together, start up your barbecue grills, grill some hamburger patties, add your favorite cheese, then enjoy! Or… enjoy one of these "tried and true" cheeseburger recipes, as well as some innovative variations:
Happy Cheeseburger Day! 🙂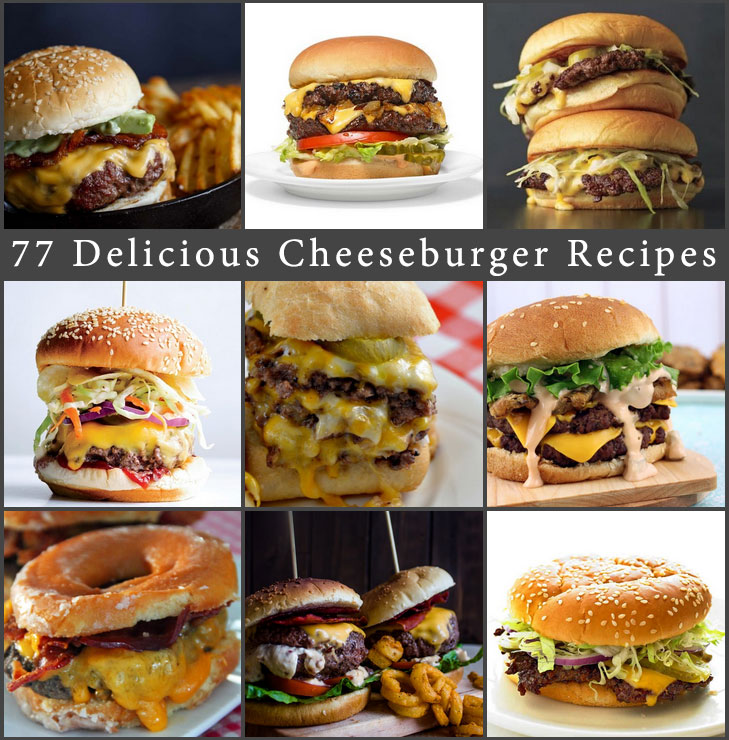 Old-Fashioned Cheeseburgers
To grill the burgers, simply roll the patties slightly thicker (3/8 inch) and grill over medium-high heat, 2 minutes per side.

Homemade Mc Donald's Old-School Cheeseburger Copycat
This recipe will teach you how to make the world famous McDonald's cheeseburger at home!

Stuffed Jalapeno Popper Bacon Cheeseburger
Jalapeno poppers are great. Burgers are too. But stuffing a bacon cheeseburger with the flavors of jalapeno poppers is simply pure bliss. Meet the Stuffed Jalapeno Popper Bacon Cheeseburger with Avocado-Jalpeno Ranch Dressing.

The Ultimate Bacon Cheeseburger
The ultimate bacon cheeseburger with beef cooked in bacon fat, a bacon fat mayonnaise, onions caramelized in bacon fat, buns toasted in bacon fat, and a crisp bacon weave topping.

Cheeseburgers with Sautéed Mushrooms, Arugula and Dijon Aioli
You can even wrap the leftovers in foil, stuck them in the fridge, then reheat them at 300 degrees for a few minutes before eating. Still incredible.

Bacon Chipotle Stuffed Cheeseburger
So what's a stuffed burger you ask… well it's a big burger stuffed with all types of fillings and when you bite into it the filling melts in your mouth. This burger is stuffed with a chipotle bacon mixture which is surprisingly quick and easy to make!

In-N-Out Cheeseburger
A copy-cat version of the popular cheeseburgers from In-N-Out!

The Best Cheeseburger You Will Ever Eat
If you'll follow the recipes here carefully for the cheeseburgers and the secret sauce you'll find yourself with the best tasting cheeseburger that you'll ever taste in your life.

Donut Bacon Cheeseburger
This is crazy good. Each bite is a taste explosion of sweet – savory – cheesy – bacon-ness.
You need this in your face.

Copycat Steak n' Shake Garlic Cheeseburger
Have you tried the Steak n' Shake Double Garlic Cheeseburger yet? Oh my goodness. It is definitely one of the best cheeseburgers I have ever had. This is a copycat version that you can do at home.

Fried Pickle Double Cheeseburgers with Big Mac Sauce
Double cheeseburgers topped with beer-battered fried pickles and homemade special sauce for a play on big macs.

Chile-Stuffed Cheeseburger
The gooey filling for these juicy burgers was inspired by the Mexican dip chile con queso, made with melted cheese and roasted chiles.

Bacon Cheddar Stuffed Cheeseburgers
Using only 5 ingredients (slider buns, ground beef, bacon, habanero cheddar cheese and Worcestershire sauce), this recipe is easy, tasty and spicy!

Bobby Flay's Crunch Cheeseburger
It might sound radical, but adding water to the pan makes total sense: The steam will help cook the burger through, while preserving moisture at the same time.

Perfect Grilled Cheeseburgers with Special Sauce
Chef Matt Jennings shows us how to make the perfect cheeseburger. Lay your perfectly grilled cheeseburger on the saucy bun, garnish with a piece of lettuce and a few slices of onion, and top with perfectly squishy, lightly toasted potato bun.

Jack Daniel's Bacon Cheeseburger
This burger using Jack Daniel's glaze will turn out absolutely amazing.

Philly Cheese Burger
What do you get when you take a nice thick juicy burger and add grilled onions, peppers and a beer cheese sauce? A PHENOMENAL PHILLY CHEESE BURGER that's what!

Thin Cheeseburger
Straight out of central casting: a savory, slender patty on a deliciously squishy bun.

Crockpot Cheeseburgers
These Crockpot Cheeseburgers are slow cooked in melty cheese, chopped garlic pickles, and onions. They are going to become a serious staple in your house when it's too hot out to cook, or even to grill! Serve them on nice crusty rolls, they're even great as a filling in wraps. Top them as you would a normal cheeseburger – yum!

Ultra-Smashed Cheeseburgers
Classic smashed burgers are all about maximizing that deep, brown crust. But I found myself wondering, what if I were to take this to the extreme? Is there a way I could pack even more flavor into a burger? And thus, the ultra-smashed burger was born. Same burger size, but twice the amount of crisp, browned crust.

Chicken Fajita Cheeseburger
These ground chicken burgers are stuffed with little bits of jalapeno and spicy pepperjack cheese, then topped with grilled bell peppers, onion, and your favorite fajita toppings.

The Famous Husk Cheeseburger
What's most notable about the Husk cheeseburger is the squishy bun and how wonderful it is to eat the double patty covered in gooey American cheese.

Almost-Famous Animal-Style Burgers
Delicious and filling – you must try these cheeseburgers!

Cheesy Party Burgers (AKA Diamond Burgers)
These Cheesy Party Burgers are so fun and ridiculously delicious! They're great to whip up for a crowd or to just make a weeknight dinner extraordinary. Soft, buttery dinner rolls, seasoned beef, spicy tomatoes and gooey melted cheese all in one hand-held bite. They're perfect for parties because you can make them the night before and cook them the next day.

Cheese Filled Burgers with Barbeque Ranch Dressing
So if you're looking for a great cheeseburger to try this summer this Cheese Filled Cheeseburger is it! The results are delicious with that gooey cheese surprise in the middle.

Easy Cheeseburger Sliders
Burgers are always a summertime favorite, and sliders can be even more fun. This recipe is an easy way to make a big batch of sliders for a group.

Oven Baked Cheeseburger Sliders
You can enjoy these cheeseburger sliders on a soft bun like Hawaiian rolls or soft dinner rolls, or on cute and tiny Ciabatta rolls. No matter what small roll you use, these cheeseburger sliders will make everyone want another one or two or maybe three.

Diner-Style Cheeseburger Sliders
A real slider, as served in the diners of New Jersey, is made from a scant two ounces of beef, pressed thin, cooked on a griddle on a bed of onions, with the buns steamed on top of the meat so that the vapor from the cooking onions passes from the grill, through the beef, and steams into both sides of the warming buns. It's the steam action of the cooking onions, not the size of the burger, that defines a slider. Optionally served with a slice of cheese and a slice of pickle, they're simple burger perfection; steamy pillows of onion vapor, griddled beef, and soft bun, that you can eat by the half dozen.

Oven Baked Cheeseburger Sliders
Grilling outside in hot weather is the LAST thing anyone wants to do after a long day of work! You can solve that problem by making cheeseburger sliders in the OVEN!

Crock Pot Cheeseburger Sandwiches
I love how simple this recipe is and that you can serve it up like sloppy joes or oh! along side some! This Crock Pot Cheeseburger Sandwiches recipe also easily doubles to feed a crowd. A bit reminiscent of White Castles, we like to take them up a notch by serving them up on split pretzel rolls – YUM!

Cheeseburger Minis
Your kids are going to love these mini cheeseburgers! Simply press biscuit dough into muffin-pan cups and fill with a tasty ground beef mixture and bake until golden. Top each with a slice of cheese, lettuce, ketchup and pickles for a fun and delicious twist on an American classic.

Mini Burgers
If I had to choose the ultimate party food it would definitely be this recipe. You can make them mini burgers for birthdays, New Year parties, anytime you get a chance to… Kids love them and grownups love them.

Mini Bun-less Cheeseburger Bites with Thousand Island Dip
These mini burger bites encompass all things wonderful. They're bunless so they're low carb. They're tiny so you can enjoy more per serving. They're pretty and festive for company. There's really nothing NOT to love about these burger bites.

Waffleburgers
You could just waffle some hamburger meat, slap it between two buns from a bag and call it a day.

Cheeseburger Burritos
This easy recipe combines two all-time favorites, burgers and burritos. Ready in just 20 minutes it's perfect for a quick weeknight meal or your next tailgate.

Cheeseburger Quesadillas
Cheeseburger Quesadillas are the perfect way to use up leftover ground beef. This easy dinner recipe goes from fridge to table in about 20 minutes!

Grilled Cheeseburger Wraps
Cheeseburger fixings wrapped up in a flour tortilla then grilled. These are delicious!

Cheeseburger Wraps
If you're craving a yummy hamburger, but can't fire up the grill, try these wraps… they are amazing!!! They are delicious and the kids will devour them. So even without a grill, you can still have your cheeseburgers.

Bacon Cheeseburger Pockets
These easy Bacon Cheeseburger pockets can be made in advance and frozen for when you want to cook them! They make for a fabulous Game Day recipe!
Read more at http://momsneedtoknow.com/bacon-cheeseburger-pockets-game-day-recipe/#HVLhFpH6afUt6gju.99

Bacon Cheeseburger Pizza
This Bacon Cheeseburger Pizza is a family friendly recipe that everyone will love. With a special sauce and topped with your favorite cheeseburger fixings, this pizza is sure to be a hit.

Thin Crust Bacon Cheeseburger Pizza
Your favorite cheeseburger in pizza form! Easy thin crust bacon cheeseburger pizza featuring bacon, beef, pickles and much more!

Bacon Cheeseburger Pizza Balls
Pizza balls are easy to make for dinner, quick appetizers for a party or a delicious after school snack. A pizza ball is biscuit dough wrapped around pizza toppings. Add cheese and some bacon and make Bacon Cheeseburger Pizza Balls!

Impossibly Easy Bacon Cheeseburger Balls
All the flavor of a bacon cheeseburger is packed inside these bite-size appetizers!

Cheeseburger Flatbread Melts
These little melts are so easy to throw together for a quick, simple dinner. Bubbly, chewy flatbread is topped with hamburger beef smothered in a delicious savory sauce and loaded with plenty of shredded cheddar cheese. What's not to love?

Bacon Cheeseburger Meatballs
These Bacon Cheeseburger Meatballs are so delicious!! They're quite easy to throw together, in fact, it takes as little time to make them as it does for them to be all eaten up! This will also be a great item to have at your SuperBowl party!

Bacon Cheeseburger Meatballs
Beef and bacon all wrapped up in a perfect little cheese topped meatball. The kids will go absolutely nuts over these Bacon Cheeseburger Meatballs!

Bite Size Bacon Double Cheeseburger Puffs
Bite Size Bacon Double Cheeseburger Puffs tastes just like a burger in a bite size puff. They are soft, tender and a little buttery just like a hamburger bun.Loaded with makings of our favorite burgers: beef, bacon and cheese. This recipe is a complete hit game day or any day!

Cheeseburger Turnovers
Kid-friendly and a real crowd-pleaser, Cheeseburger Turnovers are a brilliant way to serve up your family's favorite flavors – all in one savory little package. Great for movie night!

Bacon Cheeseburger Crescents
These Bacon Cheeseburger Crescents are a great tailgating snack. They have all the flavor of a bacon cheeseburger without the hassle of grilling burgers in the parking lot.

Cheeseburger Stuffed Mushrooms
You can make these stuffed mushrooms for a delicious and healthy lunch.

Cheeseburger Stuffed Zucchini Boats
Zucchini summer squash boats stuffed with deconstructed, gourmet Gouda cheeseburgers. Fresh, hearty and satisfying.

Cheeseburger Dip
Who said a Cheeseburger must be served on a bun? This Super Cheesy Cheeseburger Dip may be bun-less, but it still taste like a cheeseburger! Actually, this is really a triple cheeseburger because it uses three cheeses.

Bacon Cheeseburger Crustless Quiche
With bits of burger, pockets of cheese, and of course, bacon, everyone will be asking for a second or third slice.

Bacon Cheeseburger Shepherd's Pie
Have you ever heard of bacon cheeseburger shepherd's pie? I had not until I came across this insanely delicious recipe in a Betty Crocker cook book. At first, I couldn't believe it would taste like a cheeseburger but I am here to tell you, it does and it's delicious!

Impossibly Easy Cheeseburger Pie
Bake the magic of a cheeseburger in pie form—it's impossibly easy!

Cheeseburger Tater Tot Casserole
When you make this, be sure to serve this casserole with a vegetable such as green beans or a side salad. You have to balance this meal out and give your body something nutritious to absorb while it is enjoying the cheese, potatoes, and… the more cheese. That is the only way I could justify eating this mound of heavenly goodness.

Easy Cheeseburger Casserole
If your a cheeseburger lover this casserole is for you. It's like a big juicy cheeseburger right in a bowl.

One Pot Cheeseburger Casserole
All the flavors of a cheeseburger in cheesy pasta form made in one skillet in less than 30 minutes – even the pasta gets cooked right in the pan!

Cheeseburger Tater Tot Casserole
This recipe is perfect for a quick weeknight meal. It's extremely easy and delicious.

Cheeseburger Pie
Cheeseburger Pie is very easy and you can make it all in one dish from start to finish with your handy cast iron skillet!

Impossibly Easy Bacon Cheeseburger Pie
Ground beef combines with bacon to add a delicious flavor to this easy cheeseburger pie – perfect when you want dinner to be ready in 50 minutes.

Cheeseburger & Fries Casserole
Burger, bun and fries all in one casserole! Sure to please any cheeseburger lover and easy to prepare too. Perfect back-to-school supper.

Cheeseburger Macaroni Skillet
Skillet pasta recipes are heaven and this is the perfect cast iron skillet recipe. This Cheeseburger Macaroni Skillet Homemade Hamburger Helper is totally a one pot or one skillet meal.

Ro*Tel Cheeseburger Spaghetti
Serve this with a salad bar with some corn chips. You can chop up everything ahead of time and set out at game time.

Homemade Cheeseburger Macaroni
This is SO tasty! You can add some ketchup to it so it's more "burger" like.

One-Pot Bacon Cheeseburger Mac & Cheese
Sometimes people just want good food. Bacon. Beef. Cheese. Pasta. One pot. Few ingredients.

Cheeseburger Gnocchi
You HAVE make this new Cheeseburger Gnocchi recipe for dinner tonight! Gnocchi are pillowy soft mini potato dumplings. Send these decadent bites of heaven OVER THE TOP and simmer them with seasoned beef, spicy tomatoes, and gooey, melty cheese.

Bacon Cheeseburger Crock Pot Dip
Are you looking for a delicious cheese dip for your next party? This Bacon Cheeseburger Crock Pot Dip from Gooseberry Patch's Slow Cooking All Year 'Round is sure to please!

Cheeseburger Salad with Big Mac Dressing
Hot salads have a way of satisfying that their cold counterparts lack. They're weighted. Hefty. They stick to your ribs. And now, apparently, they taste like a loaded cheeseburger—minus the bun.

The Best Cheeseburger Soup
Pickles on cheeseburger soup? They certainly aren't required or even essential, but for me, I'm all about them.

Cheeseburger Soup
This soup is insanely delicious! Made with fresh ingredients and topped with shredded cheese, you will make it again and again!

Slow Cooker Bacon Cheeseburger Soup
An easy and hearty slow cooker soup that tastes just like your favorite bacon cheeseburger!

Slow Cooker Cheeseburger Soup
All of the amazing flavors of a classic cheeseburger wrapped up in a creamy, cheesy slow cooker soup! This is cozy comfort food you'll crave all year long!

Simple Cheeseburger Soup Made With Hashbrowns
This is a scrumptious, yet simple Cheeseburger Soup.

Bacon Cheeseburger Soup
Soup doesn't get more scrumptiously hearty than this Bacon Cheeseburger Soup! This creamy soup is loaded with aromatic herbs and vegetables, tender potatoes, ground beef and bacon. The whole family will gobble up this amazing easy-to-make soup in no time flat!

Crockpot Bacon Cheeseburger Soup
Is there anything better than a big juicy bacon cheeseburger? Your mouth just started watering a little bit….. didn't it? This soup delivers that same mouth watering taste, but in the form of an easy peasy crockpot recipe. Luckily for vegetarians, this Crockpot Bacon Cheeseburger Soup can easily be made vegetarian using soy crumbles.

Crockpot Cheeseburger Soup
Warm up after a long day with this easy and delicious Crockpot Cheeseburger Soup, made with plenty of real food ingredients. It's pure winter time comfort food that your whole family will love.