Below you will find ten delicious recipes of Buddha bowls. These have become so popular in the past few years and are really easy to prepare – you need all kinds of healthy ingredients, such as vegetables, fruits, meat, herbs…
Feeding ourselves the right way is important on so many levels, and not just for losing weight. Eating healthy foods should be our priority all the time! Many people believe that it's difficult to keep a healthy lifestyle, but the truth is that there are so many recipes that take less than 30 minutes to prepare!
Whatever you like! Scroll below to find your favorite Buddha bowl and let us know how it went.
Buddha Bowl With Spicy Mango Sauce

Ingredients: fresh mango, apple cider vinegar, coconut milk, honey, red pepper flakes, sweet potatoes or purple potatoes, broccoli, chicken, baby spinach or kale, avocado, rice (optional), extra-virgin olive oil, sea salt, chili paste. Full recipe at https://lexiscleankitchen.com/roasted-chicken-buddha-bowl-with-spicy-mango-sauce/lexiscleankitchen.com
Peanut Tofu Buddha Bowl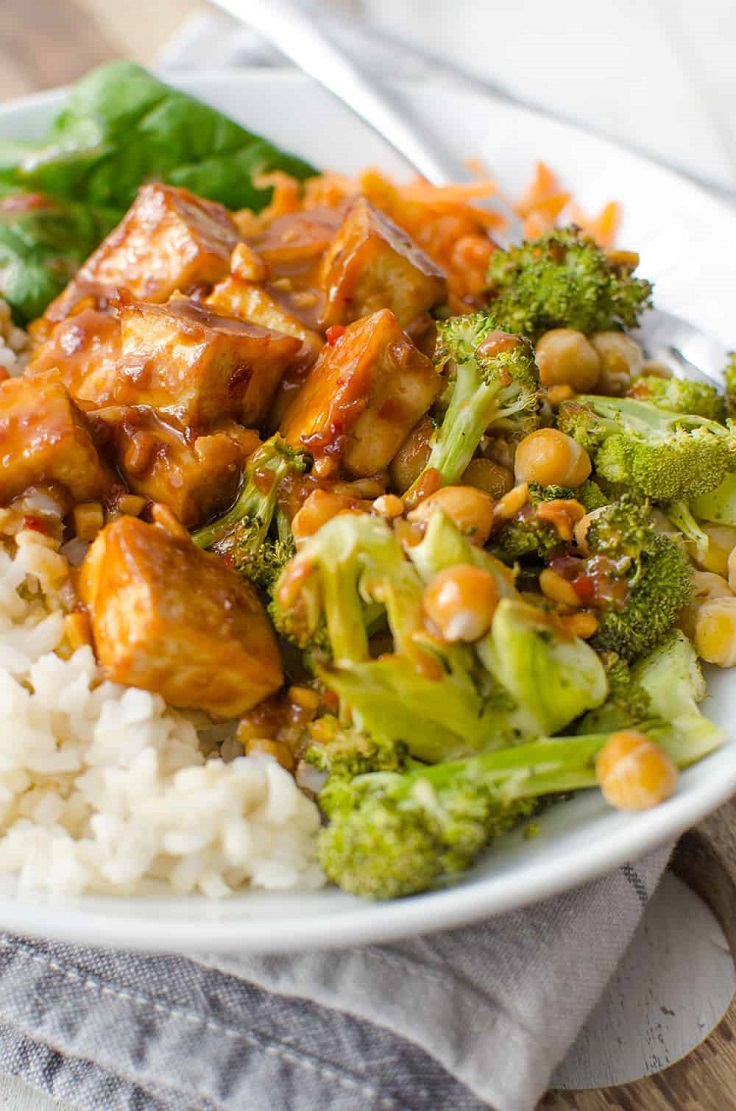 Ingredients: brown rice, carrots, spinach, broccoli, olive oil or sesame oil, chickpeas, salt, pepper, extra firm tofu, peanut sauce, low sodium soy sauce, pure maple syrup, chili garlic sauce, peanut butter. Full recipe at delishknowledge.com
Plantain Buddha Bowl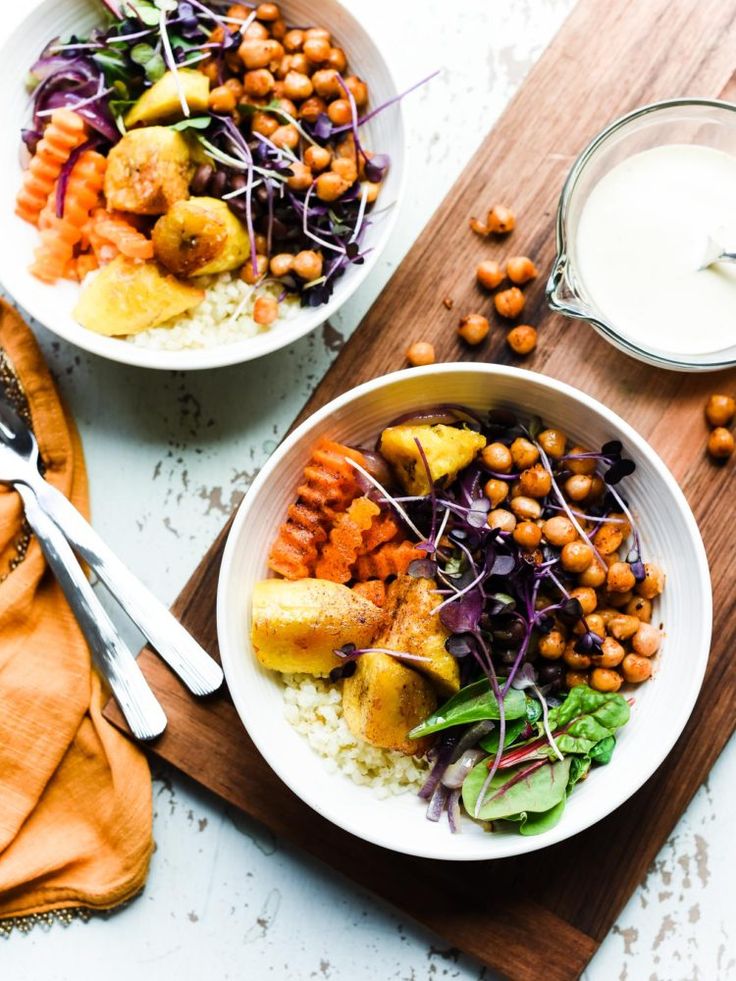 Ingredients: plantain, sweet potatoes, red onion, olive oil, brown sugar, cinnamon, salt, black pepper, chickpeas, chili powder, cauliflower, mixed greens, tahini sauce, apple cider vinegar. Full recipe at kitchenconfidante.com
Sesame Sriracha Buddha Bowl

Ingredients: black rice, curly kale, toasted sesame oil, sea salt, toasted sesame seeds, rice vinegar, low-sodium soy sauce, sriracha seasoning, grapeseed or light olive oil, edamame, tofu, seedless cucumber, avocado. Full recipe at loveandoliveoil.com
Spicy Buddha Bowl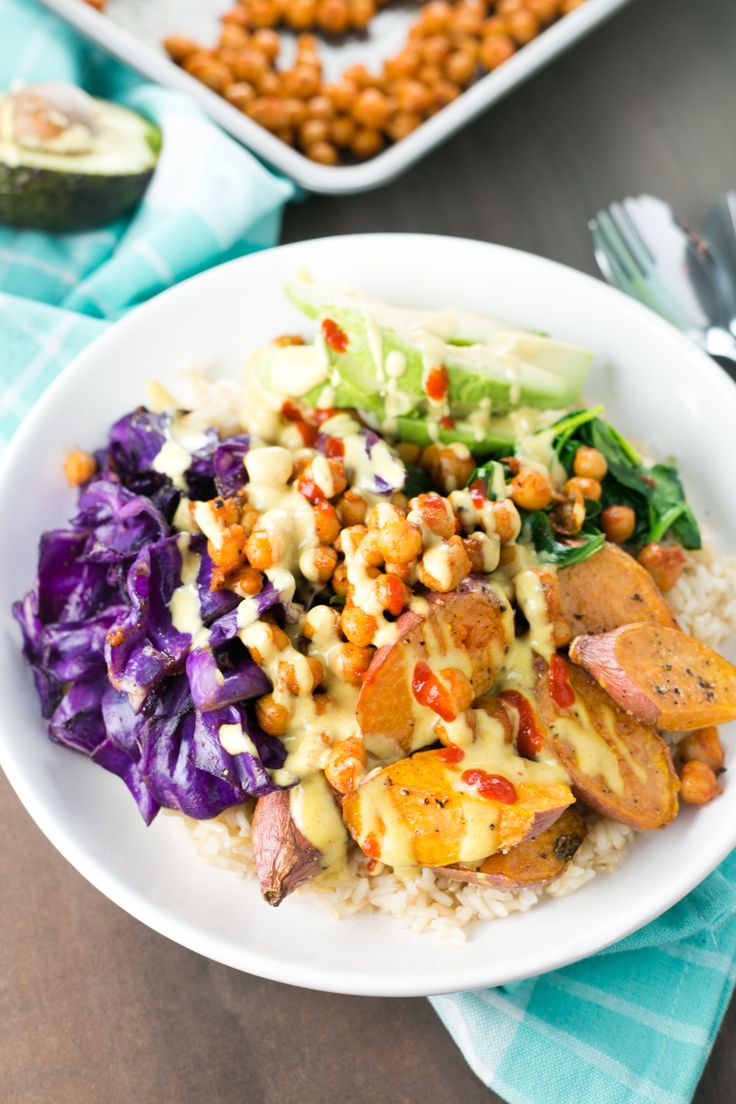 Ingredients: brown rice, sweet potato, olive oil, salt, pepper, chickpeas, sriracha, maple syrup, paprika, garlic powder, red cabbage, baby spinach, avocado, tahini, cayenne pepper, turmeric. Full recipe at crazyvegankitchen.com
Spicy Chipotle Buddha Bowl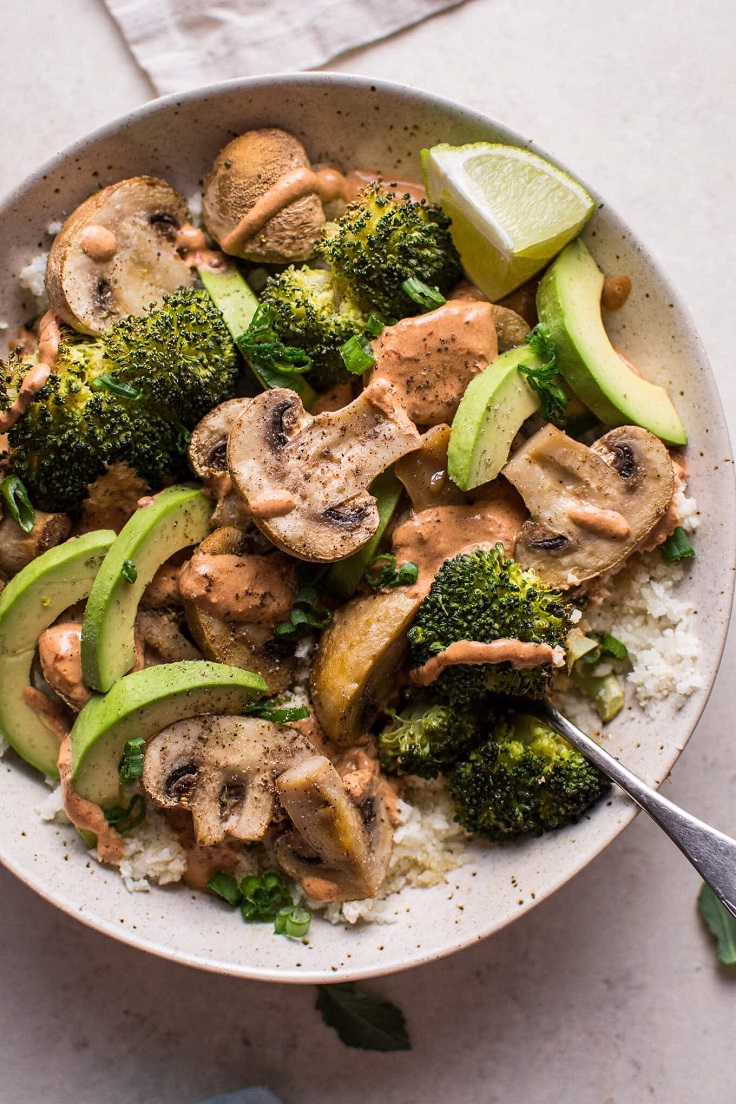 Ingredients: cauliflower, broccoli, white mushrooms, olive oil, garlic powder, salt, pepper, avocado, scallions, Greek yogurt, chipotle chili peppers in adobo sauce, lime juice, garlic. Full recipe at saltandlavender.com
Sweet Potato, Squash and Kale Buddha Bowl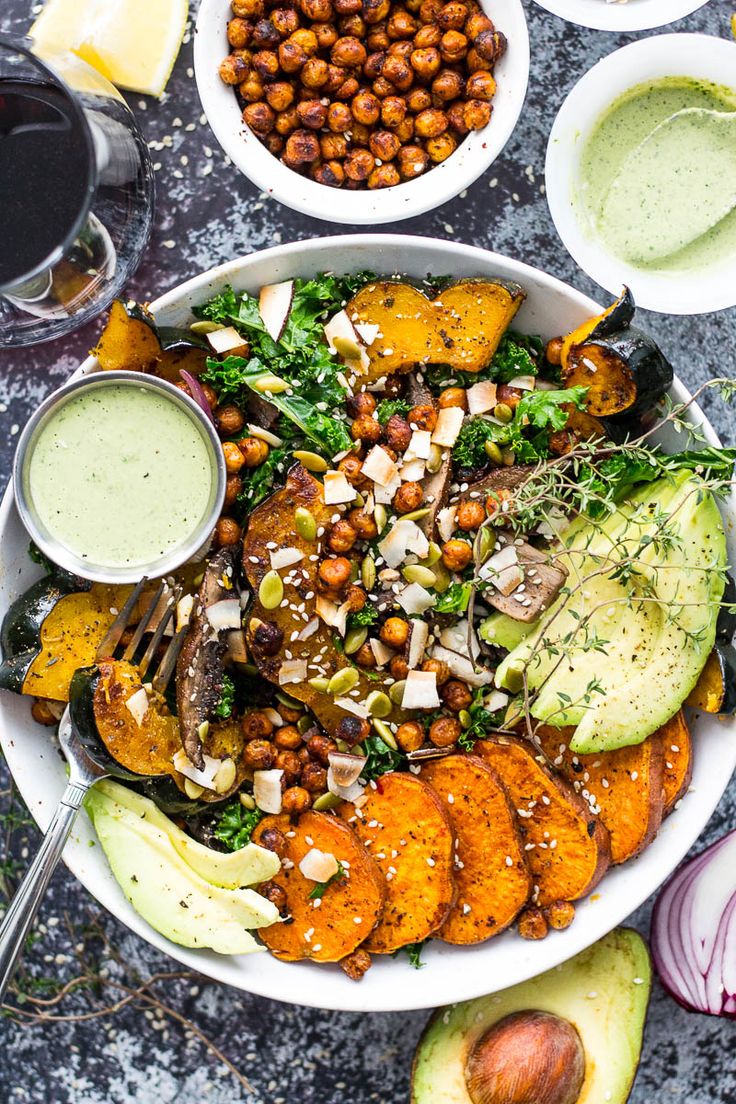 Ingredients: olive oil, sweet potato, acorn squash, Portobello mushrooms, beet, red onion, kale, chickpeas, lime juice, chili powder, garlic powder, salt, tahini, lemon juice, cilantro or parsley, garlic, sesame seeds (optional), pumpkin seeds (optional), coconut chips (optional), avocado (optional). Full recipe at thegirlonbloor.com
Tahini Marinated Chicken Buddha Bowl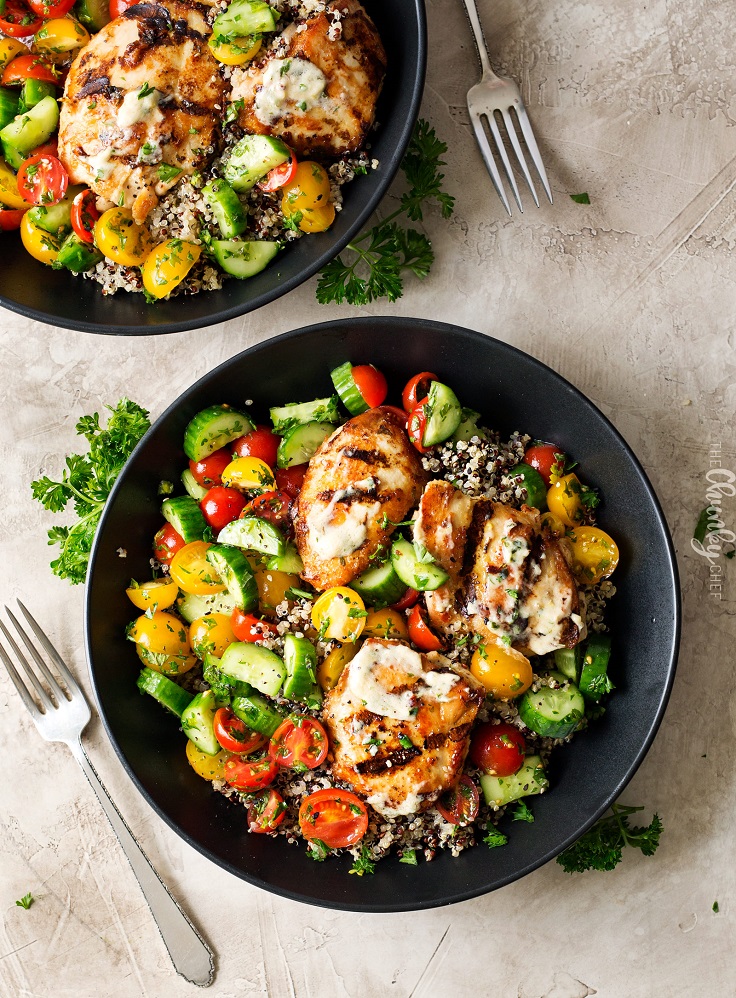 Ingredients: tahini paste, extra virgin olive oil, fresh parley, lemon juice, fresh rosemary, lemon zest, red pepper flakes, garlic, shallot, chicken thighs, salt, cucumber, cherry/gold tomatoes, fresh mint, pepper, tricolor quinoa. Full recipe at thechunkychef.com
Thai Buddha Bowl

Ingredients: jasmine or basmati rice, coconut milk, sea salt, oil, shallots, garlic, ginger, Thai red curry paste, peanut butter, soy sauce or tamari, lime juice, brown sugar, extra-firm tofu, cornstarch, carrot, red cabbage, cherry tomatoes, snow peas, mango, cilantro, peanuts. Full recipe at thestingyvegan.com
Winter Buddha Bowl

Ingredients: falafel, carrots, extra virgin olive oil, smoked paprika, salt, pepper, pearl couscous, red beet, lemon juice, tahini, garlic, parsley, kale (or other winter greens), pumpkin seeds, sesame seeds. Full recipe at wellandfull.com