Want to make a bean burger but don't know which recipe to choose? We've made a huge list with over 100 recipes for you to choose from, with the ingredients listed below each one so that you can pick the one you have the ingredients you need.
Note: not all bean burgers below are vegetarian/vegan.
With a full-on flavour and meaty texture, suitable for the grill, this fully loaded vegan burger is an absolute must at any barbecue.
Ingredients: olive oil, black beans, brown rice, onion, fennel seeds, garlic, salt, smoked paprika, panko breadcrumbs, flat-leaf parsley, red wine vinegar, golden caster sugar, silken tofu, cider vinegar, lemon juice, English mustard powder, chipotle paste, avocado, red chilli, coriander, lime, vegan or regular buns, lettuce leaves, tomato, ketchup, mustard
The best black bean burgers have a texture that's meaty, not mushy. In this recipe, you bake the canned beans for ten minutes before making the patties, which removes excess moisture. Two types of chiles—green chiles and chipotles—add the perfect amount of heat.
Ingredients: black beans, olive oil, yellow onion, garlic, green chile, salt, black pepper, panko bread crumbs, cilantro, chipotle pepper, eggs, cumin powder, ground coriander, smoked paprika, burger buns, cheese (pepper jack or cheddar), red onion, butter lettuce, tomato, dill pickles and/or banana peppers, guacamole, assorted sauces (hot sauce, ketchup, or chipotle mayo)
Continuing our series of posts on whether tasty recipes can be cooked on a tight budget. Jack Monroe shows how you can eat healthily with very little money! A delicious bean burger recipe which makes a quick and cheap dinner.
Ingredients: carrot, onion, coriander, cumin powder, red kidney beans, oil, flour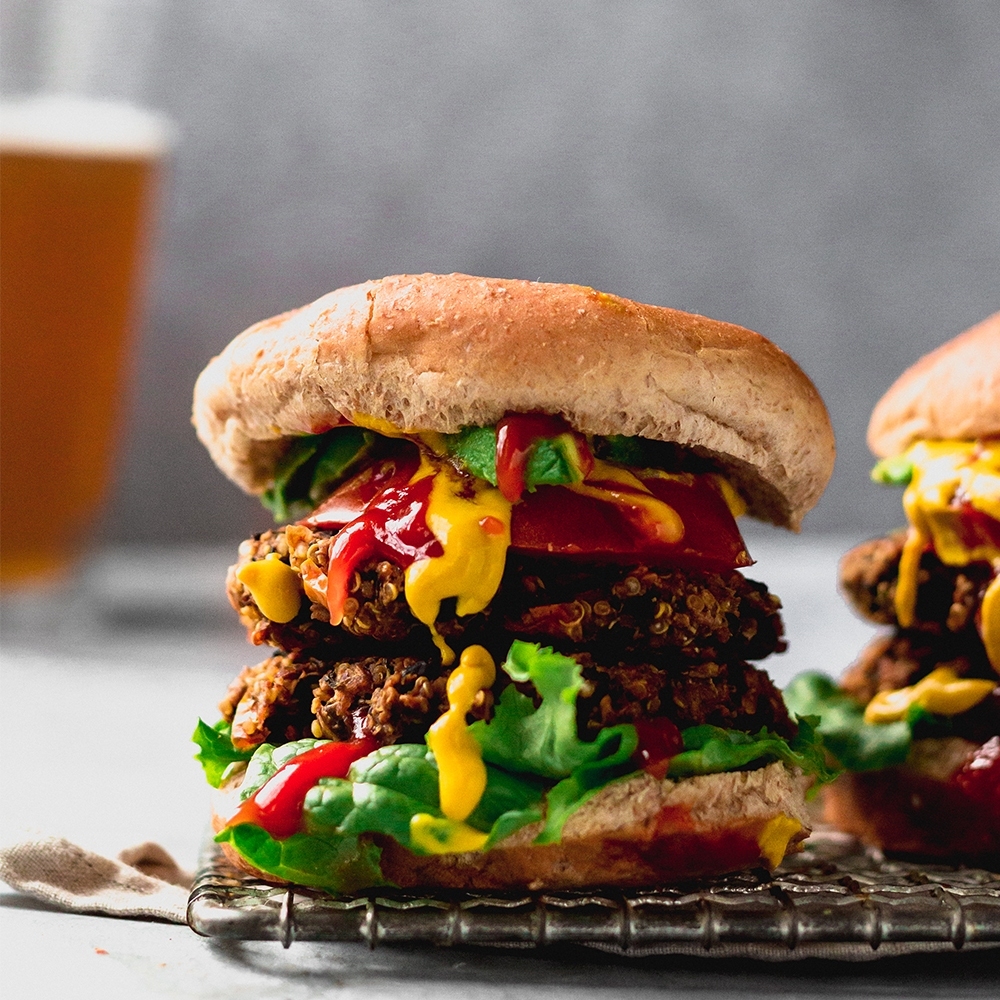 These baked Quinoa Veggie Black Bean Burgers are vegan & gluten-free, filled with plant protein, and perfect for meal prep!
Ingredients: ground flax seed, dry quinoa, oil, yellow onion, bell pepper, jalapeno pepper, garlic, spinach, black beans, salt, ground paprika, ground cumin, ground black pepper, ground cayenne pepper, oat flour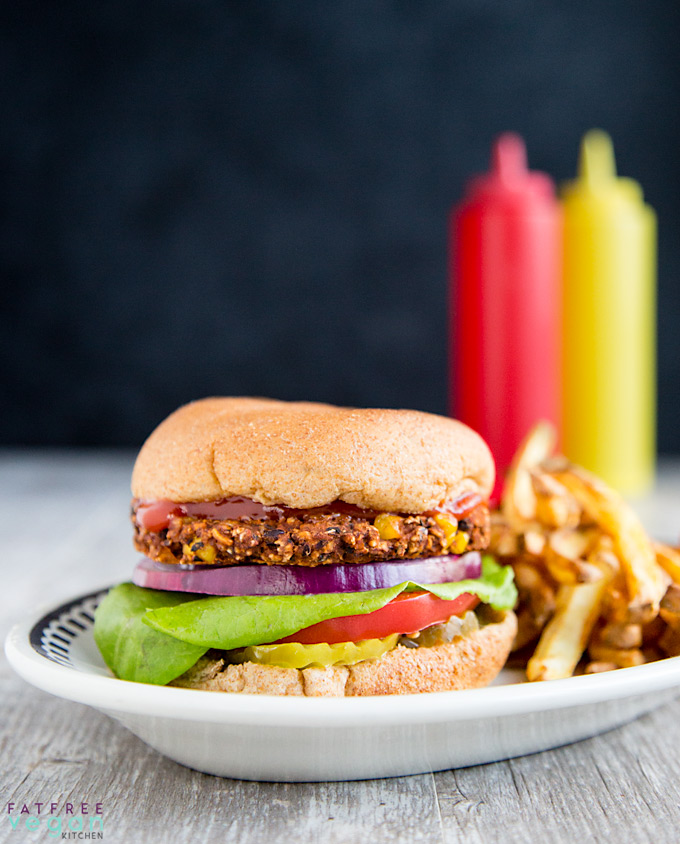 Vegan and oil-free, these simple black bean burgers are made with only 8 ingredients and can be on your plate in about 30 minutes. Gluten-free option, too!
Ingredients: rolled oats, black beans, salsa, soy sauce (or tamari or salt), mild chili powder, chipotle chile powder (more or less, to taste), garlic powder, corn kernels
These burgers are simple to make and don't compromise on taste! Get all the health benefits of beans for a guilt-free burger experience!
Ingredients: chickpeas, kidney beans, red pepper, yellow pepper, spring onions, paprika, cumin, coriander, garlic, flour, oil
Try a twist on veggie burgers with this easy baked bean burger recipe, made with potato, herbs and baked beans.
Ingredients: olive oil, red onion, dried mixed herbs, crushed chillies (optional), baked beans, breadcrumbs, mashed potato, fresh parsley, mature Cheddar, soft white rolls, sandwich pickle, lettuce,  tomato, chips or sweet potato wedges (optional)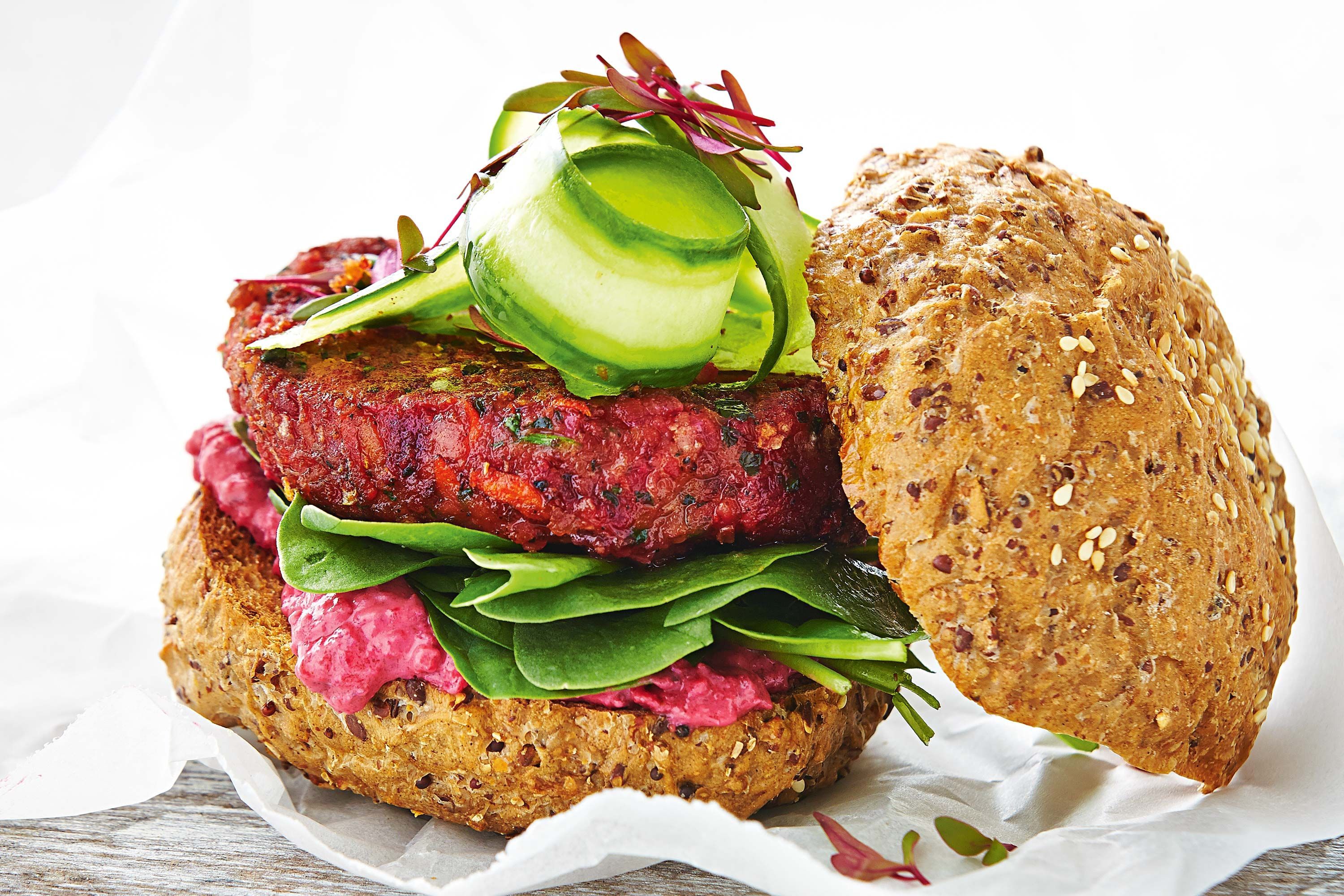 Fresh grated beetroot is high in folate and gives these vegie burgers great colour and taste.
Ingredients: extra virgin olive oil, brown onion, carrot, beetroot, korma curry paste, four bean mix, fresh coriander, quinoa flakes, wholegrain (or sourdough) rolls, beetroot tzatziki, baby spinach, cucumber, microherbs
The best healthy vegan black bean burgers are gluten free, packed with veggies and filled with spices. They're easy to make & incredibly delicious! Top with avocado, onion, tomato and a super addicting garlic tahini sauce.
Ingredients: flax egg (flaxseed meal + water), olive oil, red onion, garlic, carrot, black beans, oat flour, cumin, garlic powder, chilli powder, paprika, salt, black pepper, tahini, garlic, lemon juice, buns, avocado, tomato
Vegetarian Quinoa Black Bean Burgers are an easy and delicious way to get more plants into your diet. Loads of flavor, great texture and delicious on a bun, salad, or even in a wrap.
Ingredients: black beans, quinoa, whole grain flour, onions, garlic, chili powder, cumin, salt, coriander, paprika, egg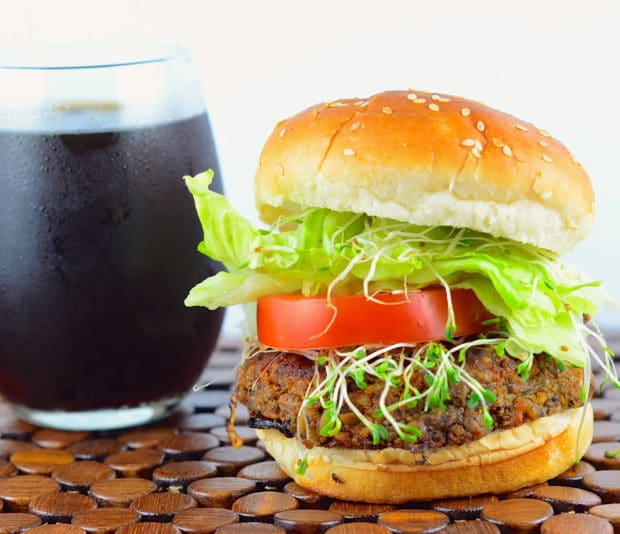 This vegan Tempeh and Black Bean Veggie burger is made with organic 3 grain tempeh and black beans. Quick, easy and ready in less than an hour.
Ingredients: flax egg (flax seeds mixed in water) or egg, tempeh, smoked paprika, grilling or hamburger seasoning mix, salt, black pepper, black beans, scallions, vegan or dairy cheese, extra virgin olive oil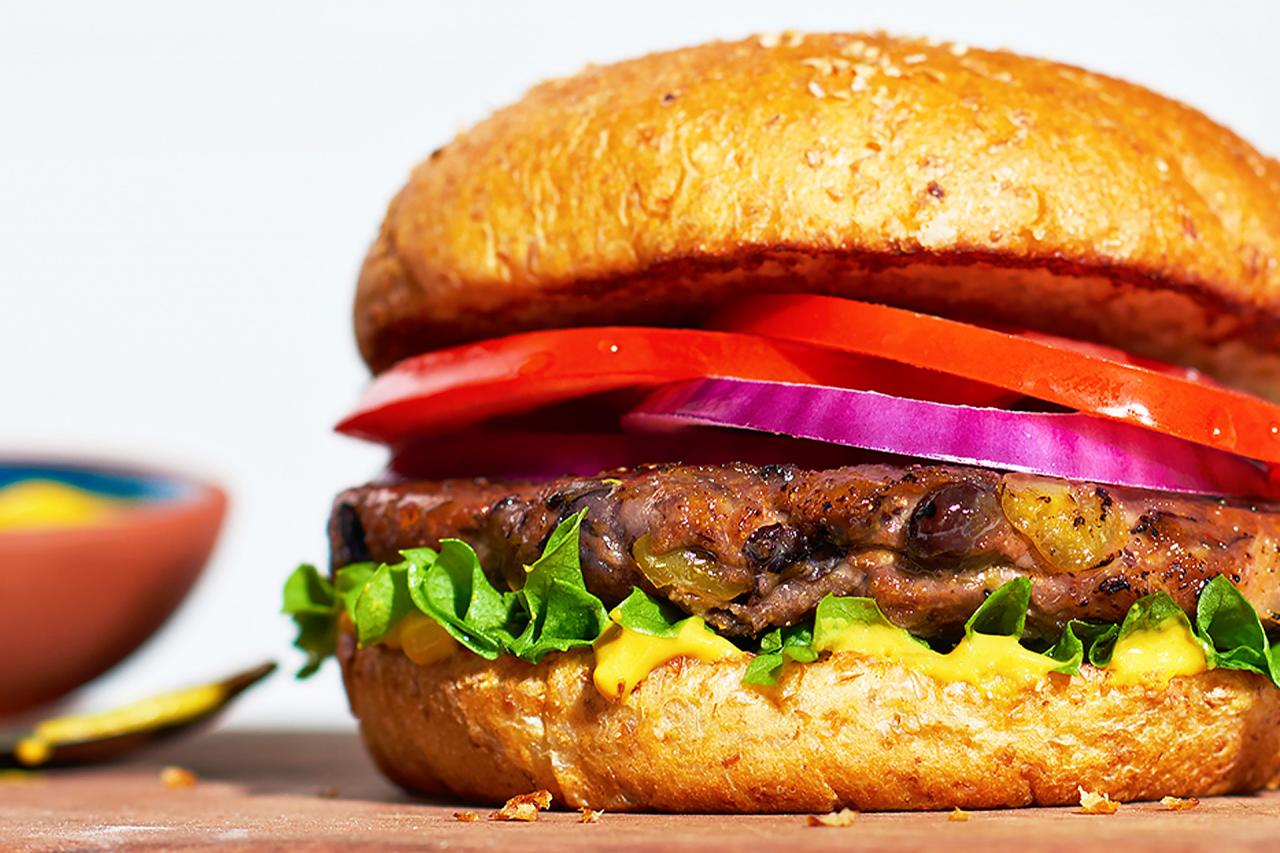 It's time to get grilling with these vegetarian burgers that are sure to add a slightly spicy kick.
Ingredients: black beans, whole wheat or all-purpose flour, yellow cornmeal, chunky salsa, ground cumin, garlic salt, hamburger buns, lettuce (optional), tomatoes (optional), cheese (optional), onion (optional)

Spice up a basic vegan black bean burger patty with cayenne pepper and hot sauce. You can grill or fry it and enjoy it with all the fixings.
Ingredients: black beans, onion, hot sauce, red or yellow bell pepper, cayenne pepper, egg substitute, breadcrumbs, oil

Potatoes absorb flavors and offer a satisfying texture that is both crunchy and soft, making them the perfect ingredient for veggie burgers. This potato veggie burger recipe is both vegetarian and vegan.
Ingredients: black beans, carrot, onion, potatoes, scallions, corn, garlic salt, olive oil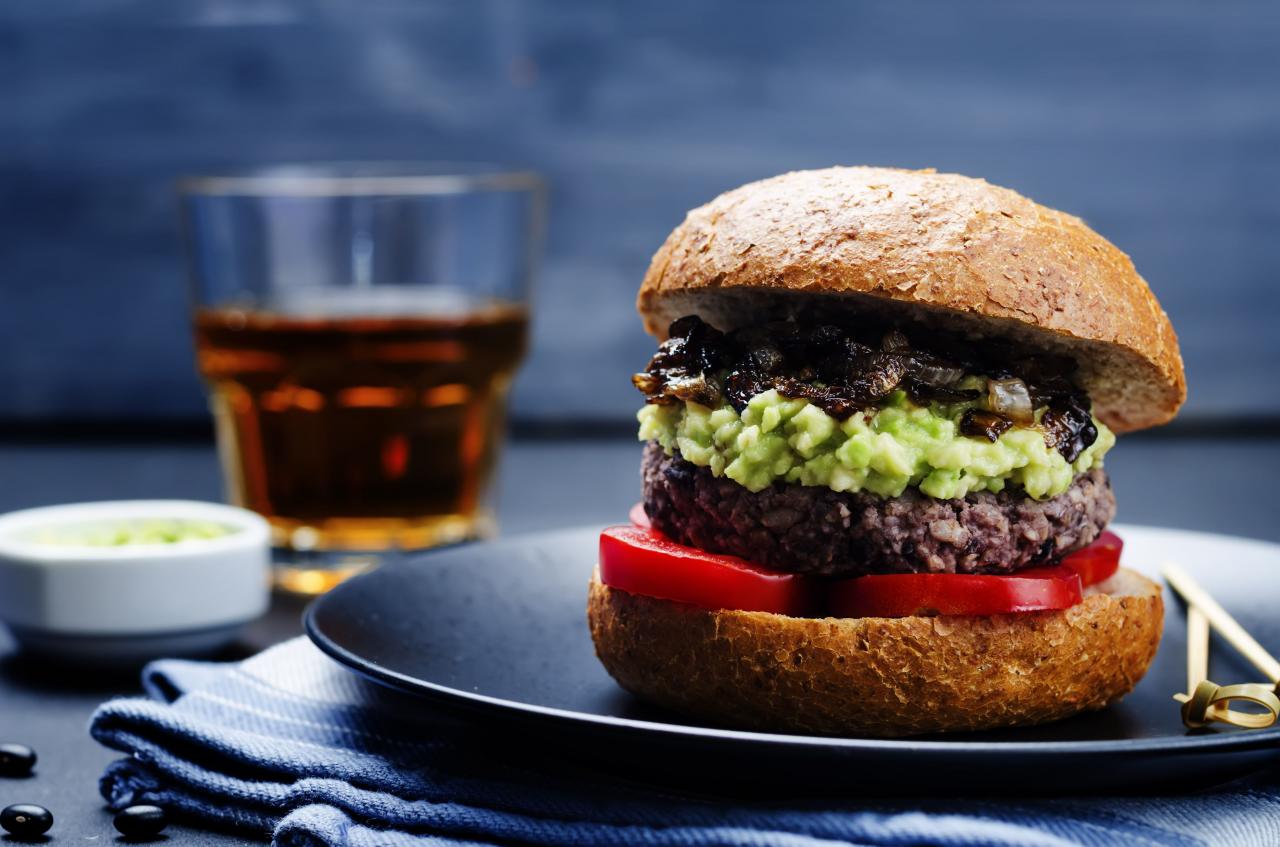 Vegetarian spicy black bean burgers with cornmeal is an easy vegetarian bean burger recipe made with black beans and salsa. It's also vegan!
Ingredients: black beans, whole wheat (or all-purpose) flour, yellow cornmeal, salsa, ground cumin, garlic salt, hamburger buns

Black bean burgers are a quick, easy, and inexpensive meal. With just four ingredients and some seasoning, this recipe makes a great vegan burger.
Ingredients: black beans, olive oil, bread, onion, seasoned salt, garlic powder, onion powder, pepper, salt, all-purpose flour, red onion, tomatoes, butter lettuce

SO good with a bit of a kick, vegetarian and vegan Black Bean Walnut Burgers are freezer friendly, GRILLABLE and easy to pull together.
Ingredients: walnuts, rolled oats, tomato paste, chipotle pepper in adobo sauce, adobo sauce, sea salt, garlic salt, yellow mustard, vegan Worcestershire sauce (or Tamari), liquid smoke, black beans, short grain brown rice, vegetable oil (coconut or olive oil), yellow onion, Bourbon or veggie broth, maple syrup, balsamic vinegar, Dijon mustard, avocado (optional), pickled sweet & spicy peppers (optional), mayo (optional), pickled banana peppers (optional)

They're everything you want in a veggie burger — nutritious, tasty and quick to whip up. These patties are packed with fiber and protein from the black beans and oats, while green onions, garlic, cilantro and tomatoes with chilies bring the vibrant flavor. Throw them on the grill, bake them in the oven or "fry" them in a non-stick pan for an easy, meat-free main dish.
Ingredients: black beans, tomatoes, garlic, onion powder, green onions, carrots, cilantro or parsley, old-fashioned rolled oats

These juicy veggie patties have major flavor with cumin, garlic and a little chili powder. They hold their own against any veggie burger you'd buy at the supermarket.
Ingredients: olive oil, onion, garlic, carrot, chili powder, ground cumin, pepper, pinto beans, black beans, Dijon mustard, reduced-sodium soy sauce, ketchup, quick-cooking oats, whole wheat hamburger buns, lettuce, salsa

Amazing sweet potato black bean burgers bulked up with brown rice and seasoned with smoky cumin and paprika. Sweet, tender, flavorful, so healthy and delicious.
Ingredients: sweet potato, olive oil, brown rice (or quinoa), salted black beans, green onion, walnut or pecan meal, ground cumin, smoked paprika, salt, pepper, chipotle powder (optional), brown sugar (optional, avocado (optional), sprouts (optional), onion (optional), Whiskey BBQ Ketchup (optional)

These vegan sweet potato-black bean burgers spiced with curry powder are easy to make. Blending the mixture with your hands gives you a soft, uniform texture then the outside gets crispy by cooking in a cast-iron pan. To make this recipe gluten-free too, use gluten-free oats and serve the patty in a lettuce wrap, omitting the bun.
Ingredients: sweet potato, old-fashioned rolled oats, black beans, scallions, vegan mayonnaise, tomato paste, curry powder, salt, unsweetened almond milk yogurt, fresh dill, lemon juice, extra-virgin olive oil, whole-wheat hamburger bun, cucumber

Truly the best veggie burger recipe! These veggie burgers are absolutely delicious and easy to make. Gluten-free, vegan and nut free.
Ingredients: sweet potatoes, quinoa, black beans, red onion, fresh cilantro, garlic, adobo sauce or smoked paprika, ground cumin, chili powder, salt, quick-cooking oats, extra-virgin olive oil (or avocado oil), whole wheat hamburger buns (optional), optional fixings: avocado or guacamole, tomato, onion, lettuce, pickles, cheese, sprouts, ketchup, hot sauce, mustard, fried eggs…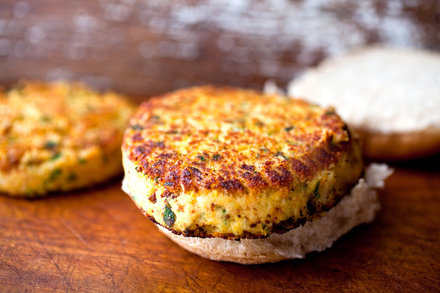 These have a delicate texture and a wonderful savory taste. They're a little tricky to turn, as they can fall apart. Don't make them too thick and use an offset spatula, and it will be easier for you. They should be cooked on a flat griddle or pan; don't try to grill them on a barbecue.
Ingredients: white beans, extra virgin olive oil, onion, salt, garlic, carrot, lemon juice, parsley, fresh sage or thyme, bread crumbs, egg, pepper, whole grain hamburger buns, condiments of your choice

Whether you're vegetarian or not, this black bean burger recipe will hit every spot. Made with black beans, oats, onion, and carrots, and spiced up with cumin, coriander, and cayenne, this burger is so good you'll wonder whether you ever want to go back to the carnivore version. Cook the patties on a pan covered in cooking spray, or use a slightly more generous pour of cooking oil for a crispier finish.
Ingredients: black beans, onion, garlic, carrots, quick-cook oats, soy sauce, olive oil, cumin, coriander, chili powder, cayenne pepper, salt, pepper, buns
Ingredients: black beans, olive oil, garlic powder, salt, black pepper, ground beef, Dijon mustard, mini-hamburger buns, red cabbage, vegetable oil, sugar, orange zest, fresh orange juice, fresh parsley, green onion
Ingredients: turkey mince, white or brown rice, ground cumin, coriander, chilli powder, grill seasoning, pinto beans, rapeseed oil, avocado, garlic, lime, jalapeno or serrano pepper, red onion, sour cream, lettuce, tomato, crusty rolls or baps

Quick and delicious bean burgers made in 10 minutes from beans, oats, spices and herbs. These are dairy free and vegan with no added salt, sugar, fat or additives that supermarket burgers contain. Free printable recipe.

A black bean veggie burger recipe that shows you how to make black bean burger patties. This is a really flavour-packed veggie burger with a crunchy slaw.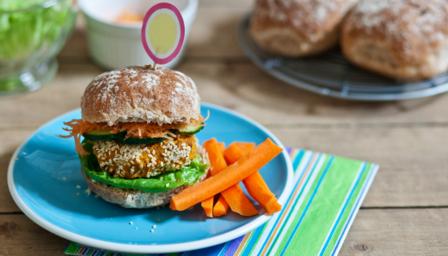 These healthy veggie burgers are really easy to make and cost much less than shop-bought alternatives. You can make your own versions at home which can be frozen and then oven-cooked from frozen as needed. They can all be served with dips or as a filling for pittas, flatbreads or wraps. It is good to add a vegetable of some kind- mashed squash, carrot or sweet potato work really well- you can mash these from boiled or roasted vegetables.

These black bean burgers have a complex, satisfying flavor and robustly meaty texture that even carnivores love. Try them on the grill or in a skillet.

This is the best veggie burger recipe! How to make meatless burgers that are hearty, flavorful and full of vegetables (5 grams of fiber and just over 200 calories).

These extra easy black bean burgers taste amazing and come together in minutes! These are dairy, egg, and gluten free and will make both the meat eaters and non-meat eaters in your life happy!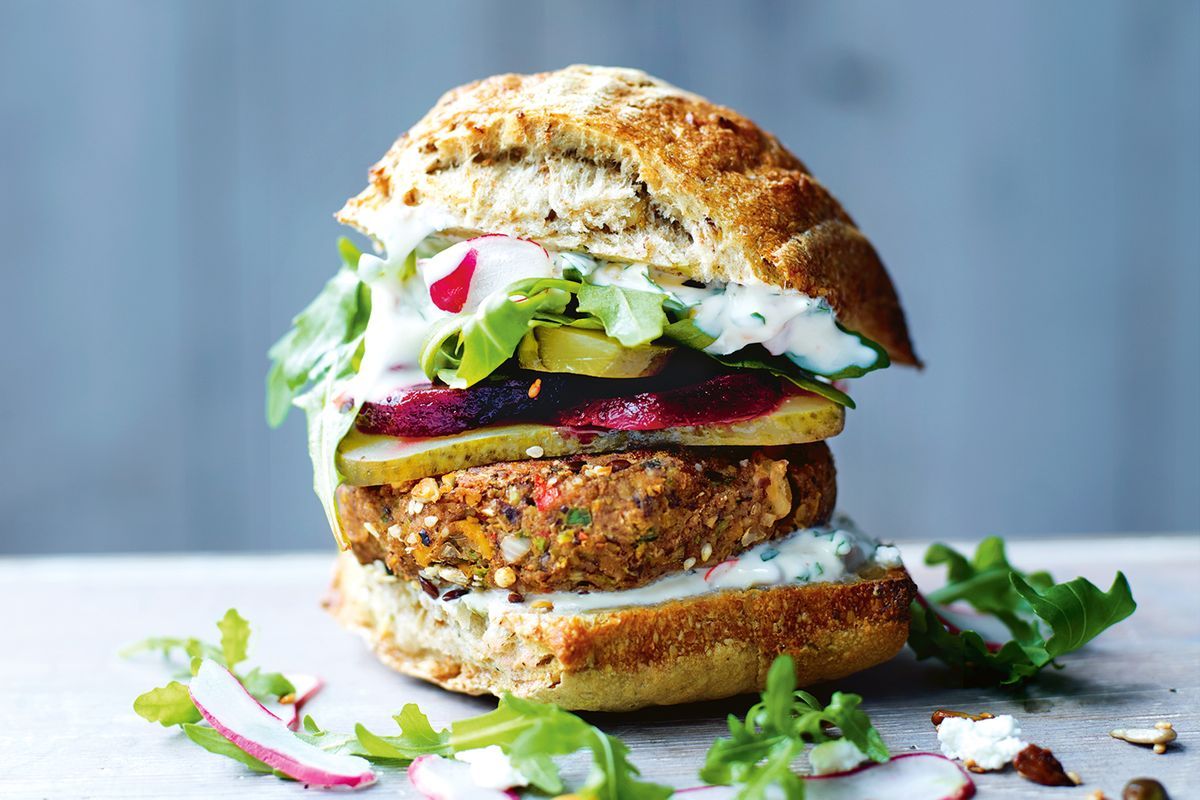 This is a very good vegie burger. Some beans are whizzed together and some left whole, so you get a lovely texture. For a vegan option, just leave out the feta and yoghurt, says Jamie.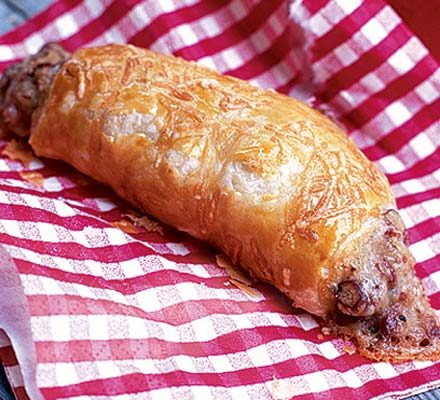 A satisfying cross between a sausage roll and a beanburger, with a creamy texture and tangy flavour

These storecupboard chipotle patties are not only thrifty, they count as four of your 5-a-day allowance of fruit and vegetables.

A low-fat veggie burger made with sweet potato, quinoa and mushrooms – a change from the standard vegetarian bean burger – make your barbecue menu stand out!

These bean bakes are filling yet fresh, making the perfect vegetarian meal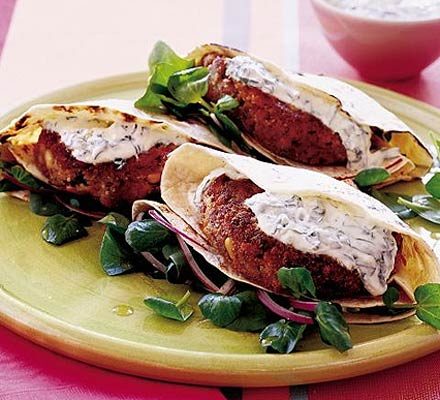 Superhealthy veggie snack, counts as 1 of 5-a-day

This super-satisfying, vegetarian bean burger makes a cheap and easy after-work meal for all the family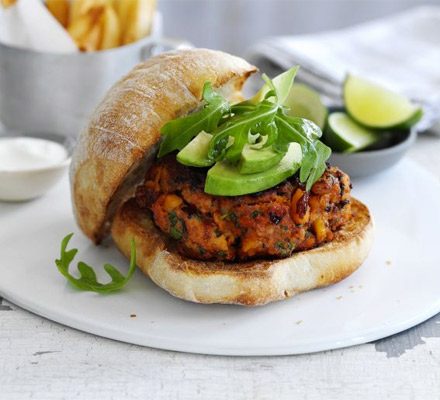 Combine Spanish sausage with the traditional pork variety for a pulse-packed, spicy burger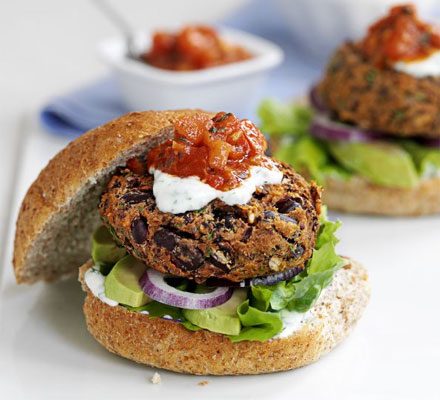 These veggie burgers are a doddle to make and the toppings make them wonderfully moist – cook from frozen to save time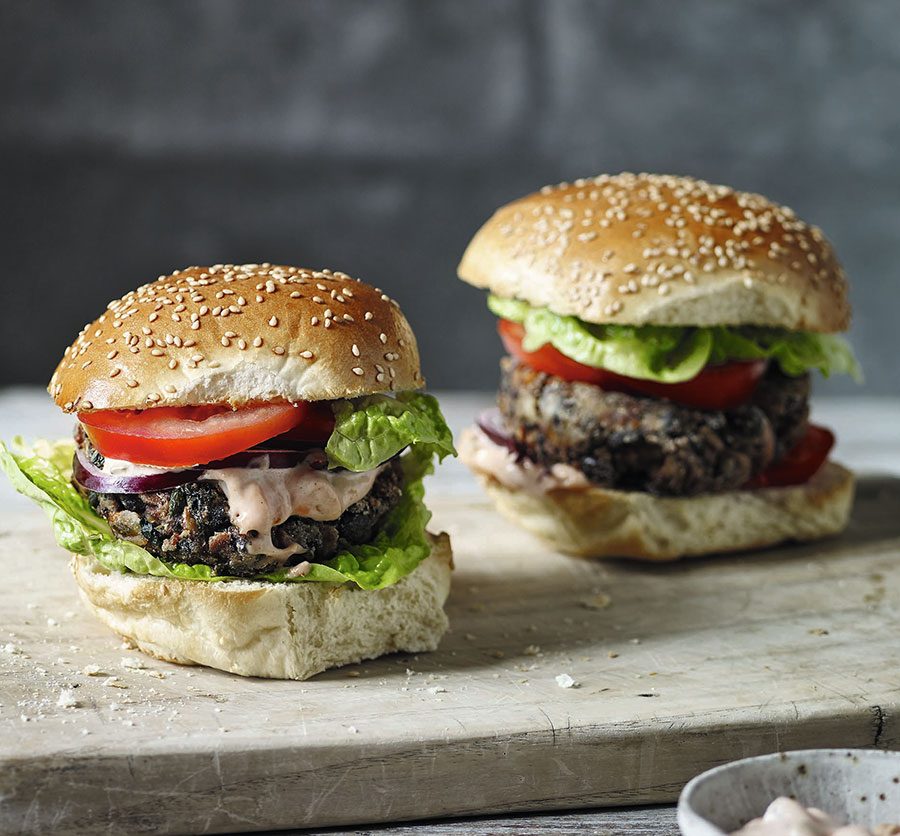 Try making these satisfying veggie burgers as a meat-free treat – they freeze well and are perfect for grilling on the barbecue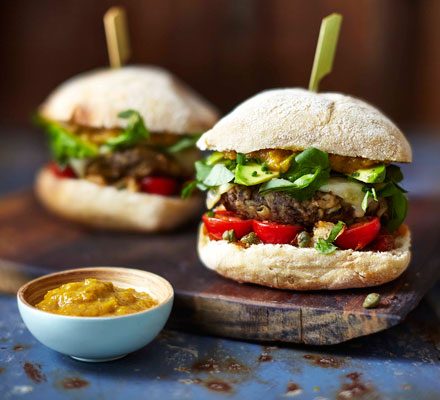 A burger that combines all five of your 5-a-day? It's real and really tasty! Vegetarians have never had it so good

Quick and easy black bean burgers, spiced up with chili sauce, cumin, garlic and chili powder. A tasty alternative to the frozen kind.

Without a doubt, this is the best black bean burger recipe I've tried. Onion, garlic, and chipotles give it bold, smoky flavor. SO easy and delicious!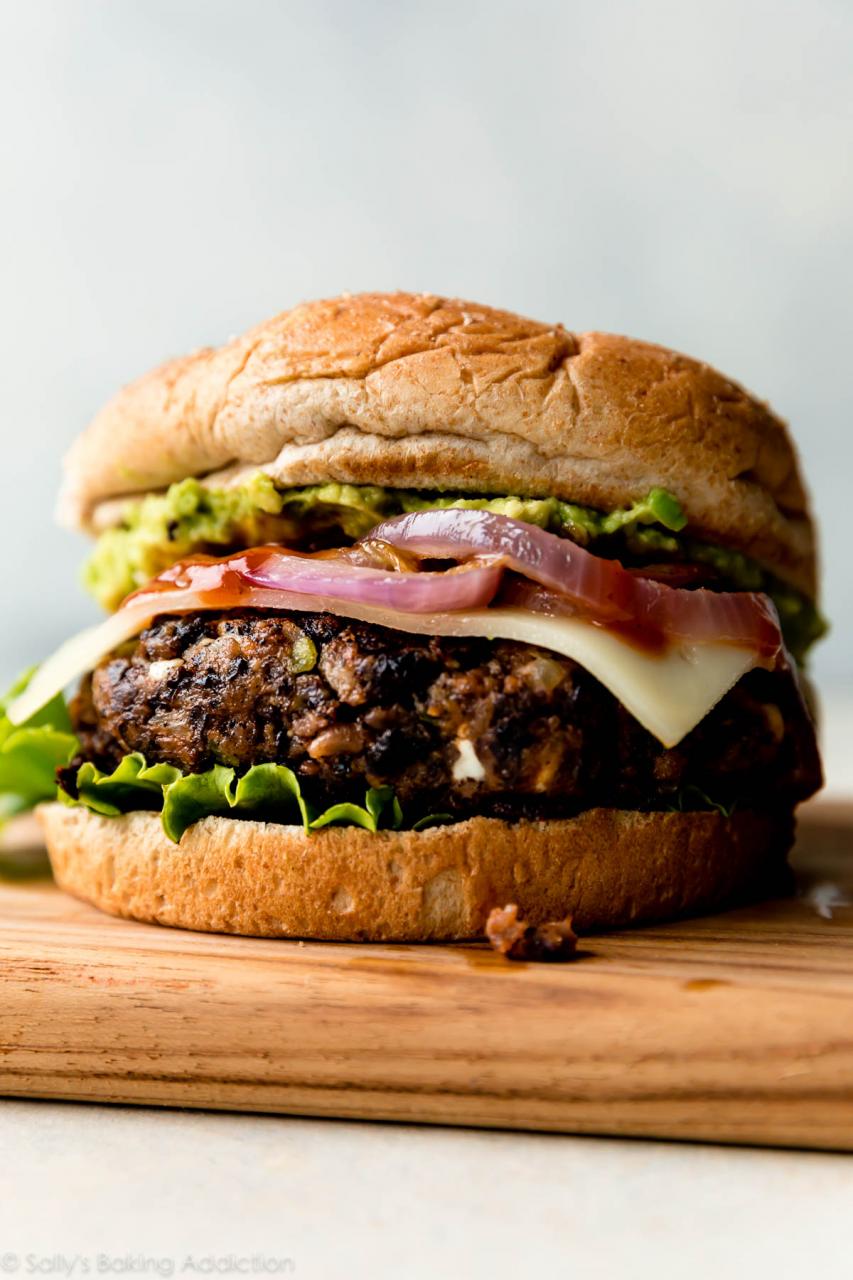 These are the best black bean burgers I've ever had! Simple and healthy homemade recipe with garlic, spices, onion, pepper, salt, pepper, and not much else.