Can you believe that this weekend is already 4th of July weekend? When did that happen?!
If you're looking for 4th of July desserts, you've come to the right place!
The Food Explorer presents you 150+ festive 4th of July dessert recipes for a festive Independence Day celebration. These red, white, and blue dessert ideas are great to make at home with the kids.
From American Flag cupcakes to Fourth of July cake to patriotic popsicles – we've got the best list of desserts ever!
Happy 4th of July everyone!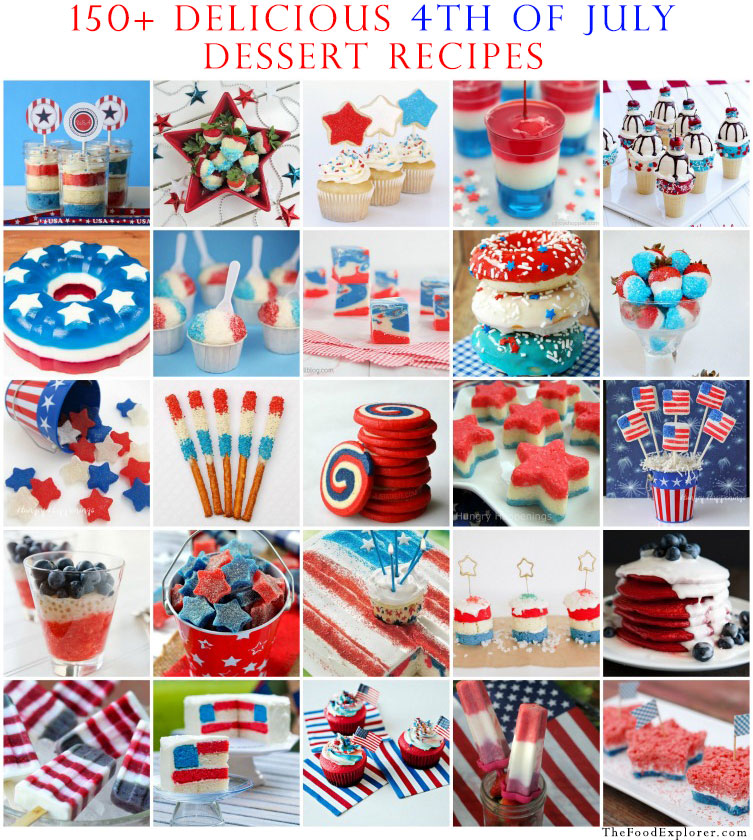 1. Sparkling Fourth of July Cake

2. Red White and Blue Cake Pops

3. 4th of July Ice Cream Cones

4. 4th of July Tie-Dye Cake

5. Patriotic Ice Cream Sandwiches

6. 4th of July Flag Cheesecake

7. Red, White & Blue Mini Fruit Pizza's

8. Vegan 4th of July Ice Cream

9. Red, White and Blue Ooey Gooey Bars

10. Fourth of July Firecracker Cakelette

11. Fourth of July Rice Krispies Treats

12. Red, White, and Blue Cake

13. 4th of July Mini Cheesecake Bites

14. Mixed Berry Tart

15. Red, White and Blue Pinwheel Icebox Cookies

16. Fourth of July Mini Cakes

17. Patriotic Pudding Pops

18. Star-Spangled Gumdrops

19. Red, White, and Blue Striped Creamy Coconut Stars

20. Patriotic Layered Smoothie

21. Fourth of July Fruit Pops

22. 4th of July Star Cookies

23. 4th of July Rice Krispie Treat Bowl

24. Berry & Almond Jello Dessert

25. Fourth of July Tartufo

26. 4th of July Tie Dyed Fudge

27. American Flag Donuts

28. Red White and Blueberry Yogurt Popsicles

29. Red, White, and Blue Pretzel Sticks

30. July 4th Flag Cake

31. Flag Cupcakes

32. Patriotic Trifle in A Jar

33. 4th of July Chex Mix

34. Yellow Cake Pie with Chocolate Mousse and Berries

35. Chocolate Dipped Banana Split

36. Berry Tart with Dairy-Free Vanilla Bean Custard

37. 4th July Strawberries

38. Strawberry-Blueberry Tapioca Parfaits

39. 4th of July Snow Cones

40. Red, White and Blueberry Ice Cream

41. Boozy Red, White, and Blueberry Cheesecake Popsicles

42. Red, White and Blue Strawberry Cupcakes

43. Firecracker Cupcakes in a Jar

44. Fourth of July Cake

45. 4th of July Jello Cake

46. Sugar Cookie Cups with Cheesecake and Fruit

47. 4th of July Soda Floats

48. Gluten-Free Red, White, and Blueberry Ice Cream Pie with Granola Crust

49. Happy Fourth Of July Cupcakes

50. Red, White and Blue Fourth of July Sugar Cookie Tart

51. Red, White and Blue Tie-Dye Cake

52. Chocolate Dipped Cherries

53. Red White & Blue Strawberry Blueberry Sugar Cookie Cups with Coconut Cream Cheese Filling

54. Red, White, and Blue Fudge Stars

55. 4th of July Fireworks Cake

56. Red White and Blue Blueberry Macarons

57. Red White & Blue Jell-O Cups

58. Berry-Lemon Cheesecake Squares

59. Red Velvet Pancakes with Coconut Syrup and Blueberries

60. Patriotic Frozen Yogurt Stars

61. Red, White, and Blue Marshmallows

62. Firecracker Red White and Blue Cake

63. 4th of July Cupcakes in a Jar

64. Raw Berry Tart with a Coconut Pastry Cream

65. Red, White and Blue Cheesecake Cake

66. 4th of July Coconut Greek Yogurt Pie

67. Red, White and Blue Patriotic Pops

68. 4th of July Cupcakes

69. Red, White & Blue Popsicle Cups

70. Red, White, and Blue Gumdrops

71. Mad Hatter's Fourth of July Teacakes

72. Patriotic Pops

73. Buzzed Cherry Bombs

74. Red, White and Blue Layered Flag Cake

75. Red, White and Blue Cookies

76. Red, White & Blue Frozen Fruit Puree Shooters

77. Easiest 4th of July Dessert Ever

78. Red, White, and Blue Fruit Terrine

79. 4th of July Firecracker Jell-O Cups

80. Red, White and Blue Baked Donuts

81. Red, White & Blue Funfetti Sandwich Cookies

82. Cherry Cobbler Bake

83. Red White & Blue Patriotic Pops

84. Red White & Blue Firework Kabobs

85. Paleo Star-Spangled Coconut Cream Tart

86. 4th of July Cupcakes with Cookie Toppers

87. Firecracker Popcorn

88. 4th of July Lemon Fruit Tart

89. Summer Berry Trifle with Coconut Flour French Pound Cake

90. Baked Vanilla Bean Doughnuts

91. 4th of July Jello Dessert for Kids

92. Berry Bliss Rocket Pops

93. Blueberry Yogurt Waffles

94. Red, White and Blue Poke Cake

95. Patriotic Trifle Bowl

96. Fourth of July Cupcakes

97. Patriotic Fruit Kabobs

98. Lemon Icebox Pie Flag

99. Red Velvet Cake Pops

100. Spangled Sandwich Pops

101. Berries and Ice Cream Pie

102. Buzzed Strawberry Bites (Rum Soaked Strawberries)

103. American Flag Cheesecake

104. Berry and Coconut Cream filled Almond Shortcakes

105. Healthy Waffles

106. 4th of July Cookies

107. No Bake Flag Cake Cups

108. Independence Day Fruit Pizza

109. Star-Studded Mini Pies

110. Berries and (Raw) Whipped Cream

111. Red, White and Blueberry Mascarpone Parfait

112. Red, White, & Blue Cheesecake Stuffed Strawberries

113. Giant American Flag Candy Bar

114. Brownie and Berries Dessert Pizza

115. Nesquik Red White & Blue Brownies

116. 4th of July Firecracker Cake

117. Coconut, Raspberry & Blueberry Ice Cream (AKA July 4th Ice Cream)

118. Coconut Berry Pie

119. Woody's Independence Day Badge Cookies

120. Cashew Date Cream Stuffed Strawberries

121. Perfect Fourth Of July Dessert

122. Sparkler Cakelettes

123. 4th of July Dessert Cupcakes

124. Patriotic Panna Cotta with Raspberry Coulis and Blueberries

125. Fourth of July Dessert

126. Brownie Kabobs

127. Sugar Coated Marshmallow Flags

128. Delicious Caramel Corn

129. Dessert with Gin for the 4th of July

130. Fourth of July Firework Chocolate Pretzels

131. Chocolate Cheesecake Cookies

132. Shortbread Sparklers – Chocolate Covered Shortbread Cookies

133. Patriotic Nutella Cookie Dough Dipped Pretzels

134. Patriotic Punch

135. 4th of July Popsicles

136. Fourth-of-July Fairy Cookies

137. Revolutionary Berries

138. Patriotic Bomb Pops with Fruit & Yogurt

139. Red, White, and Blue Fruit Cookie

140. July 4th Mini-Cupcake Flag 'Cake'

141. Star Cookies for July 4th

142. 4th of July Strawberries

143. Tiny Patriotic Pies

144. Patriotic Hi-Hat Cupcakes

145. 4th of July Fruit Kabobs

146. Fireworks Cookies

147. Red White & Blue Candy Apples

148. 4th of July Fruit Flag Platter

149. 4th of July Watermelon Appetizers

150. 4th of July Firecracker Kabobs

151. 4th of July Fruit Pizza Decorated Like Uncle Sam's Hat

152. Fourth of July Flag Cake

153. Soy-Free Vegan Cream

154. Cookie Cutter Fruit Salad

155. Oh My Stars Trifle

156. Red, White and Blue Strawberries

157. Festive 4th of July Cake