The Center for Science in the Public Interest conducted their annual "XTreme Eating Awards," crowning the most calorie-laden, artery-clogging foods from all around the US. Dishonorees include a butter-soaked grilled cheese stuffed with deep fried mozzarella sticks and burgers topped with fattened pork bellies and a fried egg.
8) IHOP's Monster Bacon n' Beef Burger
1250 cal., 42g sat fat, 1590 mg sodium
Bacon is blended directly into the meat in this monster double burger from IHOP.  Though it has the lowest individual caloric intake of the dishes on this list, it boasts 2 days worth of saturated fats and a whole day's worth of sodium.  With the side of seasoned fries, this meal will put you at 1550 calories.
7) Denny's Fried Cheese Melt
1260 calories, 21 g sat fat, 3010 mg sodium
What you see here is a grilled cheese sandwich with 4 deep fried mozzarella sticks inside of it.  For $4.00, this buttery, oily, cheesy creation will run you 1260 calories (mostly from the fries and refined carbs in the bread and breading), a whole day's worth of saturated fat, and two days worth of sodium.
6) Morton's 24oz Porterhouse Steak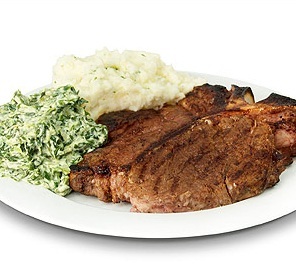 1390 cal., 36g sat. fat, 1200mg sodium
If you're not eating the side dishes, this aged hunk of prime beef
on its own
boasts 1390 calories and an entire day's worth of saturated fat.  Including the copious 2-person portion of creamed spinach (330 calories) and potatoes (850 calories), the grand total caloric intake of this gargantuan meal is: 2570 calories, (85g sat fat, 2980mg sodium).
5) Great Steak's Extra Large King Fries
1500 calories, 33g sat fat, 4980 mg sodium
Love fries? Would you like 1.33 pounds of them topped with philly cheese, chopped bacon, and sour cream?  These king sized fries are fully loaded and ready to give you a happy helping of 1500 calories and over three days worth of sodium – roughly the same as eating three McDonalds quarter-pounders with cheese sprinkled with another 2/3rds of a teaspoon of salt.
4) Applebee's Provolone Stuffed Meatballs with Fettuccine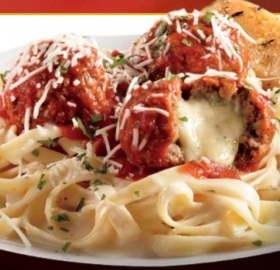 1520 calories, 43g sat fat, 3700 mg sodium
This saucy supper includes provolone stuffed meatballs braised in marinara over a bed of fettuccine in Parmesan cream.  Each serving includes 4 cups of pasta and garlic bread that harbors 1520 calories and two days worth of saturated fat and sodium.
3) Cheesecake Factory's Farmhouse Burger
1530 calories, 36g sat fat, 3210 mg sodium
Regular old bacon isn't enough for this burger. The Cheesecake Factory's colossal calorie-laden Farmhouse Burger features thick cuts of smoked pork belly, in addition to cheddar cheese, onion, lettuce, tomatoes, mayo, and a whole fried egg on top.  With the fries (460 calories, 1460mg sodium), this meal comes out to 1990 calories and 4670mg sodium (three days worth).
2) Cheesecake Factory's Red Velvet Cheesecake
1540 calories, 59g sat fat
If you're still feeling like dessert, you can top off your meal with a mega-slice of Red Velvet cheesecake weighing roughly 3/4th of a pound, boasting 1540 calories and three days worth of saturated fat.  Two generous wedges of moist red velvet cake complement 2 equally hefty slices of cheesecake, with whipped cream and white chocolate shavings on top.
1) Coldstone's PB&C Shake
2010 calories, 68 grams sat fat
And the winner of the highest calorie single meal item is: a milkshake? More than plentiful porterhouses, mammoth monster burgers, and rich red velvet cheesecakes, this 24oz peanut butter and chocolate milkshake takes the cake with 2010 calories. Even the comparatively modest 16oz small has 20 more calories than a Denny's Fried Cheese Melt!
[Source]