Pasta is a type of food made from flour, water, and sometimes eggs, which is mixed, kneaded and formed into various shapes, and boiled prior to consumption. While the name comes from Italy, pasta is very popular all over the world. The English word pasta generally refers to noodles and other food products made from a flour and water paste, often including egg and salt.
There are two major classifications: pasta fresca (fresh) and pasta secca (dried). From here, there are more than 400 unique types of pasta: sheets, strips, long strands, cylinders, unique shapes, flavors, and many other local varieties. There are more names for pasta than the mind can retain, yet all are made from the same basic ingredients — 100% durum wheat and water with a specific percentage of acidity and humidity under Italian law. Varying from the basics, light flavors and colors can be added to pasta with egg yolk, spinach, tomato paste, chocolate, and even squid ink. Each of these pastas creates its own unique dining experience when properly served. Another crucial aspect of the experience is pasta being married with an appropriate, complimentary sauce. The individual shape and texture given to pasta can be somewhat of a code in determining the proper sauce. A simple rule of thumb would be as follows: thick pasta = thick sauce, light pasta = light sauce.
It's fast, easy and everyone loves it – little wonder that pasta is one of the most popular dishes in the world. Quick, tasty and filling – pasta is perfect for midweek meals.
Here are the best pasta recipes from the month of August 2013. If you think other recipes also deserve to be on this list, please leave a comment.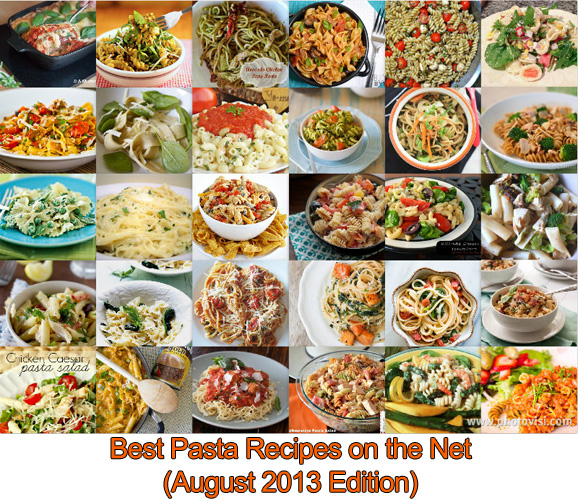 SPAGHETTI RECIPES:
Creamy Garlic Pasta

Brown Butter Spaghetti with Baby Kale and Roasted Butternut Squash

Pasta With Cherry Tomatoes And Ricotta Cheese

Pistachio Pesto Pasta

Sea Urchin Spaghetti

Avocado Chicken Pesto Pasta

Noodle (Pasta) Salad with Ginger Peanut Dressing

Western Spaghetti

Healthy Spaghetti and Meatballs

Chicken Spaghetti Carbonara

Summer Pasta Toss

Spiced Sun-Gold Tomato Sauce

Zucchini Pesto Pasta

TAGLIATELLE RECIPES:
Tagliatelle with Cherry Tomatoes, Tuna, Anchovies & Basil

PENNE RECIPES:
One Pot Cheesy Chicken Pasta

Gluten Free Corn and Bacon Pasta

Grilled Chicken Caesar Pasta Salad

Chicken, Cauliflower & Mushroom Pasta

Greek Chicken Pasta

Red Bell Pepper Pasta

Garlic Grilled Pork with Cheesy Zucchini Marinara and Pasta

Baked Pasta

Italian-Style Mac & Cheese

Cheesy Sausage and Pepper Pasta

Summer Penne Pasta

LINGUINE RECIPES:
Pasta with Tomato, Spinach, Basil, and Brie

Linguini Pasta for Picky Eaters

Traditional Italian Quick Linguine and Tomato Lunch

FETTUCCINE RECIPES:
Homemade Fettucine Pasta

Creamy Chicken and Mushroom Pasta

Fresh Fettuccine With Crispy Pancetta, Sauteed Mushrooms and Cherry Tomatoes

FARFALLE RECIPES:
Garlic-Butter Spinach and Pasta

One-Pot Pasta With Broccoli Rabe and Bacon

Green-and-White Pasta Salad

Rosemary Chicken Pasta

Pasta with Mushrooms and Peas

FUSILLI RECIPES:
Gluten-Free, Vegan Pasta Primavera

Avocado Pasta

Warm Pasta Salad with Roasted Vegetables and Pesto Vinaigrette

Lemon Vegetable Pasta

10 Minute Pasta Dinner

Easy Pasta

Easy Pasta Salad-Southwestern Chicken

Caprese Pasta Salad

Pasta with Roasted Garlic and Red Pepper Pesto

MACARONI RECIPES:
Pasta with Spinach Sauce

Kalamata, Spinach and Tomato Pasta

Cheese Pasta with Tomato Sauce

Easy Chicken and Pasta with Spinach Pesto

RIGATONI RECIPES:
Rustic Vegetable Pasta Salad

TORTELLINI RECIPES:
Easy Cheese Tortellini

RAVIOLI RECIPES:
Pasta Salad with Corn, Tomatoes and Peppercorn Dressing

ROTINI RECIPES:
Pepper Jack Pasta Salad

Delicious and Filling Smokey Halloumi Pasta Bake

Chicken and Broccoli Pasta Toss

Creamy Kale Pesto Pasta

Fiesta Ranch Chicken Pasta Salad

Zesty Italian Garden Pasta Salad

OTHER TYPES OF PASTA RECIPES:
Gluten Free Chickpea and Sage Fresh Pasta

Prosciutto, Cantaloupe and Orecchiette Pasta Salad

Chicken, Broccoli & Sun Dried Tomato Pasta

Baked Lokshyna – Ukrainian Pasta Bake

Minestrone Soup with Pasta

Heirloom Tomato Pasta Salad with Ricotta Salata Cream Sauce

Skinny Girl Pasta

Homemade Peppered Kale Pasta Dough

Feta Summer Pasta

Summer Squash with Shells Pasta and Clams

Simple Lobster Pasta

Grilled Vegetable Pasta

Creamy Pesto Pasta Salad

Extruded Pasta Dough

Pesto Pasta Salad

Southwestern Summer Pasta

Spicy Arugula Pasta

Beef Taco Pasta

Seafood Pasta in Lemon Butter Sauce

Allergy Friendly Quick Cheesy Pasta with Vegetables

Creamy Spinach & Sausage Pasta