From green bean casserole to mashed potatoes and cranberry sauce, find standout Thanksgiving sides from Food Network chefs.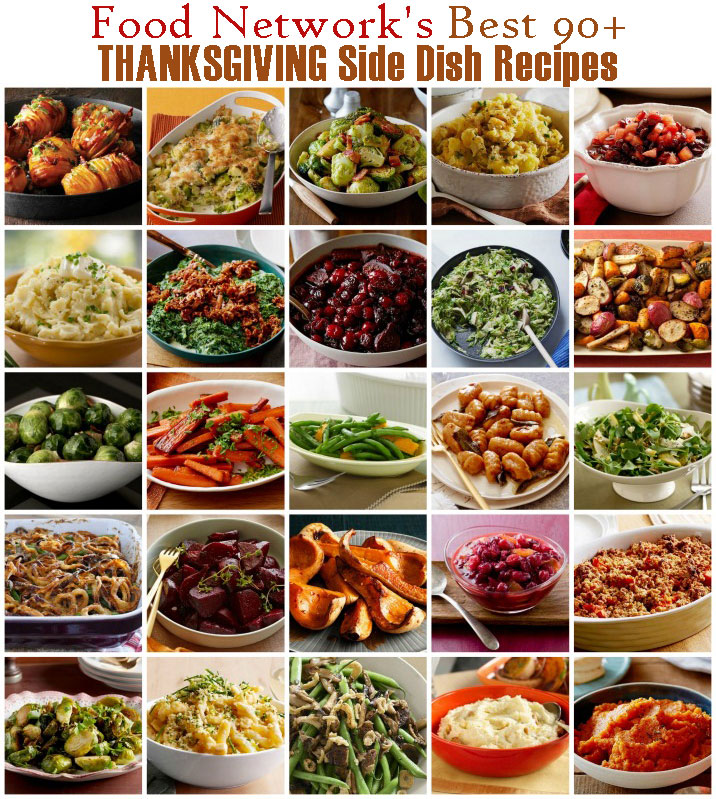 Alton's Best Ever Green Bean Casserole
A classic made modern and fresh, Alton ditches the traditional cream of mushroom soup and canned green beans, instead using real mushrooms, half-and-half and fresh green beans.
Bacon Hasselback Potatoes
Put slices of bacon into slits in Yukon gold potatoes and bake until crisp. Finish this decadent side with a scallion, parsley and garlic butter that's spoonsed over the potatoes when they're almost done.
Baked Yams with Saffron Aioli
Make a homemade aioli to serve atop fluffy baked yams.
Balsamic-Roasted Brussels Sprouts
Ina uses pancetta and balsamic vinegar for subtly sweet flavor in her roasted Brussels sprouts recipe, transforming a basic side into a sophisticated, indulgent treat.
Bobby's Black Pepper Biscuits
Bobby mixed up this spicy version of Southern biscuits.
Brown Butter Haricots Verts
Create a nutty, decadent sauce for simply cooked haricots verts with brown butter. Top with roasted hazelnuts (also quickly sauteed in the brown butter) and a sprinkle of lemon zest for crunch and zing.
Brussels Sprout Gratin
Nutty Gruyère cheese makes the perfect topping for these easy, five-ingredient Brussels sprouts.
Brussels Sprouts Gratin
Try this cheesy take on Brussels sprouts, a side dish everyone is sure to love.
Brussels Sprouts Supreme
If you've been underwhelmed by Brussels sprouts in the past, this dish could easily change your mind. The sprouts will melt in your mouth thanks to the savory, buttery sauce.
Brussels Sprouts with Bacon
Salty, crispy bacon makes everything better, especially these Brussels sprouts served warm as a holiday side dish.
Brussels Sprouts with Balsamic Honey
Dress up roasted Brussels sprouts with an easy-to-make vinegar-honey syrup, fried garlic and shaved Pecorino Romano. This recipe calls for roasting the sprouts in the leftover flavored oil from frying the garlic.
Butternut Squash Mac and Cheese
Rachael whips up her pasta in just 20 minutes. Two kinds of cheese, sharp cheddar and Parmigiano-Reggiano, plus a touch of nutmeg will make this side dish a holiday staple.
Caramelized Vidalia Onion and Potato Gratin with Fresh Sage
To build this decadent side dish, Bobby layers sauteed onions and sage with thinly sliced Idaho potatoes, then coats it all in heavy cream, repeating the process until there are 12 heaping layers.
Caramelized-Onion Mashed Potatoes
For a simple variation, stir sweet, caramelized onions into creamy mashed potatoes just before serving.
Cheesy Mushroom and Broccoli Casserole
Sunny starts with a roux of butter and flour to make a creamy base for her casserole. Add a little heat with cayenne pepper and garlic powder.
Cheesy Smashed Potatoes
Rachael's smashed potatoes are ready in less than 20 minutes. Plus, they are simple enough to have kids get in on the cooking action.
Chili-Sesame Butternut Squash
Roasting slices of butternut squash in a mixture of melted butter, fresh orange juice and apple cider vinegar creates irresistible spots of caramelization. Balance the sweetness with garlic, dried Mexican chile peppers and sesame seeds.
Chive and Garlic Mashed Potatoes
For a flavorful mashed potato twist, Tyler uses Yukon gold potatoes and mixes in garlic, thyme and chives.
Cinnamon Apple Cranberry Sauce
A simple, cinnamon and apple cranberry sauce is easy with only six ingredients.
Cranberry Citrus Dressing
Michael Chiarello's fresh cranberry dressing gets a flavor boost from orange zest and juice, fresh vanilla beans and a few spoonfulls of Dijon mustard.
Cranberry Mold
Make homemade cranberry sauce look retro by mixing in gelatin and refrigerating in a mold or empty soup cans overnight.
Cranberry Pomegranate Terrine
Impress guests with this elegant cranberry sauce terrine.
Cranberry Sauce with Pinot and Figs
Dried figs and balsamic vinegar upgrade traditional cranberry sauce to Bobby's elegant version.
Cranberry-Horseradish Cream
An unusual but sworn-by combo, try this if you want to be daring and add something a little different to your Thanksgiving spread.
Cran-Citrus Chutney
Add unexpected punches of flavor with red wine, crystallized ginger and golden raisins.
Creamed Corn Cornbread
Alton says a piping hot cast-iron skillet is a must to make this creamed corn cornbread. Serve right out of the skillet for a rustic presentation or invert onto a platter.
Creamed Corn
Comforting, traditional and easy to make, this 20-minute creamed corn fits all the criteria for a successful, crowd-pleasing side. You may want to make a double (or even a triple) batch if you're hosting a large group for Thanksgiving — this dish goes quickly!
Creamed Kale with Caramelized Shallots
The caramelized shallots add a subtle sweetness to kale's mild peppery flavor. Bobby's quick, creamy sauce holds it all together.
Creamed Pearl Onions
Tyler's creamy side dish is super satisfying and great in a pinch: It requires only four ingredients and one minute of prep work. Using frozen thawed onions will save on time.
Crunchy Sweet Brussels Sprout Salad
Instead of serving the Brussels sprouts whole this year, try them shredded and tossed with crunchy chopped walnuts and sweet dried cranberries. While sauteing the sprouts, add some nutmeg for a hint of autumnal spice and aroma.
Tyler's Fresh Cranberry Relish
Tyler adds a touch of Grand Marnier liqueur to make all the flavors pop.
Garlic and Celery Root Mashed Spuds
Robin Miller adds celery root to mashed potatoes for an unexpected twist.
Garlic Green Beans
Toasted garlic and pecans add flavor and crunch to these simple green beans.
Giada's Brussels Sprouts with Pancetta
Giada adds an Italian twist to Brussels sprouts, cooking them with pancetta.
Giada's Roasted Potatoes, Carrots, Parsnips and Brussels Sprouts
Can't decide on a veggie? Roast them all together with a touch of Italian seasoning like Giada does, for a colorful, irresistible mixture.
Giada's Sweet Potato Gnocchi with Maple Cinnamon Sage Brown Butter
Giada's surprisingly easy homemade gnocchi is an irresistible Italian twist on the classic sweet potato side dish.
Glazed Carrots
Damaris Phillips' eye-pleasing carrot dish gets its warm, sweet notes from honey and its bright flavor from fresh chopped parsley. For spice, she uses togarashi, chile pepper spice blend available in specialty markets and some supermarkets — although cayenne works just as well.
Gluten-Free Feather-Light Potato Buttermilk Buns
A gluten-free flour blend and gluten-free yeast come together to form these soft buns that are just the thing for mopping up cranberry sauce.
Gluten-Free Green Bean-Mushroom Casserole with Panko-Style Fried Onion Rings
This indulgent side delivers all the creamy flavor and crunchy texture you'd want from a Thanksgiving casserole, just minus the gluten, thanks to a coating for the onions made with a special flour blend and crushed rice cereal.
Green Bean Casserole
Bacon and grated cheddar give Ree's traditional casserole a decadent upgrade that's ideal for a celebration.
Green Bean Salad with Creme Fraiche
A salad composed of crisp and tender green beans, mustard-creme fraiche dressing and a bunch of fresh herbs tops any leafy green contender in the spread of Thanksgiving sides.
Green Bean–Mushroom Casserole
You won't need or want canned soup for any future green bean casserole once you realize how easy (and how much more delicious) the retro dish is when made entirely from scratch — from the shitake mushroom sauce to the buttermilk fried onions.
Lemon-Maple Squash
Maple syrup and lemon juice add surprising, sweet flavor to roasted butternut squash.
Marbled Mashed Sweet Potatoes
Don't choose between traditional mashed potatoes and vibrant sweet potatoes. Separately, mash Yukon gold potatoes with sour cream and heavy cream, and sweet potatoes with brown sugar and cayenne pepper, then swirl together for the best of both worlds.
Mashed Potatoes and Rutabaga with Lemon
For an elegant twist on mashed potatoes, add smashed rutabaga (yellow turnip) and top with a seasoned, toasted breadcrumb mixture just before serving.
Mashed Potatoes with Herb Butter
Instead of boiling potatoes in water, cut them into 1-inch pieces and simmer them directly in the milk with salt and a bay leaf. Reserve the milk to add back to the potatoes (after draining and mashing) until they've reached creamy perfection.
Mashed Potatoes with Roasted Garlic and Mascarpone Cheese
For his Throwdown take on this comfort food classic, Bobby Flay adds sweet roasted garlic and spoonfuls of rich, creamy mascarpone cheese.
Mashed Sweet Potatoes
Balsamic vinegar, maple syrup and orange zest give mashed sweet potatoes a contrasting sweet and salty kick that really works.
Mini Mac and 'Shrooms
Make this earthy, grown-up mac and cheese the star of your Thanksgiving spread.
Mushroom & Leek Bread Pudding
The best way to prepare your leeks for this bread pudding? After cutting them lengthwise and slicing crosswise, wash them in water and spin-dry in a salad spinner.
Mustard-Parmesan Whole Roasted Cauliflower
Even meat eaters will want a piece of these impressive, high-fiber veggies. The Dijon mustard concentrates in flavor as it roasts, resulting in a powerful punch of umami. Prep and brush your cauliflower ahead of time, then let them sit at room temperature until you're ready to cook.
Parker House Rolls
These classic rolls are easy to make at home with Alex Guarnaschelli's step-by-step instructions.
Parmesan Smashed Potatoes
Freshly grated Parmesan cheese turns ordinary mashed potatoes into Ina Garten's delicious Thanksgiving side dish.
Pear and Blue Cheese Salad
Top a crunchy pear, watercress and arugula salad with toasted walnuts, pecans, almonds or cashews.
Perfect Cranberry Sauce
Don't miss out on the perfect cranberry sauce recipe, with just a bit of citrus zest to bring out the flavor.
Perfect Mashed Potatoes
You can't go wrong with these stand-by mashed potatoes. Just start with russet potatoes and mixing in whole milk and up to a stick of butter.
Provencal Potato Gratin
A sliced-tomato topping adds extra color and fresh flavor to this French take on potatoes.
Rachael's Easy Orange-Scented Green Beans
Follow Rachael's lead to whip up a company-worthy, 8-minute veggie with a flavorful citrus punch.
Red Devil Cranberries
Guy's cranberry sauce gets a kick from two types of peppers.
Roasted Acorn Squash and Portobello Mushroom Salad with Radicchio, Apples and Pumpkin Seeds
This salad makes use of all of your favorite fall ingredients: roasted squash and mushrooms, tart apples and pumpkin seeds.
Roasted Beets
For a beautiful jewel-toned side to add to the Thanksgiving table, Ina dresses tender roasted beets in a sweet-tangy dressing made of raspberry vinegar and orange juice.
Roasted Brussels Sprouts
Roasting Brussels sprouts at a high heat creates lots of sweet, caramelized goodness.
Roasted Brussels Sprouts with Pancetta
Crispy pan-fried pancetta balances Brussels sprouts' earthy flavor with a hint of sweetness in Bobby's quick-to-assemble side dish.
Roasted Garlic Brussels Sprouts
Cumin, lemon juice and cilantro invigorate Brussels sprouts' mellow flavor in this simple, refreshing side dish.
Roasted Garlic Mashed Potatoes
Roasted garlic transforms the flavor of Ree's mashed potatoes. Cream cheese makes them rich and fluffy while also helping to balance the garlic kick.
Roasted Onions with Lemon
Turn the spotlight on onions and serve them roasted, drizzled with citrus vinaigrette. The entire dish can be made up to four hours ahead.
Roasted Spaghetti Squash with Parmigiano-Reggiano and Truffle Oil
Add a little elegance to roasted, delicate spaghetti squash by drizzling with truffle oil and sprinkling with cheese before tossing and serving.
Roasted Sweet Potatoes with Aioli
These simple sweet potatoes are dressed up with a shortcut aioli.
Salt-Crusted Fingerlings
Cover potatoes in water blended with herbs, garlic and half a cup of salt, then cook until the water evaporates, leaving the root vegetable tender and flavorful.
Sauteed Green Beans and Mushrooms
This quick and easy, four-ingredient green bean dish can be on your table in 25 minutes.
Smashed Potatoes with Garlic Oil
To simplify your prep work, opt for smashed red potatoes instead of the traditional white mashed. You don't even need to bother peeling the potatoes or mincing the garlic, thyme or rosemary. Infuse olive oil with smashed cloves, lemon zest and herb sprigs to flavor the red potatoes before smashing.
Soul Sweet 'Taters
Ree Drummond makes sweet potatoes as much a part of her Thanksgiving as the turkey. Her secret weapon in this recipe? Dark brown sugar.
String Beans with Shallots
Ina's easy green beans take just 15 minutes to prepare. They're blanched before being sauteed with butter, olive oil and shallots.
Sunny's Sage and Pecan Sweet Potato Casserole
Sunny folds charred marshmallows into the mashed sweet potatoes until combined. No need to oversweeten the potatoes, as the topping does the work.
Sweet Potato Casserole
Anne roasts sweet potatoes and mixes in dried apricots, honey, cinnamon and orange juice and zest. Sprinkle with an oatmeal crisp topping for a dessert and side dish all in one.
Sweet Potato Souffle
Trisha tops sweet potatoes with pecans, brown sugar, flour and butter and bakes her casserole until slightly brown.
Sweet Potatoes and Marshmallows
Thanksgiving is the time to embrace nostalgic dishes like sweet potatoes with marshmallow topping. "When I make this, I feel like a kid in my mom's kitchen. The best part is watching the marshmallows bubble and toast," says Sunny.
Sweet Potato-Pecan Casserole
Ellie offers up a lighter side that's full of flavor, with lots of spices and a crunchy pecan topping.
The Deen Brothers' Baked Hush Puppies
The Deen brothers' hush puppies have all of the down-home flavor of this Southern favorite, but without the extra fat from deep-frying.
The Definitive Mashed Potato with Roasted Garlic
Michael Chiarello knows how to please a crowd, mashing Yukon Gold potatoes with three sticks of butter and a roasted garlic paste.
The Neelys' Old School Sweet Potato Souffle
The Neelys' top their sweet potato souffle with roasted cashews and sweetened shredded coconut for an unforgettable side dish.
Triple-Cheese Spirals
Traditional mac and cheese gets a makeover with spiral pasta and a crunchy panko topping.
Twice Baked Potatoes
Fill already-baked potato shells with a creamy mashed potato and butter mixture before sprinkling with cheese and baking again until the cheese is melted.
Tyler Florence's Mashed Potatoes
The ultimate creamy concoction, Tyler's mashed potatoes pair perfectly with homemade turkey gravy.
Tyler's Scalloped Potato Gratin
You can't go wrong with Tyler's classic scalloped potatoes.
Tyler's Stuffed Sweet Potatoes with Pecan and Marshmallow Streusel
Tyler tops simple baked sweet potatoes with a sweet and crunchy streusel mixture of brown sugar, cinnamon, pecans and melted mini marshmallows.
Vegan Wild-Rice-Stuffed Butternut Squash
This impressive autumn-inspired dish can be served as a main course for vegan and vegetarian eaters, or it can be enjoyed by everyone at the table as a side dish. The small amount of curry powder gives the squash a nice warmth and depth.
Whipped Cranberry Dressing
Dress up canned cranberry sauce by gently stirring in ribbons of freshly whipped cream.
Whipped Root Vegetables
"This is a super-flavorful substitute for your standard mashed potatoes," promises Michael Symon. It's so flavorful, in fact, that after you cook the root vegetables, all you need is butter and salt — no cream required.
Whiskey-Glazed Sweet Potatoes
Guy adds a bit of whiskey to his mixture of sweet potatoes and apples and sweetens the dish with agave nectar.
Source: foodnetwork.com