Best Bread Recipes on the Net (October 2013 Edition)
There's nothing quite like warm, fresh-out-of-the-oven home-baked bread, as these delectable recipes for how to make bread so comfortingly prove.
Fill your home with the gorgeous aroma of freshly baked bread straight from your oven. Here you'll find recipes for all kinds of pumpkin breads, banana breads, chocolate chip breads, beer breads, gluten-free breads, and many, many more!
These are the best bread recipes published on food blogs during the month of October 2013: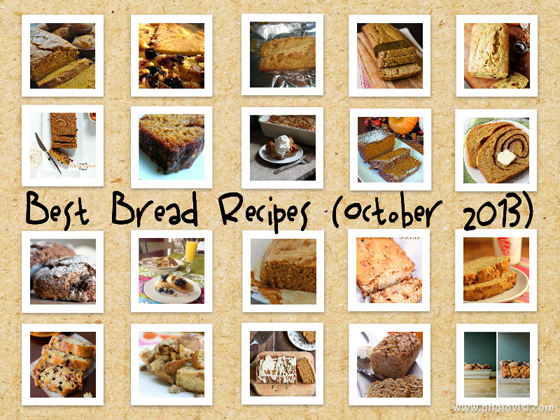 Pumpkin Cinnamon Swirl Bread

Vegan Pumpkin Currant Bread

Pumpkin Bread with Maple Icing

Cinnamon-Swirl Chocolate Chip Bread

Pumpkin Beer Bread

Apple Spice Bread

Buttermilk Pumpkin Bread

Cranberry-Pumpkin Bread

Traditional Emirati Khameer Bread

Yeasted Pumpkin Bread

Chai Pumpkin Bread

Butterscotch Banana Bread

Wholemeal Brown Soda Bread

Amish Pumpkin Bread

Gluten Free Homemade Bread

Delicious Pumpkin Bread

Classic Beer Bread

Pumpkin Pie Bread

Cinnamon Bun Bread Pudding

JJ's French Toast Bread

Butterscotch Bread Pudding

Search terms for this post:
amish recipes