A croissant is a buttery, flaky, viennoiserie-pastry named for its well-known crescent shape. Croissants and other viennoiserie are made of a layered yeast-leavened dough. The dough is layered with butter, rolled and folded several times in succession, then rolled into a sheet, in a technique called laminating. The process results in a layered, flaky texture, similar to a puff pastry. [Wikipedia]
Although it is most likely just a myth, the history of the croissant is a colorful tale full of adventure. In 1683, the Turkish Empire laid siege on Vienna, Austria. The Turks made several attempts to enter the city by force, but were unsuccessful, so decided to dig an underground tunnel. The bakers of Vienna, who worked in the basement storerooms, heard the sound of digging and alerted the army.
The bakers received high honors and thanks for their assistance in outwitting the Turks. In celebration, they baked their bread in the shape of a crescent moon—the symbol of the Ottoman Empire. After the Turks were defeated, it became custom to serve morning coffee with the crescent-shaped pastry!
The legend goes on to say that over a hundred years later, Marie Antoinette (an Austrian Princess who married Louis XVI) introduced the pastry to the French who dubbed it a "croissant."
January 30 is "National Croissant Day" and we invite you to celebrate this food holiday with one of the following delicious croissant recipes: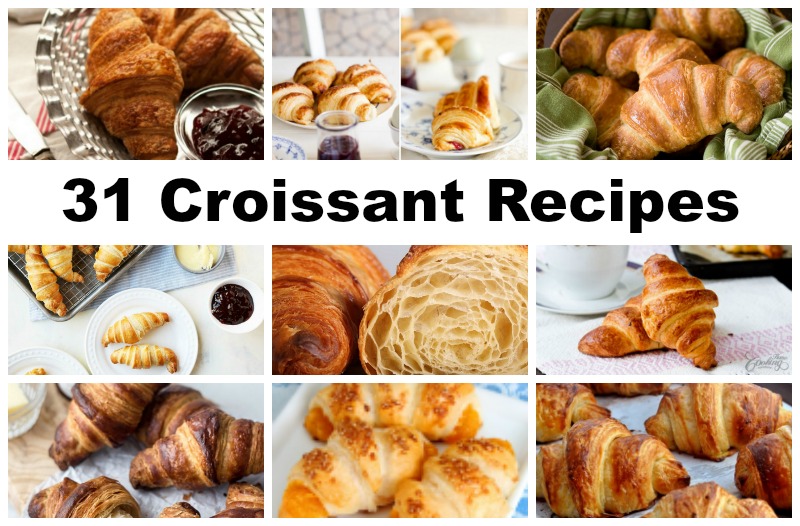 30 Minute Chocolate Croissants

Ingredients: egg, Pepperidge Farm Puff Pastry Sheets, semi-sweet chocolate chips or small chocolate chunks. Get the full recipe at inspiredtaste.net
Apple and Pesto Croissant Sandwich

Ingredients: croissants, pesto, red apple, toasted slivered almonds, rosemary, balsamic vinegar, freshly ground black pepper. Get the full recipe at elsbro.com
Apricot Crescents

Ingredients: frozen puff pastry, dried apricots, sugar, brandy (optional), egg, coarse sugar. Get the full recipe at devour-blog.com
Baked Croissant Sandwich Casserole

Ingredients: croissants, sliced chicken breasts, baby rocket, mini capsicum, eggs, Greek Styled Yoghurt, milk, salt and pepper, grated cheese. Get the full recipe at fussfreecooking.com
Butter Croissants

Ingredients: whole milk, light brown sugar, active dry yeast, all-purpose flour, salt, unsalted butter. Get the full recipe at epicurious.com
Caramel Egg Stuffed Easter Croissants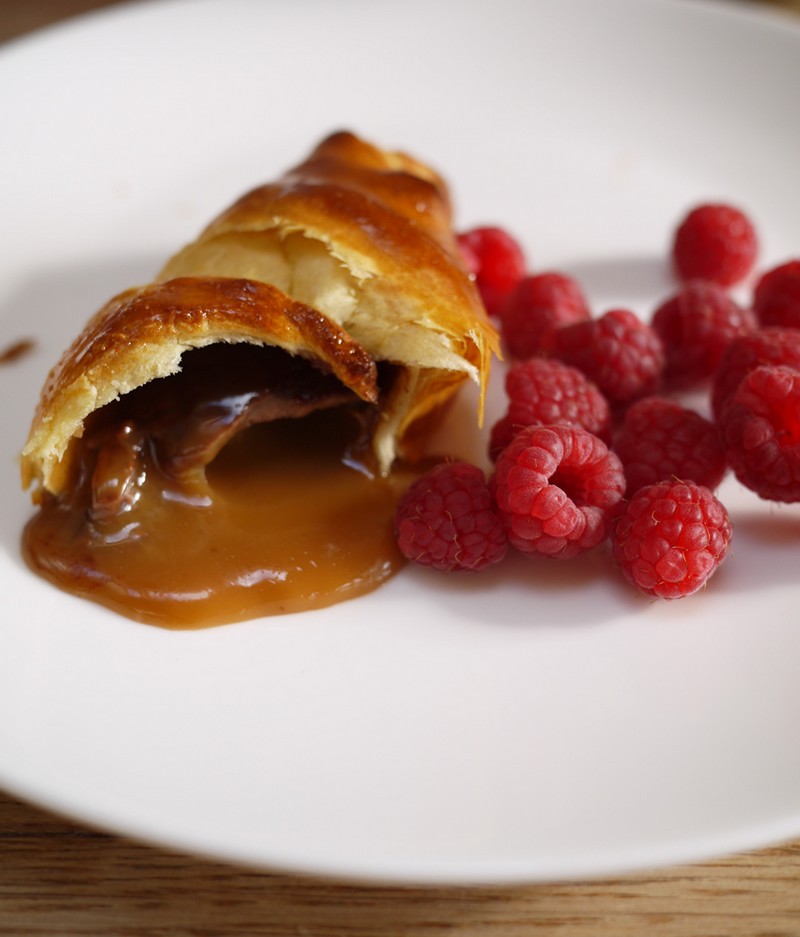 Ingredients: ready to pop croissant dough, Cadbury's Caramel Eggs, egg. Get the full recipe at tamingtwins.com
Chicken Salad Croissant Sandwich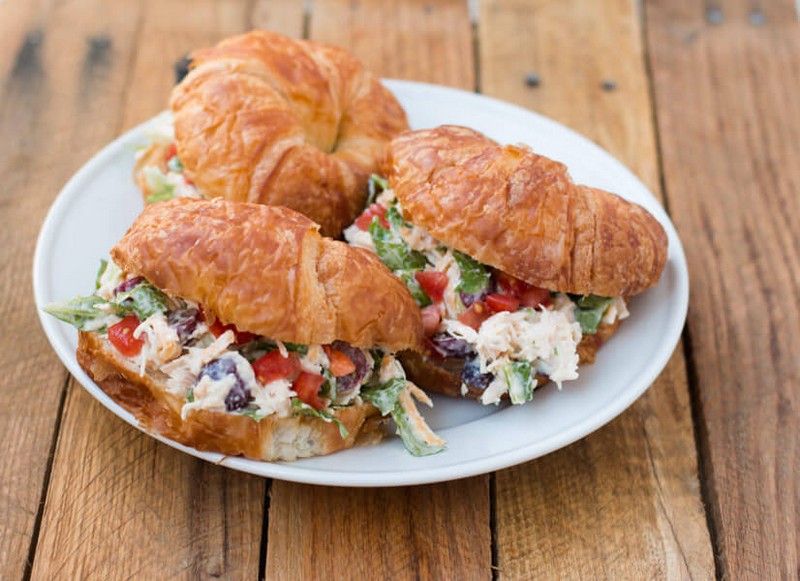 Ingredients: croissants, chicken, mayonnaise, ranch dressing, sugar, cheddar cheese, romaine lettuce, grapes, tomato (optional). Get the full recipe at ohsweetbasil.com
Chocolate Croissant Bread Pudding with Rum Sauce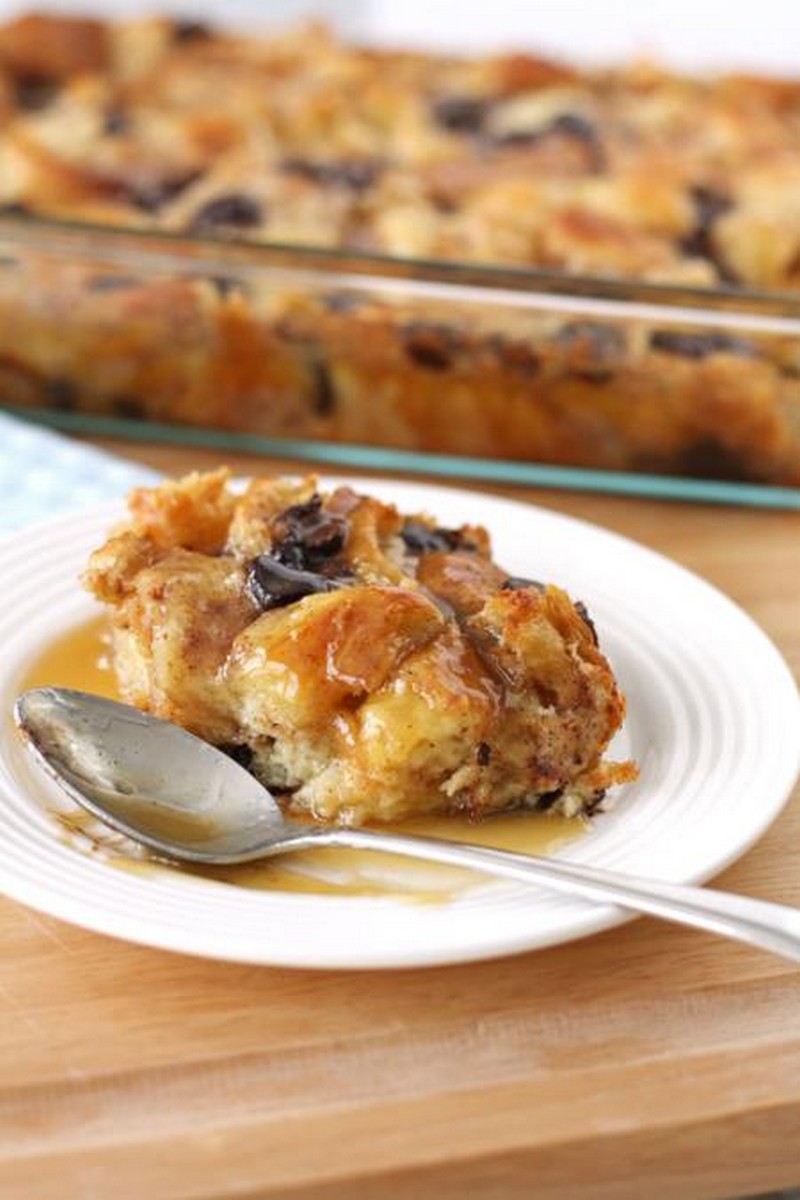 Ingredients: unsalted butter, granulated sugar, cinnamon, vanilla extract, eggs, heavy cream, milk, croissants, bittersweet chocolate chips, brown sugar, rum. Get the full recipe at erinblueburke.com
Classic Croissants

Ingredients: white flour, salt, sugar, fast-action dried yeast, oil, butter, egg. Get the full recipe at bbcgoodfood.com
Classic French Croissant

Ingredients: French Type 55 flour or unbleached all-purpose flour / plain flour, whole milk, sugar, unsalted butter, instant yeast, salt, egg. Get the full recipe at weekendbakery.com
Classic French Croissants

Ingredients: whole milk, instant or rapidrise yeast, sugar, salt, all-purpose flour, butter, egg. Get the full recipe at seriouseats.com
Coffee Caramelized Croissant French Toast Sticks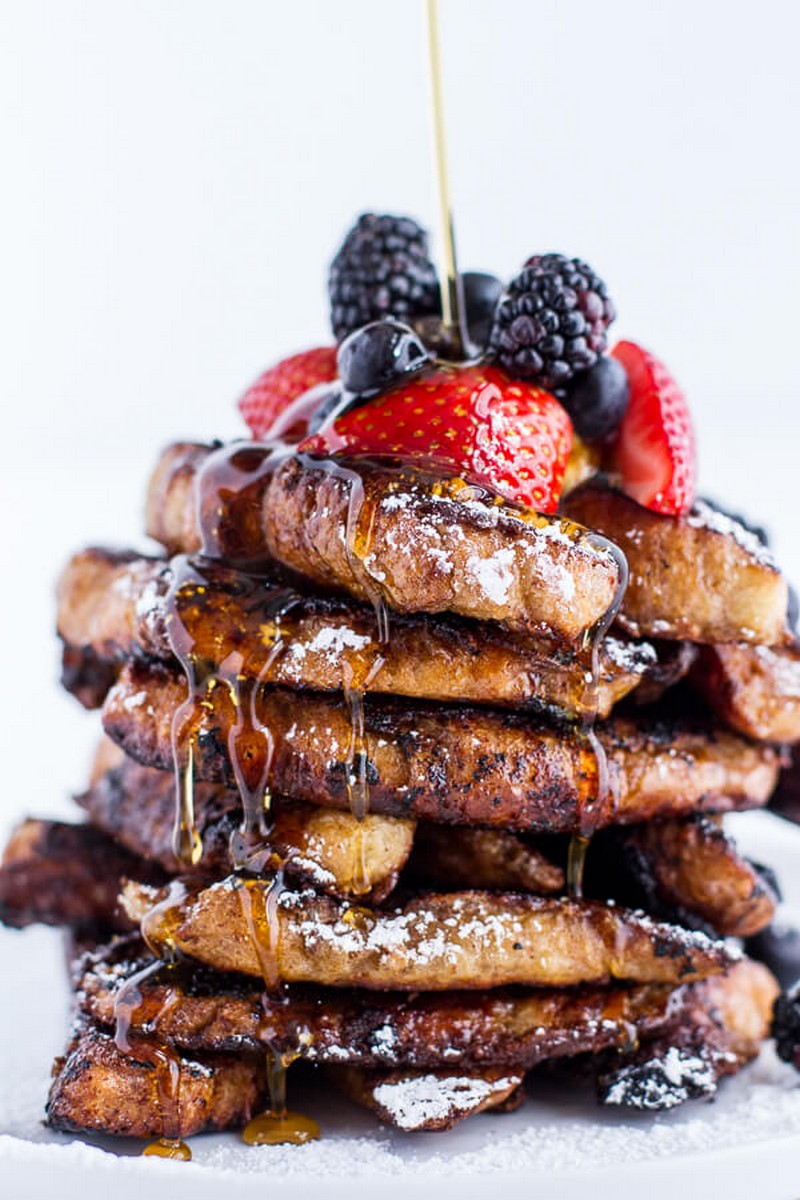 Ingredients: salted butter, brown sugar, instant coffee, coconut milk (or whole milk), eggs, vanilla extract, ground cinnamon, croissants, fresh berries, pure maple syrup, coconut whipped cream (optional), powdered sugar, vanilla. Get the full recipe at halfbakedharvest.com
Croissants Filled with Brie & Strawberries

Ingredients: croissants, flavorful lettuce, brie, strawberries. Get the full recipe at myblueandwhitekitchen.com
Croissants with Custard and Plums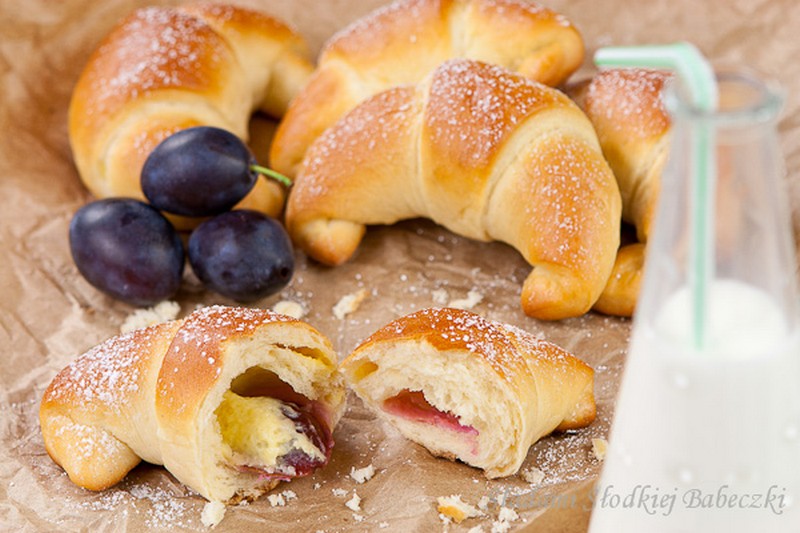 Ingredients: wheat flour, fresh yeast, milk, butter, sugar, lemon rind, vanilla sugar, salt, eggs, vanilla pudding, plums. Get the full recipe at babeczka.zuzka.pl
Easy Smoked Salmon Eggs Benedict on Toasted Croissant

Ingredients: eggs, vinegar, smoked salmon, croissants, salted butter, lemon juice, salt and black pepper. Get the full recipe at tofoodwithlove.com
French Almond Croissants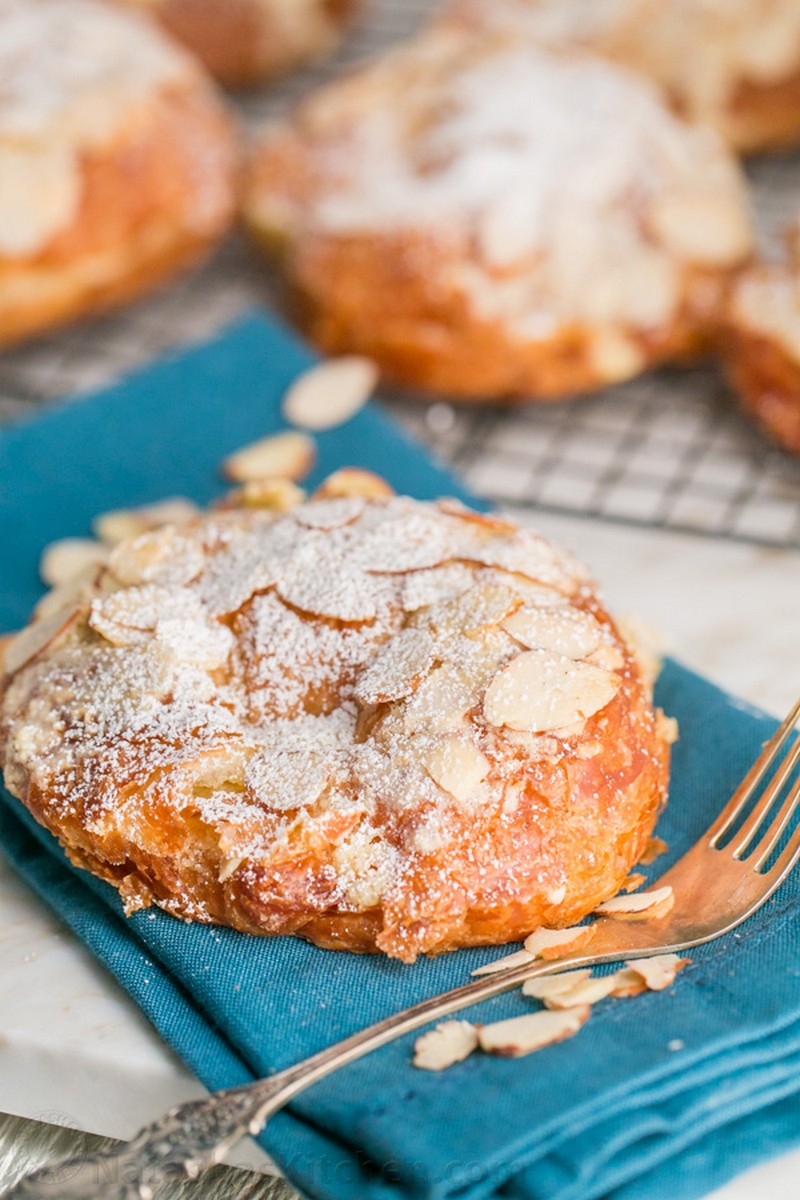 Ingredients: croissants, almonds, confectioner's sugar, sugar, rum (or vanilla extract), granulated sugar, almond meal/almond flour, salt, unsalted butter, eggs. Get the full recipe at natashaskitchen.com
French Croissant

Ingredients: all purpose flour, yeast, milk, butter, sugar, salt, egg white. Get the full recipe at cubesnjuliennes.com
Gluten Free Croissants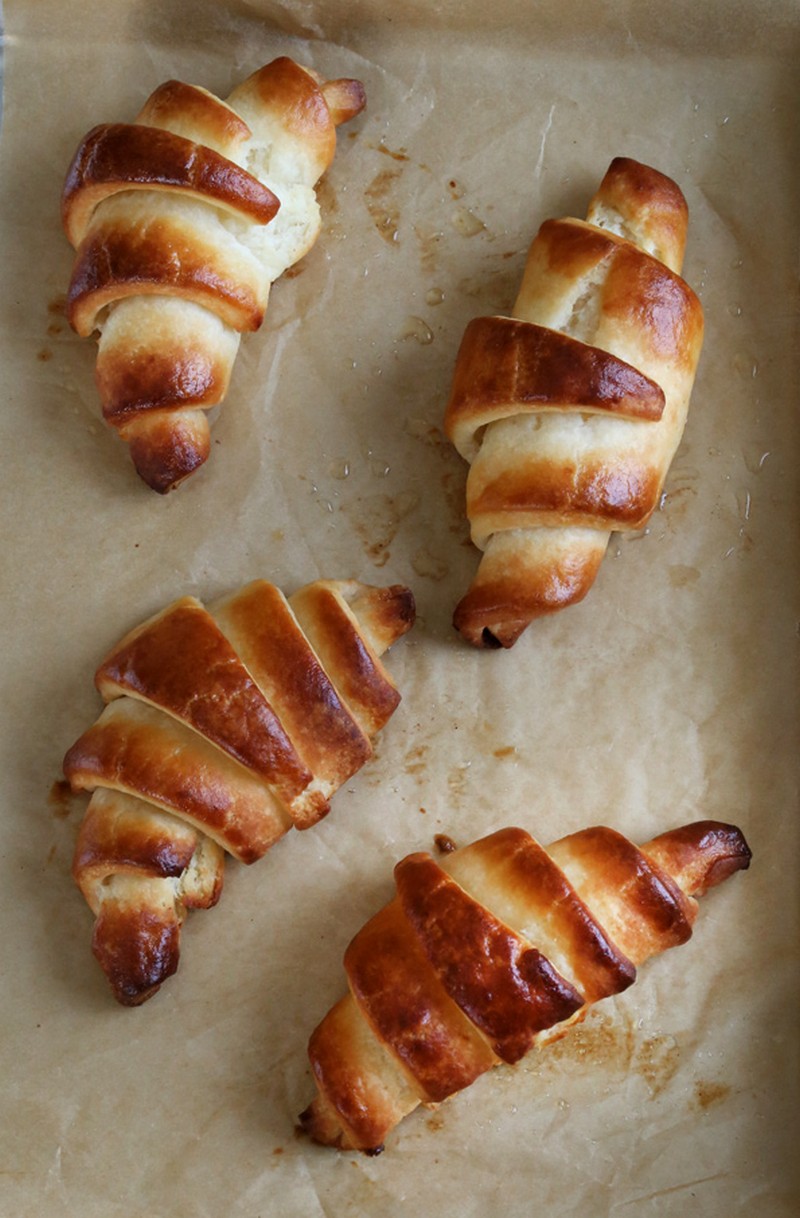 Ingredients: Better Batter all purpose gluten free flour, cornstarch, nonfat dry milk (or Cup4Cup gluten free flour), instant yeast, sugar, salt, unsalted butter, milk, egg. Get the full recipe at glutenfreeonashoestring.com
Homemade Buttery Croissants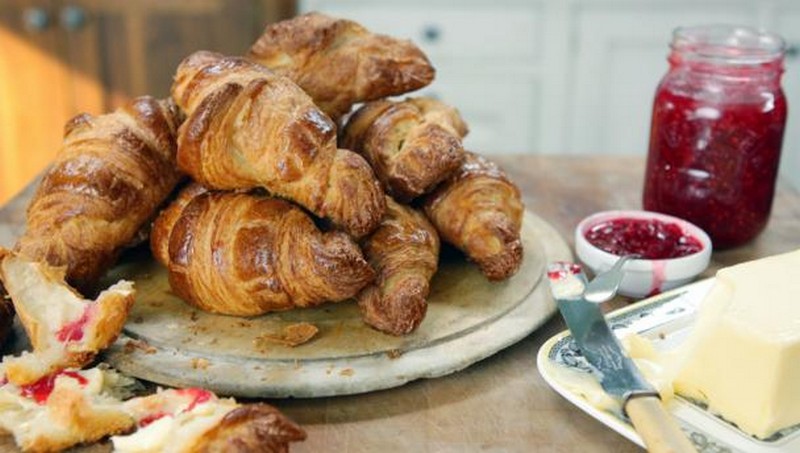 Ingredients: white bread flour, caster sugar, sea salt, fresh yeast, unsalted butter, eggs, raspberry jam. Get the full recipe at bbc.co.uk
Homemade Croissants

Ingredients: milk, active dry yeast, all-purpose flour, granulated sugar, salt, butter, egg yolk. Get the full recipe at dessertfortwo.com
Low Fat Croissants

Ingredients: unbleached all-purpose flour, whole milk, granulated sugar, unsalted butter, instant yeast, table salt, egg. Get the full recipe at finecooking.com
Perfect French Croissant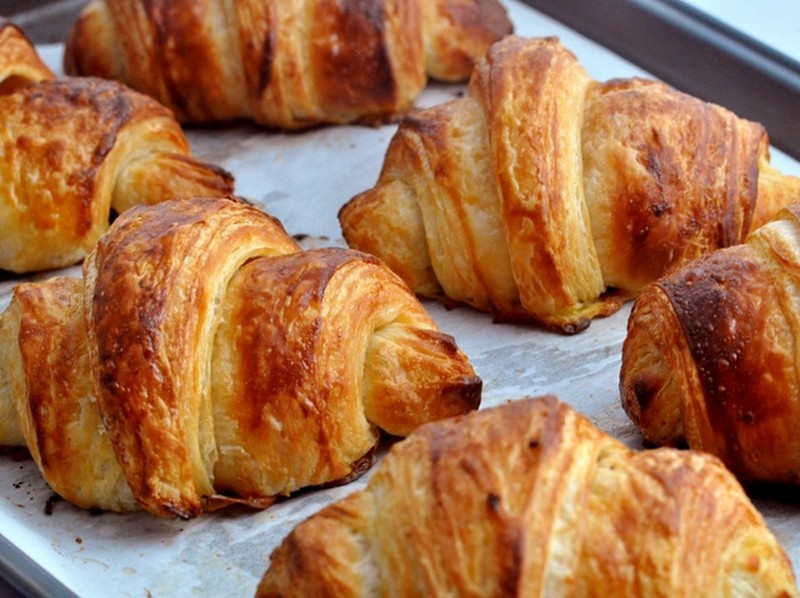 Ingredients: all purpose flour, milk, caster sugar, unsalted butter, fast action yeast, salt, egg. Get the full recipe at snapguide.com
Quick Croissants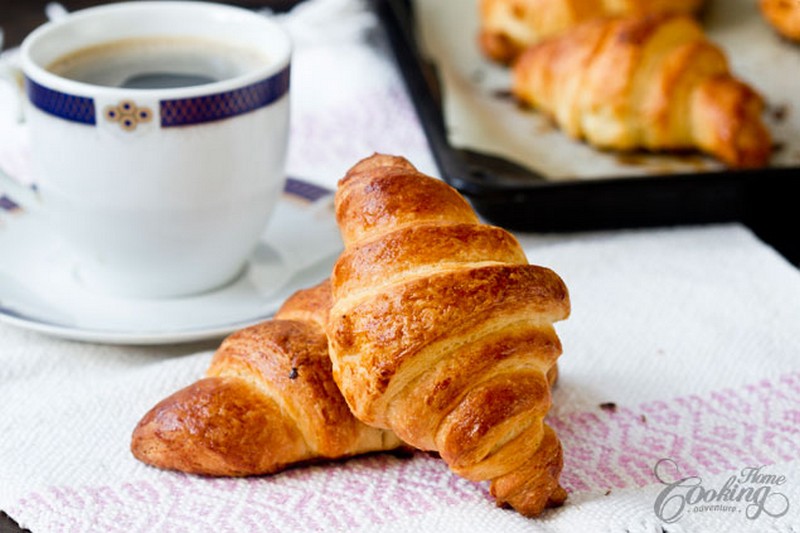 Ingredients: strong bread flour, unsalted butter, milk, sugar, fresh yeast, salt, egg yolk. Get the full recipe at homecookingadventure.com
Raspberry & Custard Croissant Puddings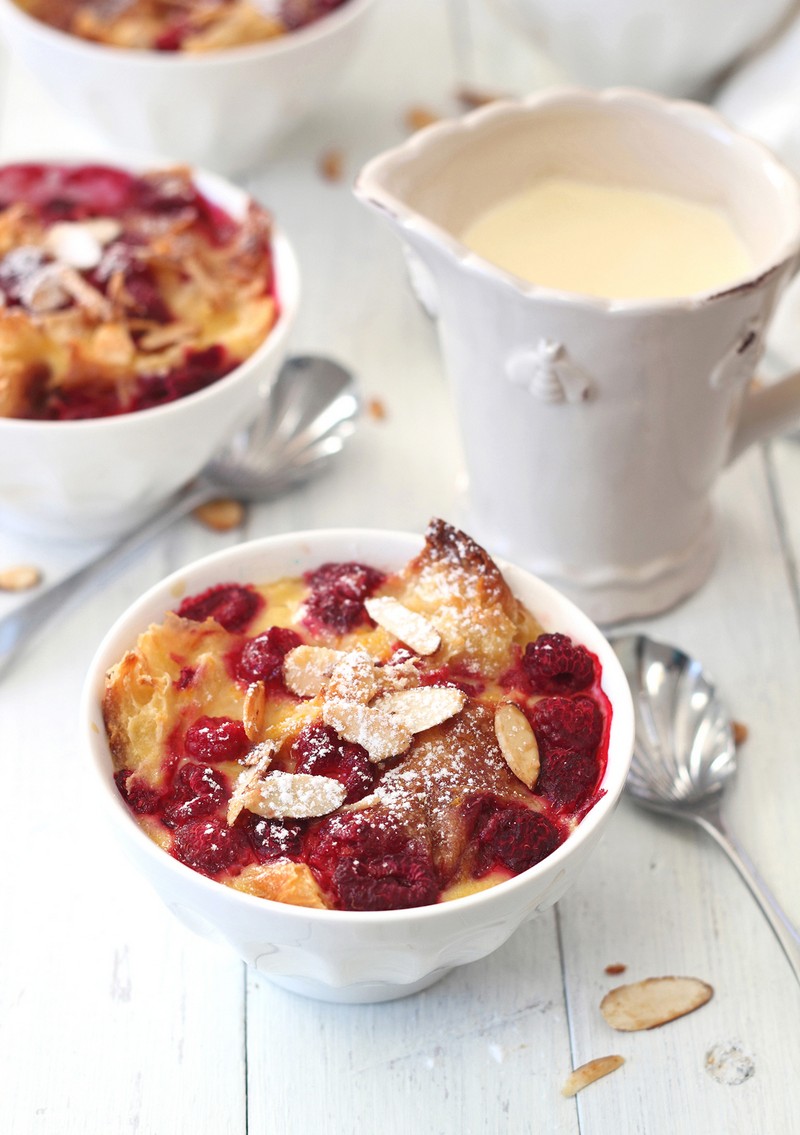 Ingredients: sliced almonds, sugar, cinnamon, salt, croissants, raspberries, eggs, milk, heavy cream, ground mixed spice, pure vanilla extract, orange zest, caster sugar. Get the full recipe at thekiwicook.wordpress.com
Rhubarb Croissants

Ingredients: ready-rolled croissant dough, roasted rhubarb, white chocolate, egg. Get the full recipe at zapxpxau.blogspot.com
Smoked Salmon Croissant With Cream Cheese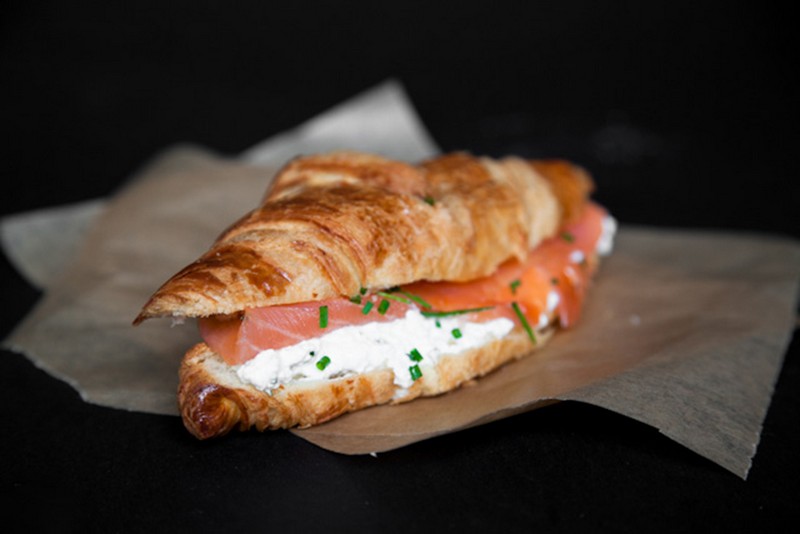 Recipe source at bitedelite.com
Step-by-Step Croissant

Ingredients: milk, active dry yeast, sugar, all purpose flour, salt, butter. Get the full recipe at topwithcinnamon.com
Step-by-Step Homemade Croissants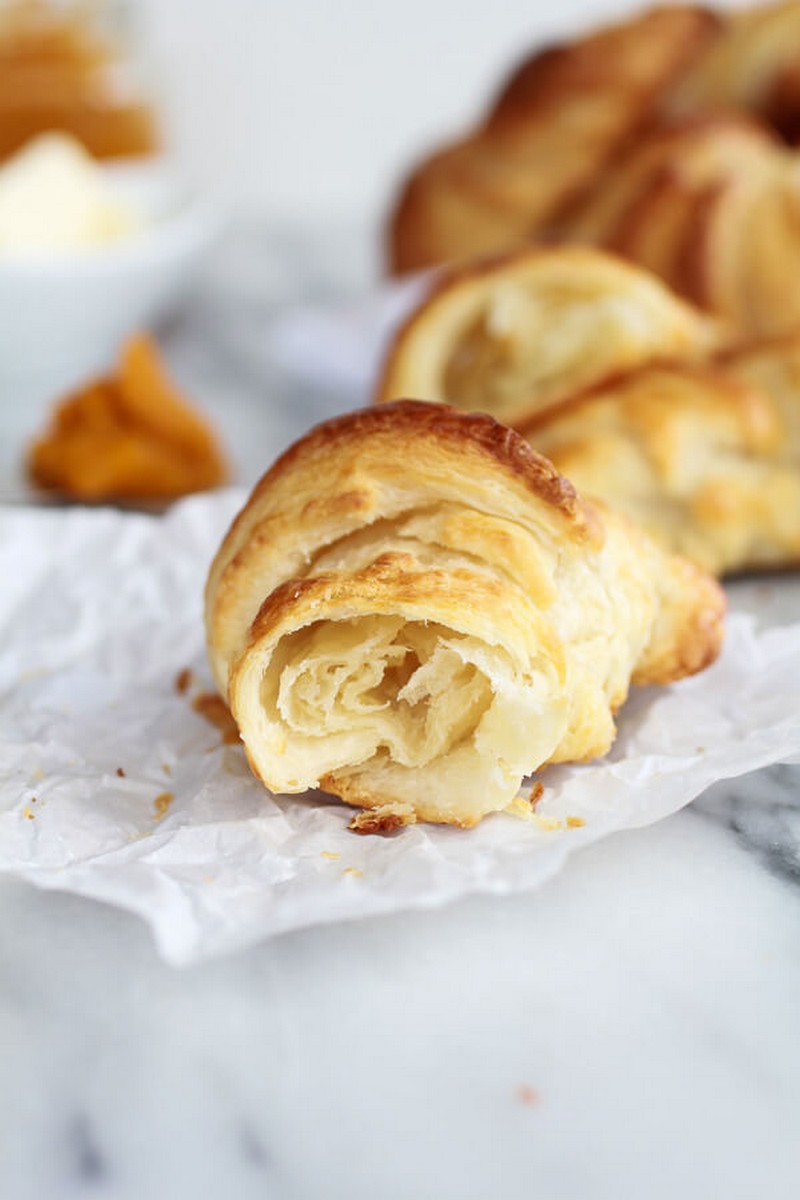 Ingredients: yeast, sugar, salt, butter, milk, flour, unsalted butter, egg, optional fillings: pumpkin, pumpkin pie spice, brown sugar, chopped chocolate, peanut butter, cinnamon sugar, nutella. Get the full recipe at halfbakedharvest.com
Taco Croissants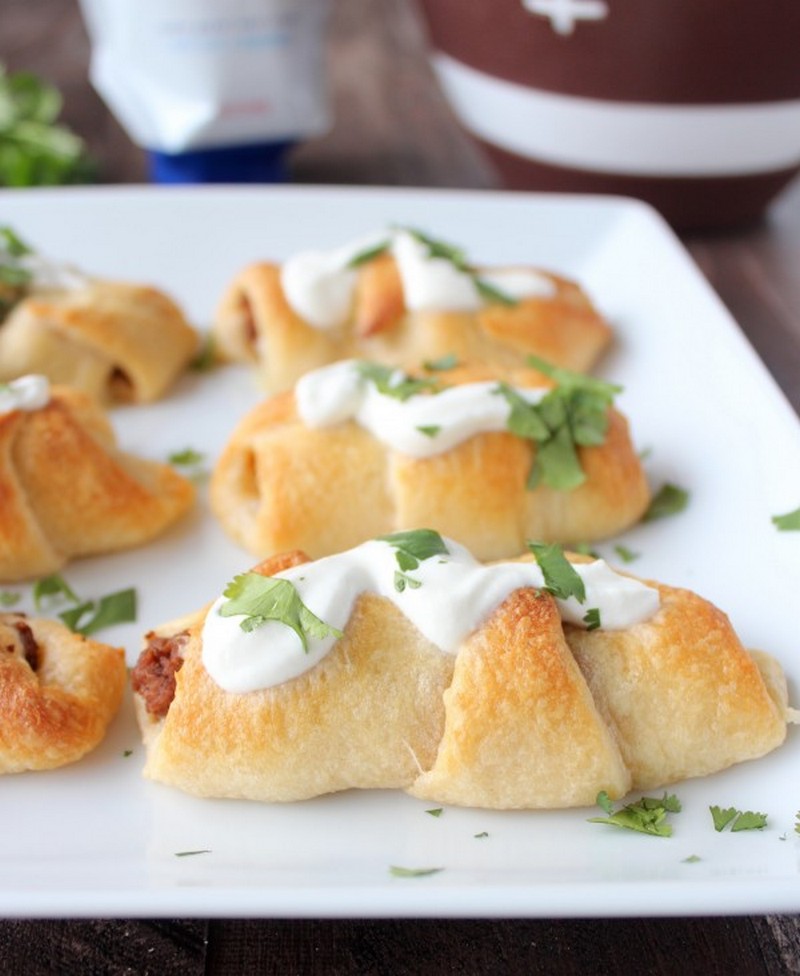 Ingredients: ground beef, taco seasoning, crescent roll dough, cheddar cheese, Squeeze Bottle Daisy Sour Cream. Get the full recipe at whitneybond.com
Traditional Buttery French Croissants

Ingredients: milk, eggs, white bread flour, salt, caster sugar, butter, easy blend dried yeast. Get the full recipe at food.com
Whole Wheat Croissants

Ingredients: white flour, bread flour or all-purpose flour, whole wheat flour, active dry yeast, sugar, whole or lowfat milk, salt, unsalted butter, egg. Get the full recipe at davidlebovitz.com