If beer is not something that you use for cooking as an ingredient, we totally recommend it to give it a try! Beer adds sugars and rich, earthy flavors to any food. The sugars aren't sweeter but rather add depth. Beer can be a winning ingredient in a range of great dishes. It adds a rich flavor and a nutty taste to stews and soups and also to desserts. You don't have to worry about the alcohol content, the alcohol evaporates during the cooking process. Here are ten fantastic recipes, starring beer!
Beer Braised Brats with Red Sauerkraut

Ingredients: olive oil, red cabbage, red onion, salt, apple cider vinegar, beer, bratwurst, Hoagie buns, grainy mustard. Full recipe at wholefully.com
Beer Pimento Cheese Soup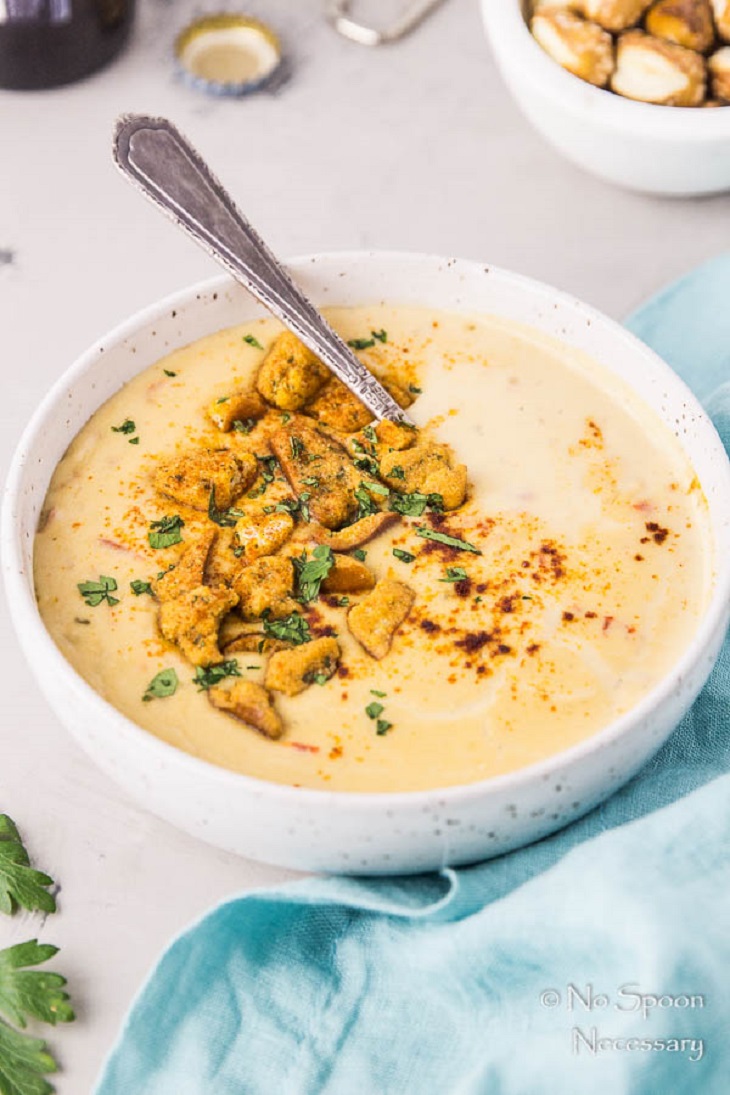 Ingredients: unsalted butter, onion, garlic, all-purpose flour, unsalted chicken stock, brown ale, heavy cream, Dijon mustard, Worcestershire sauce, hot sauce, sharp Cheddar cheese, Pepper Jack cheese, pimientos, salt, pepper, pretzels (optional), smoked paprika (optional), parsley (optional). Full recipe at nospoonnecessary.com
Coconut Porter Pancakes

Ingredients: flour, sugar, baking powder, salt, eggs, unsalted butter, coconut porter, vegetable oil, coconut flakes or shredded coconut (optional), banana (optional), pure maple syrup (optional). Full recipe at craftbeering.com
Craft Beer Cheese and Soft Pretzel Bites

Ingredients: butter, flour, garlic, paprika, cream cheese, cheddar cheese, beer, dry instant yeast, salt, butter, brown sugar, baking soda, eggs. Full recipe at supermancooks.com
Flemish Beef Stew with Belgian Ale

Ingredients: beef shank or chuck, smoked pork lardons or bacon, yellow onions, beef stock, dark Belgian ale, unsalted butter, flour, whole grain mustard, brown sugar, dried thyme, bay leaves, ground allspice, salt, black pepper. Full recipe at craftbeering.com
Mussels in a Spicy Beer Broth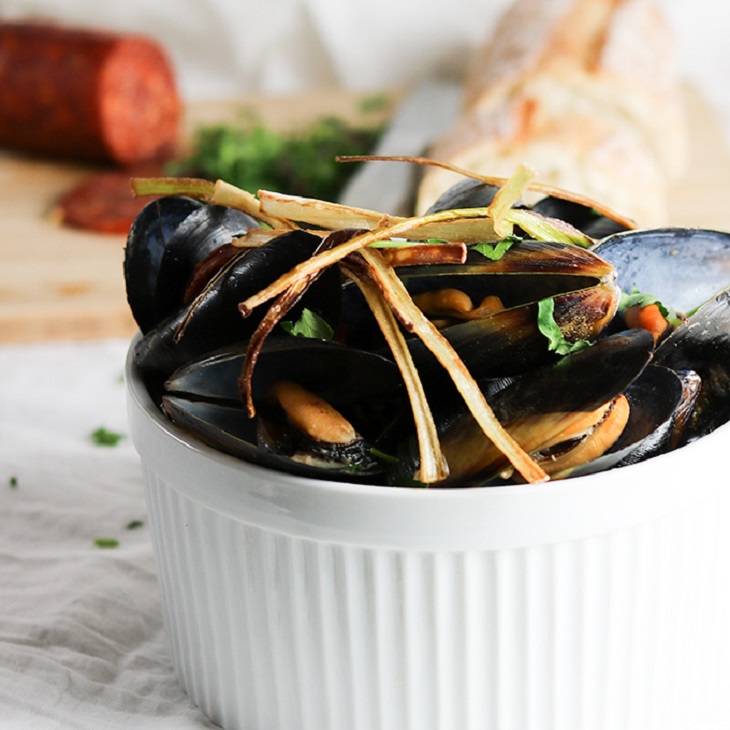 Ingredients: mussels, olive oil, beer, butter, Spanish chorizo, garlic, shallots, red pepper flakes, sea salt.
No Knead Beer Bread

Ingredients: all-purpose flour, instant yeast, fine grain sea salt, distilled white vinegar, beer. Full recipe at kitchenkonfidence.com
Slow Cooker Beer Chicken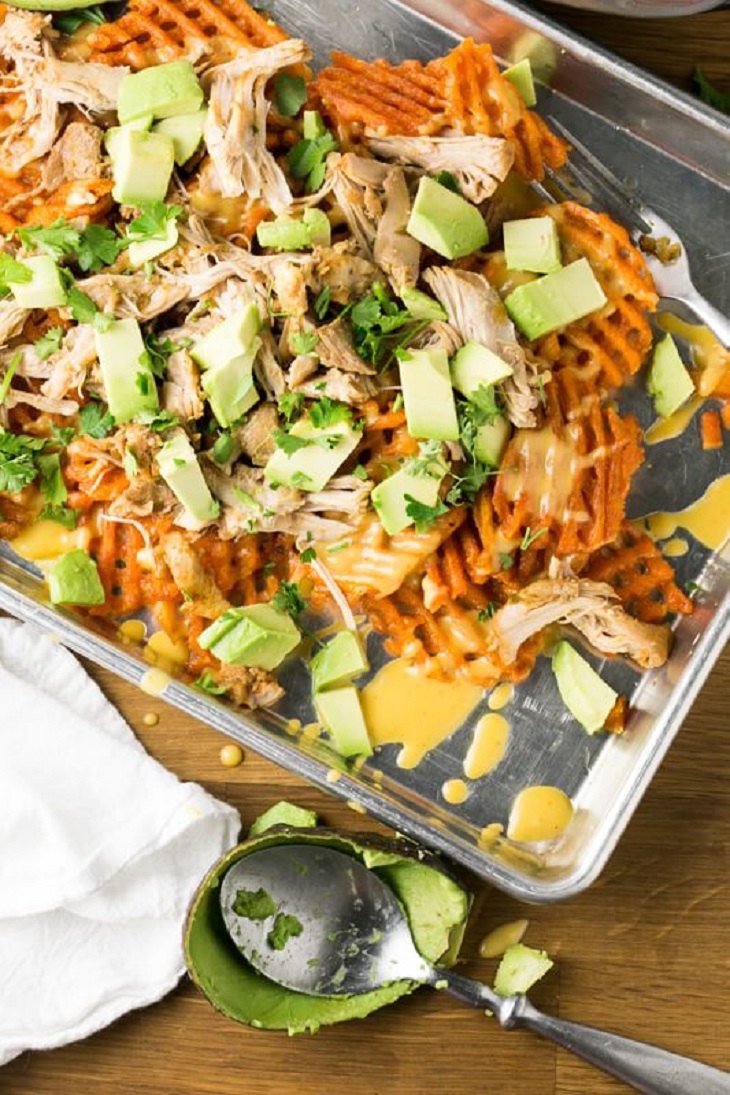 Ingredients: chicken thighs, onion, jalapeño, beer, brown sugar, soy sauce, smoked paprika, onion powder, garlic powder, salt. Full recipe at chattavore.com
Stout Beer Chili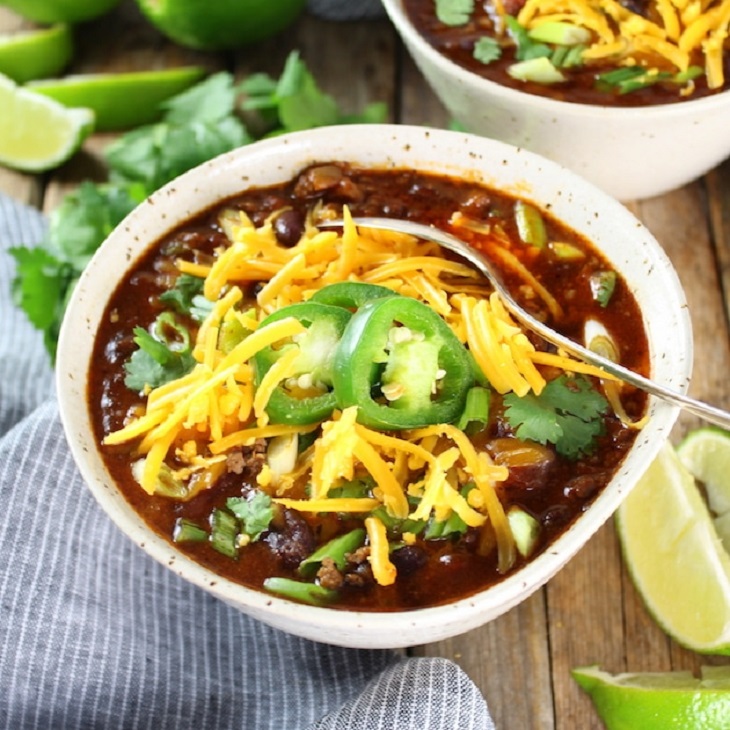 Ingredients: olive oil, yellow onions, salt, pepper, garlic, oregano, chili powder, cumin, coriander, cayenne, lean ground beef (or ground turkey), kidney beans, fire roasted tomatoes, tomato paste, stout beer, molasses, cheddar cheese, scallions, sour cream, cilantro, jalpenos. Full recipe at tasteandsee.com
Vegan Beer Marinated Portobello Tacos

Ingredients: vegan pale or blonde ale, lime juice, ground cumin, garlic powder, portobello mushrooms, sunflower oil, corn or flour tortillas, avocados, corn kernels, cilantro, red onion, jalapeño, salt. Full recipe at connoisseurusveg.com