Fall is here and that means pumpkin-everything is upon us! We have rounded up our favorite pumpkin recipes published on the food blogosphere in September 2015.
Check out this list of everything from sweet to savory, appetizers to desserts, for your go-to list of pumpkin recipes!
Note: Because 210 recipes all on one page take a looooong time to load, we have split up this list into 6 different pages, each containing 35 recipes (listed in no particular order). So make sure to check them all for some amazing new pumpkin recipe ideas!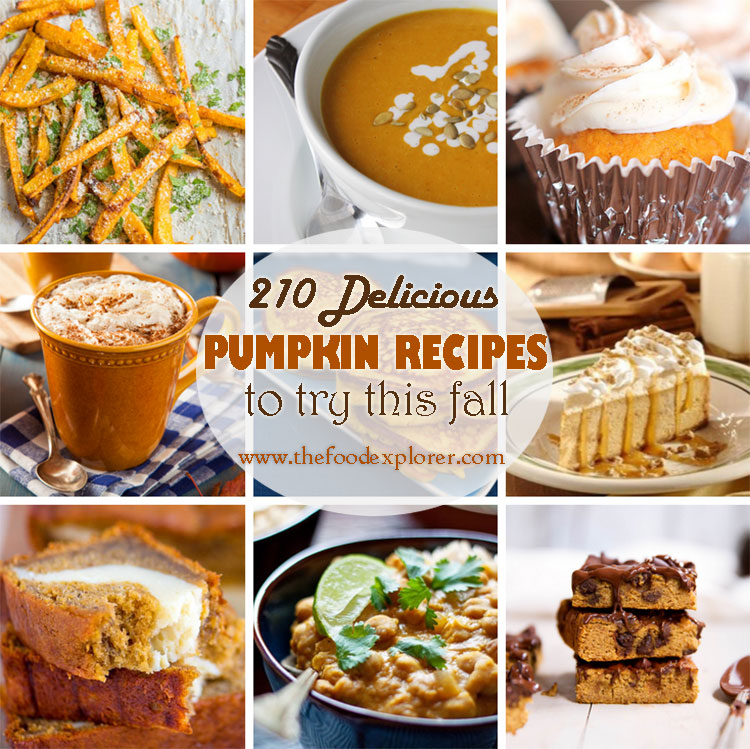 Easy Pumpkin Soup Recipe

This pumpkin soup looks and tastes wonderful! It is perfect for serving on cool nights or your family's Thanksgiving dinner. Via 7onashoestring.com
AIP Pumpkin Mug Cake

If you love pumpkin as much as we do, you'll love this recipe. It takes 5 minutes to make and the result is a moist, pumpkin-y muffin! No oven required for this recipe, and it makes a delicious single-serving muffin that is the perfect allergy-free treat when the weather gets crisp. Via agirlworthsaving.net
Spicy Pumpkin Bacon Dip

This spicy pumpkin bacon dip is creamy thanks to the pumpkin and greek yogurt cream cheese, is hearty with the cheddar cheese and bacon, and flavorful with the garlic, cayenne pepper, and fresh green onion. Via ahotsouthernmess.com
Low Carb Chocolate Pumpkin Sex In A Pan

A low carb pumpkin recipe to end all pumpkin recipes! This gorgeous chocolate and pumpkin layered dessert is so rich and creamy, you'll be in love after the first bite. Via alldayidreamaboutfood.com
Pumpkin Pie Protein Overnight Oats

A healthy protein-packed breakfast that tastes like dessert! You just need 5 everyday ingredients and a glass jar. Say good-bye to boring oatmeal forever! Via amyshealthybaking.com
Pumpkin Baci di Dama with Mascarpone Filling

The cookie, Baci di Dama is originally from the region of Piedmont, (supposedly they resemble a womans lips ready for a kiss) and are made with hazelnuts (or almonds) and filled with melted chocolate. You could eat them plain or sprinkle them with some unsweetened cocoa. Via anitalianinmykitchen.com
Pumpkin Mousse

As the autumn season approaches us, pumpkin recipes are perfect to make for this time of the year. Looking for an easy, yet delicious, pumpkin dessert recipe? Try this one and spoil your loved ones with some pumpkin deliciousness. Via atasteofpatriarchy.com
Pumpkin Spice Latte Cake with Cinnamon Frosting

Pumpkin Spice Latte season is in full swing right now. The drink – which is available at many coffee shops all across the country, not just at Starbucks – manages to put all of our favorite fall flavors, along with a bit of coffee, into one single cup. I like the way that the flavor of coffee blends with traditional pumpkin pie spices like cinnamon, nutmeg and cloves. These spices all seem to enhance the natural richness of coffee, as well as evoking the feeling of fall. This Pumpkin Spice Latte Cake with Cinnamon Frosting is inspired by the coffee drink of the same name. Via bakingbites.com
Homemade Pumpkin Pie Spice

This delicious blend of cinnamon, nutmeg, ginger, and all-spice make the perfect Homemade Pumpkin Pie Spice Recipe. No need to spend extra money on the packaged mix when you have all the ingredients right on hand. Via beautyandbedlam.com
Cinnamon Streusel Pumpkin Bread with Maple Glaze

Cinnamon Streusel Pumpkin Bread with Maple Glaze – moist and delicious pumpkin bread sprinkled with a crumbly streusel topping, then drizzled with a rich maple glaze. This is fall food heaven, y'all! Via belleofthekitchen.com
Pumpkin Pie Moonshine Video Recipe

There are two types of people when it comes to fall: People who hate everything pumpkin related, and people who love everything pumpkin related. We all can agree though that moonshine is always amazing right? Here's a pretty easy recipe on how to make Pumpkin Pie moonshine. Via bigfrog104.com
Pumpkin Butter Recipe

One of the best things to make in the fall is pumpkin butter! It is so easy and the result is like spreadable pumpkin pie for your morning toast or pancakes. You can also mix it into plain yogurt or oatmeal. Truth be told, you can even eat it by the spoonful from the jar! Via blog.lilyandval.com
Pumpkin Salad In A Jiffy

Super simple to make and healthy, without compromising on flavor or texture. Via blog.moonberry.com
Pumpkin Orzo Recipe

Orzo with rich creamy pumpkin is one of my favorite side dish recipes to make in the fall. This Pumpkin Orzo side is a wonderful match with grilled meats, roasts, or even salmon. It really reflects the season and is so quick and easy to make. The simple one pot recipe, can actually count as both a starch and a vegetable, and the richer smoother flavor of the pumpkin makes it a match for many entrees that would clash with a tomato based side. Via blommi.com
Spicy Chipotle Pumpkin Hummus {5 minute recipe}

The natural earthy sweetness of pumpkin compliments smoky, spicy flavors. This Spicy Chipotle Pumpkin Hummus is a beautiful blend of traditional hummus flavors, pumpkin, smoky chipotle all in a comingling of flavors where none overtake the others. It's ready in less than 5 minutes too so easy to create something special and seasonal without slaving to do it. Via boulderlocavore.com
Pumpkin Blondies with White Chocolate

Soft and moist pumpkin blondies made with brown butter and warm spices, and filled with white chocolate chips and pecans. Via celebratingsweets.com
Chocolate Chip Pumpkin Bread

Chocolate Chip Pumpkin Bread. Super moist, soft and loaded with chocolate chips! The perfect breakfast or dessert for Fall! Via chefsavvy.com
Pumpkin Cheesecake Bars

Pumpkin lovers of all ages will instantly fall in LOVE with these easy-to-make pumpkin cheesecake bars. They are like the lovechild of cheesecake and pumpkin pie! Via chocolatecoveredkatie.com
Pumpkin Lush Bars

These Pumpkin Lush Bars will make for a delicious fall layered dessert. You will find layers of cream cheese filling, pumpkin pudding, and whipped topping, all on top of a yummy shortbread crust. Perfect for Thanksgiving dessert. Via cincyshopper.com
Pumpkin Spice Latte Muffins

This is recipe is great for the girl who's obsessed with all things pumpkin spice but isn't feeling all the calories and sugar that come with it. It's sure to give that jolt of energy that's been lacking in your morning routine because it contains just a hint of espresso powder. Plus, there's a swirl of Nutella on top to add a hint of sweetness that makes this recipe even better. This recipe is quick and easy – it should only take 30 minutes or less to do at home. So why not satisfy in your pumpkin spice cravings and try out this easy dessert recipe? Via collegecandy.com
Pumpkin Cake with Ginger Chocolate and Meringue

This cake is wonderfully moist and has a delicate warming spice to it that isn't overbearing, but unmistakable. The outer meringue frosting adds balance and lightness to the cake. Its cinnamon vanilla flavors add a welcome lightness to the deeper spices from the cake and chocolate. The toastiness of the meringue is addictive and adds gives the whole cake a "pumpkin s'mores" feel to it. You almost feel as though you are eating the cake out by the campfire. Via cookienameddesire.com
Cookies and Cups Pumpkin Spice Caramel Corn

This simple Pumpkin Pie Spice Caramel Corn is crazy addictive….crunchy, sweet and seasoned with the perfect amount of Pumpkin Pie Spice and salt. Let the fall snacking begin! Via cookiesandcups.com
Paleo Pumpkin Bars (AIP, Vegan)

These AIP pumpkin bars have all the spicy flavors of pumpkin pie without the mess or the work. They take 10 minutes to throw together and are nut-free, egg-free, and seed-free! Via cookituppaleo.com
Pumpkin Latte Recipe

Everyone is excited about Starbucks' Pumpkin Spice Latte this time of year, but did you know you can make a quick little pumpkin latte recipe at home to quench those pumpkin cravings? Granted, it's not quite the same drink but it's hot, full of pumpkin flavor and will give you that little boost when you need it like any great caffeinated beverage should. Via dearcrissy.com
Pumpkin Spice Mini Muffins

These mini muffins are perfect for school snacks, at-home snacks (with a homemade pumpkin spice latte!), a nice food gift to say thank you to someone, or even your contribution to a get-together with friends…they are good for any occasion, really! And the best part? No one will will be able to tell they are vegan or that they are gluten-free. Try it, you'll see! Via delightfuladventures.com
No-Bake Pumpkin Energy Bites

These will turn out deliciously, so you can throw them in a baggie for whenever you're traveling, along with a jar of almond butter and a box of dates. Via detoxinista.com
Pumpkin Granola Recipe

Crunchy, hearty and sweet, this is the sort of granola you can eat like cereal with cold milk, or you can just eat it by the handful, straight out of the jar. Via diethood.com
Iced Maple Pumpkin Pecan Streusel Muffins

A delicious pumpkin muffin topped with a pecan streusel crunch and drizzled with a maple icing. It is all the amazing flavors of fall all rolled in to a delicious breakfast treat. These muffins are really quick to make and the toppings can be used together or you can choose one or the other if you want something a bit quicker or simple. Via dinnerthendessert.com
Thai Curry Pumpkin Soup

This recipe is easy, peasy, and offers a surprising take on a Fall staple. The warm spices of the curry, the creamy coconut milk, the sweet fennel, and the pumpkin come together to give a cozy and flavorful boost to traditional pumpkin soup. I'm adding this one to my Fall recipe rotation, and in fact, I think it's worthy of fall dinner parties too! Via eatingininstead.com
Easy Pumpkin Soup Recipe with Canned Pumpkin

This easy pumpkin soup recipe with canned pumpkin tastes like fall and takes less than 10 minutes of hands on time. It also reheats well as a freezer meal. You need this soup in your life! Via eatingrichly.com
Paleo Pumpkin Waffles

These paleo pumpkin waffles are so yummy! You get just a hint of the pumpkin — it's not overpowering, but you know it's there. They are a little spicy thanks to the cinnamon and cloves in the pumpkin pie spice, and super yummy because of the banana. And don't worry if you aren't a coconut person, the coconut flour and coconut oil don't add much flavor but the coconut flour gives the waffles that texture that I absolutely love in paleo baked goods. Via fakeginger.com
Homemade Nutella Swirled Pumpkin Bread w/ Hazelnuts

On its own this bread can seriously hold its own, the extra Nutella swirl and chopped hazelnuts just give it bonus points. This loaf is made with only the best, whole food ingredients. Perfectly sweetened with maple syrup, and spiced to perfection. The slight crunch of the top contrasts with the fluffy, moist interior. Via faring-well.com
Canadian Livings No Bake Pumpkin Cheesecake

Thanksgiving is coming up and if you are looking for a quick pumpkin recipe for your big family gathering, this is the easiest, most delicious recipe! It beats picking up one of the four-month old pumpkin pies from Costco any day. It literally takes 10 minutes, with a couple hours chilling in the fridge. You can use little ramekins, but it would also be super cute in baby mason jars. Via franklyray.com
Pumpkin Pie Spice Cookie Recipe

When you think of fall you probably think of pumpkins and pumpkin pie. This recipe results in a very thin, crunchy and chewy cookie, that would be great to dunk in your coffee, or even a cold glass of milk. Via gardenmatter.com
Peanut Butter Pumpkin Pie Overnight Oats {GF + DF}

These Peanut Butter Pumpkin Pie Overnight Oats are loaded with protein and taste like pumpkin pie without the guilt. The peanut butter comes from PB2 powdered peanut butter. This adds protein and a delicious flavor to the oats. Via glutenfreejess.com
<!––nextpage––>
Pumpkin Spice Granola

Packed with all of the wonderful flavors of fall – pumpkin pie spice, pecans, pepitas, and dried cranberries – this Pumpkin Spice Granola is a delicious, healthy autumn treat. Via grainchanger.com
Pumpkin Chocolate Chip Muffins Recipe

Two cups of pure pumpkin make our pumpkin chocolate chip muffins a healthy snack for fall. Bonus: they'll satisfy the chocolate lovers in your family too! Warm and sweet and slightly spicy, these muffins are just the perfect treat for a crisp Autumn day. Via happyhooligans.ca
Baked Pumpkin Donuts

If you're sensitive to gluten or you're just looking for a healthier version, these doughnuts are definitely a treat for you! Dense and moist, bathed in maple syrup, vegan and gluten-free. Via hellonatural.co
Classic Pumpkin Spice Cheesecake

Classic cheesecake infused with creamy pumpkin, plus a double dose of pumpkin spice – it's baked both in the cake and the crust! Pumpkin spice cheesecake is everything that embodies the sweetness and comfort of fall. And when you add a dollop of whipped cream, a sprinkling of more pumpkin pie spice, and a drizzle of caramel sauce on top? Seriously, who wouldn't want a slice of this cheesecake? Via homemadehooplah.com
Ugly Butterscotch Chip Pumpkin Cookies

These cookies come together quickly and are easy for kids to help with. Your pumpkin cookies will be soft and pillowy and moist. You could substitute chocolate chips here, but butterscotch is where it's at when you're going to sweeten up your pumpkin people! Via hometoheather.com
Easy Pumpkin Pie Cinnamon Rolls

If you're ALWAYS craving cinnamon rolls, but too lazy to make up a batch and wait for hours or heaven forbid, overnight, try making these Pumpkin Pie Cinnamon Rolls. They are quick to make and amazingly delicious! Via iambaker.net
Pumpkin Soup Recipe

Here is a really good recipe on a pumpkin soup you just have to try! Scroll down for English version. Via idawarg.se
Pumpkin Granola Muffins

Epic vegan muffins! Low in sugar to make them breakfast worthy, and high healthy fat and fibre content keeps you satisfied for hours. And that crunch from Nature's Path Pumpkin Flax Granola is mmm-mmm-mmm. Not to mention it is organic, delicious and affordable. These muffins in its all entirety are made with simple organic ingredients you can find in almost any store these days. Via ifoodreal.com
Stuffed Butter Chicken Pumpkin

When it comes to cooking up a feed around camp, we like our meals to be interesting, simple, and create minimal mess. Stuffing your entire meal inside of a pumpkin fulfills all of those criteria! Via intentsoffroad.com
Pumpkin Spice Chocolate Granola

Pumpkin Spice Chocolate Granola is just sweet enough and spiced with the unmistakable flavors of fall, with a hint of dark chocolate. Gluten-free and naturally sweetened, too! Via iowagirleats.com
Pumpkin Pie Spice Blend

Enjoy this blend year round for desserts, muffins and a multitude of baked goods! Via it-takes-time.com
Pumpkin Gingerbread Recipe

This Pumpkin Gingerbread recipe is really simple to make and perfect for fall! If you're giving bread as a gift, these paper loaf pans are great and look super cute. Swap the twisty tie for a pretty ribbon or striped twine! Via jennycookies.com
Gluten Free Pumpkin Pancakes

These Gluten Free Pumpkin Pancakes are melt-in-your-mouth pancakes! Light and fluffy, these gluten free pancakes take only 10 minutes to make! Via jessicainthekitchen.com
Pumpkin Coconut Soup

A creamy pumpkin soup with coconut milk and warm spices. Via joaniesimon.com
No Bake Pumpkin Cheesecake Recipe

This no bake pumpkin cheesecake recipe captures the flavor of fall, in just 5 minutes. It has a wonderful subtle pumpkin taste and smooth, creamy texture! Via julieblanner.com
Vegan Pumpkin Loaf (Medjool Date-Sweetened)

Super simple, super moist and blissfully cozy with flavors of fall pumpkin spice in every bite. This recipe is perfect at breakfast time since a small slice contains close to 6g fiber. It is also very rich in vitamin A, potassium and is a good source of protein and iron. Via kblog.lunchboxbunch.com
Pumpkin Cornmeal Scones

Autumn-spiced Pumpkin Cornmeal Scones are studded with pecans and chocolate chips, and drizzled with a dark chocolate glaze. All you need is a cup of tea. Via kitchenconfidante.com
Pumpkin Crisp Recipe

An easy & delish pumpkin recipe. Heat up your oven and get ready for the smell of Fall to drift through your home! Via kvil.cbslocal.com
Recipe for Pumpkin Spice Latte

Pumpkin Spice Lattes are a fall staple. Below is a healthier version you can make at home. Via kwgn.com
Pumpkin Pecan Crunch Muffins

Super crunchy topping and a lot of it! The top is the best part of a muffin and this recipe gives you double stuff! Via laughingspatula.com
Super Easy Pumpkin Pie

This dessert is smooth and creamy, perfectly spiced, not too sweet, and full of hearty pumpkin flavor. Top it with a dollop of whipped cream and you have yourself a melt-in-your mouth treat. Via littlesweetbaker.com
Pumpkin & Cream Cheese Roulade

Deliciously moist pumpkin roulade filled with light and fluffy cream cheese filling! Via marshasbakingaddiction.com
Copycat Starbucks Pumpkin Spice Latte

Copycat Starbucks Pumpkin Spice Latte Recipe: Perfect fall drink! Enjoy your favorite Starbucks drink for less money and made with natural ingredients. Via livingsweetmoments.com
Pumpkin Spice Granola Parfaits {Gluten-free, Dairy-free}

Make these Pumpkin Spice Granola Parfaits for a hearty breakfast that is both gluten and dairy-free. Via mygluten-freekitchen.com
Upside Down Pumpkin Cake

Just in time for Fall and Thanksgiving, here's one of our favorite easy pumpkin pie recipe. Upside Down Pumpkin Cake recipe; an easy pumpkin pie recipe only so much better. Via mommyofamonster.com
Starbucks Pumpkin Cream Cheese Muffins: Copycat Recipe

It's finally fall, and that means that you get this amazing (oh so delicious, wonderful, incredible!) copycat recipe for Starbucks Pumpkin Cream Cheese Muffins! These muffins are perfect just like this – no need to add pumpkin seeds. Via momofthesouth.com
Mini Pumpkin Pies

These mini pumpkin pies taste like the holidays in a jar. Via myhealthydish.com
Salad with Roasted Pumpkin

A healthy and delicious salad with roasted pumpkin and lentils. Via mynordicfoodtales.com
Pumpkin Alfredo Sauce

We love this sauce for its smooth texture and the subtle sweetness of pumpkin that is rounded out by the sage and thyme. This sauce comes together very quickly. It is heavenly when served over cheese ravioli and sprinkled with toasted pecans and fresh parsley on top. It is a combination that might seem odd to some, but once you try it, you will realize that it is the perfect warm and comforting meal for a cool autumn night. Via myrecipeconfessions.com
Pumpkin Spice White Hot Chocolate

Best part about this recipe, its made entirely in the slow cooker. You can't leave it to cook by itself though. You won't mind hanging around your kitchen as the spices and chocolate all meld together creating the most perfect scent for your entire house and a warm beverage that may make you cry….. Via ohmydearblog.com
Pumpkin Donut Recipe Using Only 3 Ingredients!!!!

October is almost upon us and that means everything is coming up pumpkins. Pumpkin pie, pumpkin rolls, pumpkin latte… And let's not forget pumpkin donuts! Via oldworldgardenfarms.com
Pumpkin Spice Bread Recipe

What we like about this pumpkin bread mix is that it has more spice in it than other pumpkin breads. I guess if you read the mix though, it is called a pumpkin SPICE bread. It has a really nice flavor. Via peoniesandorangeblossoms.blogspot.ro
Grain-Free Iced Pumpkin Cookies

These cookies are sort of cakey; like a cross between a cookie and a cake, in the most delicious way. And you MUST do the icing—it makes them. If you're a pumpkin fan, you will love these! Grain-Free Iced Pumpkin Cookies | Pine and Crave
Starbucks Copycat Pumpkin Spice Latte

For those of you who love making things entirely from scratch you can make your own pumpkin puree and even make your own vanilla extract to make this coffee. They're both crazy-easy to make. The homemade pumpkin puree is one of those things you can make last minute because it only takes an hour from start to finish and it will leave your house smelling wonderful. Via pinkrecipebox.com
Pumpkin Spice Bars with Maple Frosting Drizzle (vegan, gluten-free, nut-free, oil-free)

These PUMPKIN SPICE BARS are a little deceiving. They taste every bit like other pumpkin treats, yet they are made with pumpkin seeds, not pumpkin flesh! They dried apricots help enhance the pumpkin flavor, along with the spices. The frosting is… well… a must. Just don't skip it, okay? The bars will be okay without it. But why bother making them without it? If you're going to take the time to make these (and they are ridiculously easy), then take the extra 5-10 minutes to whip up the simple frosting! Via plantpoweredkitchen.com
<!––nextpage––>
Nutella Stuffed Pumpkin Cookies

What's a better basic pairing than pumpkin spice in fall & nutella? Seriously, nothing. There is absolutely nothing more basic. BUT! Good news is, there's nothing more delicious either! These cookies' solid exterior filled with a creamy center of both nutella & batter makes them the perfect bite. Via publiclivessecretrecipes.com
Pumpkin Carrot Cake Muffins

These pumpkin carrot cake muffins are pillowy soft and packed with aromatic sweetness. But they're more than that! Every bite is stuffed with juicy raisins, crunchy walnuts, and vibrant shreds of carrots, all embedded in the characteristically rich, velvety texture of pumpkin. As the weather becomes cooler and our warm, cozy beds exert an ever greater pull in the mornings, the inviting, spicy smell of these muffins is enough to rouse even the sleepiest of sleepyheads! Via putonyourcakepants.com
Pumpkin Doughnut Muffins

Pumpkin Doughnut Muffins – amazing muffins topped with cream cheese icing over a sweetened crumble. Easy recipe and fail-proof recipe! Via rasamalaysia.com
Pumpkin Chia Seed Pudding

This recipe for creamy, dreamy, sweet and pumpkin-y pudding is made with pureed pumpkin, coconut milk, carrots, chia seeds and a touch of pure maple syrup for wholesome sweetness. It's everything you could ask for in a pudding… and more! Via realhealthyrecipes.com
Pumpkin Snack Cake

This easy to make pumpkin snack cake is perfect for fall. It is lightly spiced with cinnamon and frosted with a cream cheese frosting. Via recipesfoodandcooking.com
Soft Baked Chocolate Chip Pumpkin Cookies

These are so easy to make, but keep in mind that these are meant to be soft cookies. The dough is a wet consistency and no matter what you do to try and flatten them out, they are going to rise a bit. That's because of the pumpkin puree. These will turn out beautifully and have a fantastic fall taste, and they go perfectly with coffee! Via recipesworthrepeating.com
Pumpkin Risotto Recipe

Fall is one of those transitional seasons… the weather is warm but not excruciating, and the proximity of the holidays can be felt when you step outside into the crisp morning air or walk through your local scene. Pumpkins abound during this season and can be seen in decor, crafting, and an amazing array of sweet and savory dishes. This recipe, perfectly timed for the Fall season, is a simple yet hearty pumpkin risotto with fresh sage and romano cheese. Via rockinmama.net
Pumpkin Spice Crepe Cake

A slice of this Crepe Cake with a cup of coffee flavored with Pumpkin Pie Spice creamer makes for one of life's delightful moments. Via runninsrilankan.com
Homemade Pumpkin Coffee Creamer

Who likes pumpkin flavored coffee? I feel like a majority of us are raising our hands. Mmm, especially on cool fall mornings after you first break out your fuzzy slippers. This pumpkin coffee creamer is made with real pumpkin puree, not pumpkin flavoring. Via sallysbakingaddiction.com
Pumpkin Chocolate Chip Muffins

The muffins will turn out moist, not too sweet, and delicious. The size of the muffin is just perfect for a small snack. Enjoy! Via salu-salo.com
Pumpkin Yogurt Parfait Fall Recipe

Break out the chunky scarves and eat everything pumpkin, Fall is finally here! This is our new favorite after school snack, a pumpkin yogurt parfait. It's easy to make and so yummy! This recipe is also great for a quick and easy, on the go breakfast! Via seevanessacraft.com
Pumpkin Pie Egg Rolls w/ White Chocolate Whip & Caramel

These Pumpkin Pie Egg Rolls have all the classic pumpkin pie flavors you love: cinnamon, spice, and everything nice, but instead of putting the filling into a pie crust and baking it, stuff the filling into egg roll wrappers and fry them. After they're fried to g.o.l.d.e.n. perfection, top them with a white chocolate cool whip and drizzle them with ooey-gooey caramel. They taste like perfection! Via showmetheyummy.com
Weight Watchers 2 Ingredient Chocolate Pumpkin Muffins

These 2-Ingredient chocolate pumpkin muffins, mini muffins, and cookies made with just chocolate cake mix and a can of pumpkin are a lighter, healthier way to satisfy a sweet tooth. And they are really easy too! Just stir together a can of pumpkin and box of dry cake mix and bake! Via simple-nourished-living.com
Perfect Pumpkin Crepes Recipe

These perfect pumpkin crepes are one of those recipes that we keep going back to again and again! It's perfect for breakfast or dessert! And the awesome thing about these? They're one of those recipes that seem like they're super hard to make, but in reality aren't. They're actually quite easy to make and they will taste like you spent hours! Via sixdollarfamily.com
Caramel Pumpkin Spice Popcorn

Forget what you've been told about caramel-flavored popcorn. Your favorite holiday treat doesn't have to be a diet disaster. This version is made with absolutely no refined sugars or artificial sweeteners, and there is nothing processed. Instead, we use a mixture of coconut sugar, pure vanilla, sea salt, and a dash of pumpkin spice to turn this deliciously indulgent treat into the perfect snack to celebrate the flavors of fall. Via skinnyms.com
Pumpkin Spice Granola (and a Parfait)

Chewy clusters of warm spiced, pumpkin granola – sweetened with honey, and full of delicious goodness like toasted coconut flakes, oats and sunflower (and of course, pumpkin) seeds. Layered with rich, creamy yogurt, and topped with fresh fruit, it makes a great healthy breakfast … or a tasty afternoon snack … or even a quick and easy supper when you just can't face the kitchen. Via sliceofkitchenlife.com
Pumpkin Bread Mini Bundt Cakes

This pumpkin bread is absolutely perfect both in texture and flavor, it is just lovely. Via slimpalate.com
Savory Pumpkin Hummus

From dipping to scooping, spreading to mixing in, hummus is one versatile food. This gluten-free and vegan savory pumpkin hummus is the perfect flavor for all you fall snacking, cooking, and tailgating! Via strengthandsunshine.com
Chocolate Chip Pumpkin Muffins with Cranberry Buttercream Recipe

Pumpkin muffins with cranberry buttercream frosting. If they don't scream fall, I don't know what does. Here's a recipe to make all throughout the pumpkin season and into the holidays. Via sweeptight.com
Pumpkin Nhopi

Throughout Africa pumpkins are enjoyed in a variety of ways but one of my favorite is in a traditional Zimbabwean dish known as Nhopi- mashed pumpkin with peanut butter. Yes, it may sound like a weird combination but if you like peanut butter and pumpkin, you will love Nhopi dish. You can indulge in this as an afternoon snack but it is also a great side dish for a main meal. If you do not have pumpkin, Butternut Squash will do. Via theafricanpotnutrition.com
Healthy 3 Ingredient Pumpkin Fudge (Paleo, Vegan, Gluten Free)

This 3 ingredient No Bake Pumpkin Fudge will literally be your Fall/Autumn snack/treat staple because it's so darn simple to whip up and for a fudge, it's ridiculously healthy for you. Because they don't have any fats (nut butter, coconut oil etc) or any sticky sweeteners (maple syrup, brown rice syrup, agave etc), these beauties are SO high in fiber and pretty low in sugar too. You also only need five minutes to whip them up, thanks to just three ingredients. Naturally gluten free, vegan and dairy free, they're also paleo friendly by using coconut sugar to add some sweetness. Via thebigmansworld.com
Pumpkin Pecan Chocolate Chip Cookies

A soft, cakey fall version of everyone's favorite cookie, packed with pumpkin & spice flavors! You won't be able to stop at one! Via thecrumbycupcake.com
Best No Bake Pumpkin Pie Recipe

Is your oven overloaded with other baked goodies? This is the Best No Bake Pumpkin Pie Recipe! Grab some vanilla pudding and get ready for the easiest recipe… and the perfect addition to your Fall Parties and Thanksgiving desserts! Via thefrugalgirls.com
Pumpkin Mousse Cookie Cups Recipe

Don't these look incredibly delicious and decadent? Via therebelchick.com
Mini Bourbon Pumpkin Praline Cheesecakes

Creamy, pumpkin cheesecake spiked with bourbon and smothered with buttery pecan praline, the perfect ending to any holiday meal. Mini Bourbon Pumpkin Praline Cheesecakes will soon become an annual tradition. Via thesuburbansoapbox.com
No Churn Pumpkin Pie Ice Cream Recipe

This No Churn Pumpkin Pie Ice Cream Recipe tastes great all on its own, but it also tastes delicious served with fall pies like pumpkin or pecan. You can also make it into tasty sundaes with caramel or hot fudge toppings. Chopped pecans on top make them even better. Via thriftyjinxy.com
Pumpkin Spice Carmelita Bars

Whether for dinner guests, an after school snack, or even a late night treat, these Pumpkin Spice Carmelita Bars are the perfect way to satisfy a sweet tooth. Via tidymom.net
Pumpkin Pie Cake Recipe

Does your family love Fall pumpkin recipes as much as ours does? This one is a cross between pumpkin pie and pumpkin cake and comes in handy when there's no time to make a crust! Via truecouponing.com
Pumpkin Spice Muffins

The warming spices of autumn make baking a dream; little permeates the kitchen so thoroughly as the wafting aroma of cinnamon, ginger, nutmeg, and cloves. Those seasonings combine to lend these pumpkin spice muffins a distinct fall essence. Via tutti-dolci.com
Pumpkin Pie Shortbread Bars with Maple Cinnamon Whipped Cream

A great pumpkin pie makeover! I can't count how many times someone has told me that they love pumpkin, "just not pumpkin pie." This recipe is for those people. And frankly, even if you love pumpkin pie, I'm betting you'd love this version too. Enjoy! Via willowbirdbaking.com
Healthy Pumpkin Protein Waffle Recipe

There's something comforting and amazing about a good Belgian-style waffle, especially on a chilly day. And although traditional Belgian waffles that you can get at any normal breakfast restaurant have a ridiculous amount of sugar in them (especially when you add a heaping portion of whipped cream on top), waffles are not inherently an unhealthy choice. In fact, they can be really healthy. Especially when they're packed with good stuff like pumpkin, oats, and flax seeds like these ones are. Give this healthy pumpkin protein waffle recipe a try next time you're craving waffles: Via 12minuteathlete.com
Pumpkin Rice Pudding Recipe

A healthy scoop of pumpkin puree, a little honey, and some classic fall spices makes this pumpkin rice pudding recipe perfect for the season. You could also use maple syrup as a sweetener, or top with chopped roasted chestnuts. Via alyssaandcarla.com
Chocolate Chip Coconut Flour Pumpkin Bars

These bars are one of our absolute FAVORITE pumpkin bars. The spices are wonderful, cozy and down right addicting. The coconut flour helps bring out the natural sweetness of the pumpkin, therefore I didn't have to sweeten them much. These bars are healthy enough to be eaten as a snack, but definitely taste indulgent like they were made for a party. Via ambitiouskitchen.com
Baked Pumpkin Donut Holes Recipe

Because these bake in just 8 minutes, the whole recipe can be ready and enjoyed in less than 15 minutes! That makes these totally do-able even on a busy school morning with a bit of planning. You can also roll them in powdered sugar if you prefer the powdered sugar donut holes. Best of all, because these are baked pumpkin donut holes, there is little mess and they're not so bad for you as the deep fried alternative. Via amomstake.com
Pumpkin Biscuits

These Pumpkin Biscuits are the perfect addition to your fall soups and stews. They're delicious served up warm from the oven with loads of butter! Via aprettylifeinthesuburbs.com
<!––nextpage––>
Pumpkin Basket Sugar Cookie Cups Recipe

These delightful Pumpkin Basket Sugar Cookie Cups are a sweet, unique, festive fall cookie recipe. Very easy to make, these Pumpkin Basket Sugar Cookie Cups are sure to be a favorite of friends and family this fall! Via annsentitledlife.com
Pumpkin Chocolate Chip Granola Bars

Mix up a batch of these healthier bars to celebrate the arrival of Fall. These bars have the perfect consistency. The chocolate chip add a little bit of sweetness. This is a great mid-afternoon snack or even an on-the-go breakfast. Via asavoryfeast.com
Butter Roasted Pumpkin Spaghetti

Why is pumpkin so amazing? First of all it looks so stunning – like an Autumn Forest Queen. It is packed with nutrients especially beta-Carotene (eventually A-vitamin within the body), potassium and vitamin C. And it is very low in calories, like 26 kcal pr 100 g, which means you can basically eat as much of it as you want! It has an amazing sweet taste and is easy to cook up and use in all sort of ways, from dessert to dinner meals. And many people don't actually know that you can eat the peel, at least on both hokkaido and butternut squash, which makes it easier to prepare and lets us keep even more of those amazing nutrients. Via atastylovestory.com
Pumpkin Spice Latte Brownies

These Pumpkin Spice Latte Brownies are homemade pumpkin brownies infused with coffee and topped with a whipped pumpkin spice latte frosting. The brownies have the perfect texture – fudgy, and just a teeny bit cakey. They taste of pumpkin, warm fall spices, and rich chocolate. The Pumpkin Spice Coffee helps bring out each of those flavors in the brownies. Via bakerita.com
Pumpkin Chocolate Protein Overnight Oats Recipe

The best part about this recipe is that it has some protein powder, chia seeds, and flax seeds added to get an additional nutritional boost for your post-workout meal. It's perfect for all you health nuts out there. Via behindtheplates.com
Pumpkin Curry Soup

This is such a simple soup, but it did take a bit of tweaking to get the flavors right. It's mostly shitake mushrooms, onions, pumpkin puree, and coconut milk, making it vegan if you use vegan butter. Via bijouxandbits.com
Pumpkin Spice Latte Recipe


If you're in a hurry, you can use very strong coffee instead of the espresso, and warmed half and half or cream instead of the steamed milk. The best thing about this purée, apart from its delicious flavor, is that it gives you control over which flavor gets the spotlight. If you want a coffee-forward drink, add less purée; if you want more pie flavor, spoon it in! The recipe makes enough for you to have a PSL every morning for a week. Happy fall! Via bonappetit.com
Spiced Pumpkin Pie Oatmeal

A mixture of canned pumpkin, pumpkin pie spice, and oats, boiled in water (or milk, if that's your thing) and topped with crunchy earthy pecans, sprinkled with spicy cinnamon, and drizzled with maple syrup. And that secret ingredient? Butter. Glorious, smooth, silky, preferably salted- butter. Via bowlofdelicious.com
Browned Butter Pumpkin Donuts

I have a deep and abiding love for baked donuts and I think you will too after trying these pumkin donuts! Via bunsinmyoven.com
Healthy Pumpkin Gingerbread Muffins

These healthy pumpkin gingerbread muffins are a great breakfast or snack, and they go great with a cup of coffee or tea (or perhaps a pumpkin spiced latte!). They really are no fuss, and are easy to whip up on a fall day. Via busybuthealthy.com
(Nutella) Pumpkin Crepes

These quick and easy Nutella Pumpkin Crepes that only require a couple minutes standing in front of your stove and taste incredible!! The pumpkin batter spiced with cinnamon, nutmeg, cloves and ginger mixed with pumpkin puree and your traditional crepe ingredients of flour eggs, milk and butter are so super easy and so delicious they should be eaten year round. Seriously, SO much better than just plain crepes. Via carlsbadcravings.com
Gluten- and Grain-Free Pumpkin Seed Muffins

It's that time of year again, when pumpkin-flavored everything hits the blogosphere. This muffin recipe is a bit different because it doesn't use pumpkin puree, but instead uses raw, unsalted pepitas, otherwise known as pumpkin seeds. Via carrieonliving.com
The BEST Healthy Greek Yogurt Pumpkin Bread

The best-ever healthy Greek yogurt pumpkin bread bursting with fresh Fall flavors and with tons of healthy swaps. Via chelseasmessyapron.com
Pumpkin Spice Cookies with Cream Cheese Frosting

These soft, cake-like pumpkin spice cookies are topped with a tangy cream cheese frosting. They're packed with the flavors of warm spices, vanilla. brown sugar and crunchy pecans. They have both pumpkin and pumpkin pie spice in them plus cinnamon in the frosting. Via cinnamonspiceandeverythingnice.com
Chocolate Chip Pumpkin Mug Cake

You're just three minutes away from this decadent, chocolate chip studded, vegan vanilla ice cream topped, single-serving pumpkin mug cake. Via connoisseurusveg.com
Brown Butter Pumpkin Nutella Chip S'mores Cookies

These are essentially THE cookie to say goodbye to summer and hello to fall because they combine both pumpkin AND s'mores. I guess you could say these are pretty decadent. But they are worth every freakin' calorie. Via culinarycoutureblog.com
Pumpkin Donut Holes

These baked donut holes taste like fried donut holes. It's not just the cinnamon-sugar coating (which all donuts should have); there's a creaminess to the muffins. It's unbelievable. Until you try it! Via dessertfortwo.com
Chocolate Pumpkin Cheesecake Muffins

These chocolate pumpkin cheesecake muffins are a rich chocolate muffin with a surprise chocolate chip pumpkin cheesecake center. A pumpkin lover and chocoholic's delight! Via dinneratthezoo.com
Pumpkin Cupcakes with Nutella Cream Cheese Frosting

If you love pumpkin and Nutella together try this recipe! The pumpkin cupcake is light and fluffy and has just a light pumpkin flavor. The frosting is sweet, tangy and has a yummy Nutella flavor. These are just great. Via eatcakefordinner.net
Pumpkin Gingersnap Icebox Cake

Pumpkin Gingersnap Icebox Cake is an easy, no-bake fall dessert of pumpkin, cream cheese, and fresh whipped cream layered with gingersnap cookies that transforms into soft, creamy cake after chilling in the refrigerator! Via fivehearthome.com
Pumpkin Cake Recipe

You will love every bite of this deliciously different pumpkin cake. Via fleecefun.com
Pumpkin Pie Chia Pudding

This chia pudding is only 6 ingredients and tastes just like pumpkin pie. You'd never know it's secretly healthy! Perfect for a make-ahead breakfast! Via foodfaithfitness.com
Easy Pumpkin Cranberry Bread

This bread is awesome. It is pumpkin cranberry (cranberry pumpkin?) nirvana. You eat this and angels weep, but only because they don't have any. It has the perfect blend of squashy pumpkin flavor and tart sweet cranberry flavor, all mixed up in a perfectly moist bread redolent of warm Autumn spices and a touch of orange for zing. It is also a very easy bread to make. No chopping of this ingredient, dicing of this one. It uses canned pumpkin and canned cranberry sauce. Both of which also add incredible moistness as well as flavor to this. Via fromcupcakestocaviar.com
Vegan Pumpkin Chocolate Chip Muffins

Vegan Pumpkin Chocolate Chip Muffins are one of the best things to make using pumpkin. Wouldn't it be great to start a chilly fall day with these goodies? Via giverecipe.com
Maple-Glazed Baked Pumpkin Donuts Recipe

Ready for fall? How about fall baking? These pumpkin donuts are baked, not fried, for an indulgence that's a little less guilty. Via godairyfree.org
Almond Flour Pumpkin Spice Muffins

This recipe is the perfect way to kick off the fall season. The muffins are moist, not too sweet and great for breakfast or a nice little treat or snack. They are easy to pack in your kids lunchboxes, too. These little muffins are great as is, but can also easily be dressed up by frosting them or glazing with a simple orange glaze to enhance the orange flavor. Via honeyvillefarms.blogspot.com
Pumpkin Chocolate Bread Pudding with Salted Caramel Sauce

A pumpkin yeast bread, pumpkin custard, dark chocolate chips and salted caramel sauce all come together to make an old fashioned recipe a little more modern. Via grumpyshoneybunch.com
Coconut Pumpkin Spice Latte

This latte is really pretty quick and easy to make. You probably already have all the ingredients on hand right now. Well, maybe not the pumpkin, but you should really start stocking up on that ASAP. Same goes for the coconut water, because after trying this recipe, you are going to quickly realize you will need a daily coconut pumpkin spice latte fix. Via halfbakedharvest.com
Pumpkin Bars with Brown Sugar Frosting

Pumpkin Bars with Brown Sugar Frosting are the perfect fall crowd pleasing treat! Spiced thick & soft pumpkin bars and a thick layer of brown sugar frosting will have everyone begging for seconds. Via handletheheat.com
Pumpkin & Winter Squash

An indulgent and laidback kitchen supper for chilly nights; use the best Gruyere you can get hold of. Via hglivingbeautifully.com
Individual Pumpkin Pie Spice Rice Pudding Recipe


Rice pudding baking in the oven brings memories of childhood. Make this recipe for dessert on Thanksgiving, or even Sunday dinner! It's really perfect for any special occasion! Via hoteatsandcoolreads.com
Pumpkin Pie Almond Milk

This wonderful Pumpkin Pie Almond Milk tastes exactly how it sounds. It's good hot, cold, in coffee, over ice, etc. If you're into pumpkin spice I definitely suggest giving it a try! Via housevegan.com
Pumpkin Brûlée French Toast with Whipped Sour Cream

This pumpkin spice french toast has a crunchy brûléed crust and a tangy vanilla whipped cream topping. Via hungrygirlporvida.com
Pumpkin Spice Swirl Bundt Cake Recipe

This cake is moist and nicely spiced. It has sugary nut layers through the cake to add more flavor and a bit of texture. It makes a fantastic dessert. Since it's coffee cake-like, it's equally at home on the breakfast table (if you're looking for a special treat). So, if you enjoy pumpkin, this is one you won't want to miss out on! Via ihearteating.com
Pumpkin Spice Latte Coffee Cake

Who doesn't like Pumpkin Spice Latte's! I mean really, that's all you see around this time of year. Starbucks definitely banked on that recipe! If you're looking for a fun recipe to make this fall this is it! It is hands down a family staple in our house during this time of year!! Via joyfulhealthyeats.com
<!––nextpage––>
Pumpkin French Toast Recipe

It's that time of year again: pumpkin season! Pies, lattes, scones, muffins, cupcakes – you name it – and I bet there's a pumpkin recipe for it. But what about Pumpkin French Toast? Ever tried it? Now you can! Via justapinchblog.com
Lactose Free Pumpkin Spice Latte Recipe

You can create your very own lactose free pumpkin spiced latte at home. It's really easy to make at home and once you make the initial batch of pumpkin spice simple syrup it's even quicker to make it at home. Via justshortofcrazy.com
Low-Sugar, Whole Wheat, and Oats Pumpkin Mini-Loaves (Easy to Cook, Can Freeze)

These Low-Sugar, Whole Wheat, and Oats Pumpkin Mini-Loaves are definitely lower in sugar than most of the pumpkin treats you see on the web, and they have healthy ingredients like almond flour and ground oats besides the flour. You can them cut in half through the middle with a little butter spread on; enjoy! Via kalynskitchen.com
Mini Pumpkin Chocolate Chip Cookies

These are the perfect pumpkin cookie. Crispy edges, chewy middle and lots of chocolate chips! The flavor and texture is insanely perfect. It's hard to get that in a pumpkin cookie but here are a few reasons they are still the perfect balance of crispy and chewy. Via keepitsweetdesserts.com
Slow Cooker Pumpkin, Chickpea & Red Lentil Curry

Creamy, hearty, and full of flavor, this vegan Indian-inspired Crock Pot recipe is so easy to assemble. A perfect weeknight dinner for fall (or any season)! Via kitchentreaty.com
Homemade Pumpkin Pasta with Sage


Homemade Pumpkin Pasta with Sage is easier than you may think to make with just a few simple ingredients, and a few basic kitchen tools. Via kudoskitchenbyrenee.com
Pumpkin Pecan Cobbler

If you don't like chocolate as much as you like pumpkin, then we are close to something that will blow your mind. This is like a pumpkin lava cake and cobbler love child. It's got all the yummy factors that I love in a dessert and uses ingredients I'm 99% sure you already have in your pantry. Via laurenslatest.com
Pumpkin Mousse Trifle

Pumpkin is not just for pumpkin pie! Pumpkin transforms into a fluffy pumpkin mousse that is layered between light angel food cake and caramel candy! Via lemonsforlulu.com
Pumpkin Cake with Vanilla Cinnamon Glaze

The recipe is perfectly delicious on it's own. But the gooey cinnamon-y, vanilla-y glaze really hits the spot and takes this cake to the next level. WARNING: Abnormal amounts of cake consumption highly possible. Seriously though. It's THAT good. Via lifeisbutadish.com
Pumpkin Roll Recipe

This pumpkin roll recipe has been a favorite for more than 40 years in our family. Yours will love it too! This is possibly the best pumpkin recipe in the ENTIRE world!!!! Via livingonadime.com
Semi-Homemade Pumpkin Butter


Four simple ingredients plus 30 minutes gets you delicious mason jars full of Fall flavor! Semi-Homemade Pumpkin Butter is sweet, full of warm Autumn spices and extremely easy to make. Via loveandconfections.com
Pumpkin Oreo Cheesecake Bars

Although pumpkin can be a polarizing flavor (and pumpkin cheesecake even more so), I happen to be a fan of both. Pumpkin and cheesecake. Cheesecake and pumpkin. Pumpkin cheesecake. Yum. So of course it was only a matter of time before pumpkin cheesecake met an Oreo crust. Because, hello. Match made in heaven and all that. Via melskitchencafe.com
Pumpkin Pretzel Recipe

These pretzels have that classic chew that you expect and want from a soft pretzel and the flavour is pumpkin perfection. Combine that with a sweet cream cheese dip and you've got yourself a crowd pleaser. Via mommyoutsidethebox.ca
Pumpkin Spice Latte Recipe

This recipe blends cinnamon, nutmeg, ginger, allspice, vanilla, and a "secret" ingredient to bring snuggly autumnal delight to your coffee drinking experience. (The secret ingredient is a pinch of salt, which really makes the flavors pop.) Via mommypotamus.com
Pumpkin Cupcakes with Cream Cheese Frosting

Moist and sweet pumpkin cupcakes with an easy cream cheese frosting. These cupcakes are perfect for pumpkin lovers! Via livewellbakeoften.com
Pumpkin Cheesecake Banana Bread

This Pumpkin Cheesecake Banana Bread is perfect for dessert but also doubles as an amazing breakfast…or snack…or lunch. It's pretty amazing no matter what time you eat it! Ultra moist and bursting with pumpkin flavor! Via momontimeout.com
Pumpkin Cheesecake Coffee Cake


We love cheesecake pretty much in any and every form imaginable, whether it's peanut butter, topped with cherry pie filling, chocolate caramel. There's no better way to begin the fall season than this Pumpkin Cheesecake Coffee Cake! Via mostlyhomemademom.com
Pumpkin-Coconut Popsicles (Paletas de Calabaza y Coco)

The pumpkin flavor is awesome and they are very simple to make. The perfect foodie way to say good bye to summer and hello to fall Via mycolombianrecipes.com
Pumpkin Pancakes

These pancakes looks a bit like (yellow) brunch pancakes but don't forget they have a salty and not a sweet taste. They tend to be more suitable in sandwiches, in the kids' lunch boxes or eaten with soup than at a brunch table but don't let these restrictions stop you! Via mycopenhagenkitchen.com
Mushroom, Pumpkin Risotto Recipe with Crunchy Bacon

Use a green pumpkin and mushrooms to make a fab risotto for lunch. Some crunchy bacon on top and the perfume of rosemary makes this dish a super dish indeed! Via mylittleitaliankitchen.com
Pumpkin Creme Brulee

Pumpkin Crème Brûlée is a spin on a classic recipe that is oh-so perfect for this time of year. You can make individual servings for the family or for company, or grab two spoons and share for a date night. Via myorganizedchaos.net
Busch Gardens Pumpkin Cheesecake Recipe

Pumpkin Cheesecake, as served at Busch Gardens Tampa Bay. Via offtmsm.com
EASY Pumpkin Waffles

It's officially the season of all things pumpkin. Every Autumn we make several batches of pumpkin muffins by mixing spice cake mix with a can of pumpkin. They're super easy and delicious, so I thought I would try the same method with pancakes or waffles. Via ohsweetjoy.com
Pumpkin Hand Pies

These hand pies are flaky and so yummy! They would taste delicious filled with whatever your little heart desires. So if pumpkin isn't your thing, change it up. Do what you want! Via onceuponarecipeblog.com
Pumpkin Peanut Butter Truffles [Vegan, Gluten-Free]

The only way to make peanut butter any better is to add some pumpkin spice. Taking a bite out of these truffles is like taking a bite out of the best orange-leaved, scarf-wearing fall day you've ever had. Warming cinnamon, nutmeg, and cloves. Rich, creamy peanut butter. Cozy maple syrup. Homemade pumpkin-kissed chocolate. Oh, and they totally melt in your mouth. And they'll take you five whole minutes to make. Fuhgetaboutit. Via onegreenplanet.org
Simply Delicious Pumpkin Spice Latte Recipe

I always associate autumn with pumpkin spice flavour and I LOVE Pumpkin Spice Lattes! Check out this delicious Pumpkin Spice Latte recipe. Via onesmileymonkey.com
Homemade Pumpkin Rice Krispy Treat Recipe

Rice krispy treats are a timeless dessert snack favorite, pairing the lightness of crisp rice cereal with the ooey-gooey deliciousness of melted marshmallows. Make the most of the fall season by indulging in your favorite snacks, but with a season-apropos twist. The following pumpkin rice krispy treat recipe infuses the unmistakable flavors of autumn – pumpkin, cinnamon, and nutmeg – into the classic treat. Enjoy! Via organicauthority.com
Pumpkin Chocolate Chip Bread Recipe

This particular recipe is fabulous because even those that will sometimes push pumpkin stuff away will devour it. It's quick and simple… so try it! Via ourkidsmom.com
Pumpkin Spice Cake Mix Cupcakes with Cinnamon Buttercream

These pumpkin spice cake mix cupcakes are made with only two ingredients and come together in no time at all. Top them with sweet cinnamon buttercream icing for the perfect autumn treat! Via pbfingers.com
Pumpkin Chocolate Chip Muffins

These are the ultimate fall muffins, you can enjoy them for dessert, snack and breakfast, of course. They are health-ified a little, with white wheat flour, regular oil replaced with coconut oil and the sugar cut back just a bit. Via petitfoodie.com
Pumpkin Spice Latte Recipe

A shot of espresso with a creamy, spiced pumpkin finish is the perfect beverage to perk up a sleepy morning or mid afternoon slump! Via pickledplum.com
Healthy Pumpkin-Coconut Bisque

Even if you've decided to cut back on dairy, it's possible to warm up with a creamy bowl of hot soup that doesn't lay on the cream or calories too heavily. This light pumpkin-coconut bisque will curb your dairy cravings and keep you on track this Fall. The ingredient that really makes this subtle soup stand out is the unsweetened coconut milk. Both vegan- and Paleo-friendly, this ingredient thickens things up, leaving you with the perfect (seemingly rich) texture. Via popsugar.com
Pumpkin Apple Lentil Curry

When you make this deliciously spiced, sweet, savory, creamy, filling curry, exactly as instructed and pour it over some rice, you'll become warm and cozy, your tongue will be happy an your belly full. Via sagelysweet.com
Whole Grain Pumpkin Muffins


Light and moist, warm fall spices in every bite, these whole grain pumpkin muffins are the perfect way to start your day. Only 138 calories per generous muffin or 193 calories if you opt to drizzle on the super simple cream cheese glaze. Although these babies are incredible on their own and don't really need the glaze, it's highly suggested adding it because… well…. cream cheese glaze and pumpkin muffins are best friends and they are awesome. 😉 Via samanthaskitchentable.com
Pumpkin Spice Protein Smoothie Recipe

Fall is here which means pumpkin flavored everything! This is a delicious and healthy recipe for a pumpkin spice protein smoothie. I know it sounds weird, but it's actually so creamy and yummy, you won't even know it's healthy for you! Via seattlestylista.com
<!––nextpage––>
Pumpkin Cheesecake With Butterscotch Swirl


Autumn is finally here and with that comes all the amazing flavors like pumpkin, apple, caramel and of course butterscotch. The flavors of this are perfect after even a heavy meal like Thanksgiving since the sweetened sour cream topping helps cut through the richness of the cheesecake providing a nice contrast. Via serenabakessimplyfromscratch.com
Spicy Pumpkin Soup Recipe

I love pumpkin soup, don't you? Adding some heavy cream and some brown sugar make this soup turn out just perfect. Via simplyrecipes.com
Maple Pumpkin Muffins

This muffin recipe is not overly sweet, if you're into that kind of thing. In fact, the sweetness of the muffin is very subtle. This maple pumpkin muffin is great for breakfast, severed with butter, and more maple syrup. If you're looking for a sweeter muffin, but enjoy this recipe, you can always make a sweet glaze to go on-top, I bet that would be delicious! Via shockmunch.com
Pumpkin Pie Ice Cream

The key to dairy-free ice cream is frozen bananas! They give it a creamy ice cream-like consistency that not only tastes great, but is guilt-free too. Add in a little bit o pumpkin puree, pumpkin pie spice and maple syrup and voilà! Pumpkin Pie Ice Cream. Now if that isn't a fall flavour, then I don't know what is. Via simplystacie.net
Pumpkin Cupcakes with Cream Cheese Frosting

Delicious pumpkin cupcakes topped with fluffy cream cheese frosting. Via sixsistersstuff.com
Pumpkin Ginger Nut Muffins Recipe

These quick bread pumpkin muffins is that they are so easy to throw together, and so hard to mess up. This pumpkin muffin recipe is very flexible. Serve freshly baked, warm, and if you really want to be indulgent, with a little butter, once you've broken them open. Via simplyrecipes.com
Pumpkin Spiced Latte Muffins Recipe

Harness the flavors of fall when you make these unprecedented Pumpkin Spiced Latte Muffins! This simple, step-by-step recipe makes it easy to start your day with the taste of pumpkin spice in a muffin tastier and way more affordable than you'll find in your local coffee shop. Via sofabfood.com
Pumpkin Spice Frappuccinos

You'll start off by making homemade cinnamon whipped cream. Then, all that's left to do is whip up the frappuccino! Just add all ingredients to your blender and blend until smooth and creamy. Pour the glorious orange drink into cups and enjoy with someone special! Via sprinklesomesugar.com
Pumpkin Moong Dal

Pumpkin and moong dal hit it off beautifully together. Mild to taste, the two combine an wide array of flavors very well. This recipe of pumpkin moong dal makes the most of this attribute, with its luxurious use of curry leaves and masalas. Via steamingpot.com
Greek Yogurt Pumpkin Cream Pie

Simple, delicious and ready for last minute company, or a fun, family dessert. Via stilettosanddiapers.com
Grain Free Sugar Free Pumpkin Pancakes

These pumpkin pancakes are fantastic! Soft and amazingly grain free! Not a lot of coconut flavor if that's a concern for you. The pumpkin is the star in these pancakes! Via sugarfreemom.com
Zucchini-Pumpkin Bread Recipe

Rich with warm spices of cinnamon and nutmeg, this zuchinni-pumpkin bread is the perfect treat to bring us into fall. Excellent slightly toasted with buttah! Yum! Via sweetstoimpress.com
Make a Pumpkin Spice Latte at Home

If you're obsessed with the drink and money is tight, you may want a DIY version. You could save as much as $274 a year by making your own. This recipe is extremely similar to the Starbucks version. It takes 10 minutes, and includes milk, pumpkin purée, sugar, pumpkin pie spice, vanilla extract, espresso, and whipped cream. It's also really easy to make, requiring only a coffee machine and a microwave to heat the milk and other ingredients before whisking vigorously to make them frothy. Via techinsider.io
Paleo Green Pumpkin Pie Smoothie

This smoothie is nutritious and filling and celebrates the favorite flavor of pumpkin pie. It's also paleo, a full meal in itself, high fiber, high protein and high in vitamins. What more could you ask for in a smoothie? Via tessadomesticdiva.com
Three Ingredient Pumpkin Donut Recipe

These are the ultimate Pumpkin Donuts. They are beyond good and super easy to make… You gotta love three ingredient recipes! Via the36thavenue.com
Pumpkin Streusel Coffee Cake

This cake is so full of pumpkin that it has an almost custard-like texture. It's just so moist and delicious- almost like pumpkin pie in cake form. Inside the cake is the most decadent cinnamon sugar layer that is gooey and all cinnamon-roll-like. A crumb topping finishes the whole thing off and leaves us with one perfect fall treat. Via thebakerchick.com
Healthy Pumpkin Spice Latte Recipe

Skip the drive-through and tip yourself instead for making this delicious specialty coffee every morning. Making this healthy pumpkin spice latte recipe at home lets you control the ingredients, and this one is as "clean" as the wind-driven snow! Via theessentialfamily.com
Pumpkin, Maple Pancakes with Brown Sugar Spiced Walnuts

This pancake is fluffy and soft. Just like your average delicious pancake… but then you taste the pumpkin and maple flavor coming through and BAM. Fall slaps you in the face. Pumpkin puree and maple syrup are whisked into the batter to give you the most wonderful, deep flavor of October, crisp weather, and Thanksgiving. Via thegarlicdiaries.com
Pumpkin Caramel Pecan Baked French Toast

This Pumpkin Caramel Pecan Baked French Toast recipe is irresistibly good and is perfect for serving to overnight guests or at a holiday brunch! Via thegunnysack.com
Low Carb Pumpkin Pie Cupcakes

These Low Carb Pumpkin Pie Cupcakes are heavenly! You'd never notice they are made grain free, gluten free, sugar free and even low in calories! Via sugarfreemom.com
Whipped Pumpkin Butter Recipe

This recipe for Pumpkin Butter is perfect to spread onto your warm rolls, muffins or breads that you may be baking. It also makes a great gift! Especially if you have a fancy label to go on the jar you will be gifting it in! Via theidearoom.net
Baked Parmesan Pumpkin Fries

You might be thinking, um, savory pumpkin? no thanks, I'll reserve my pumpkin for pies and lattes, but don't knock it 'til you try it. The sweetness of pumpkin is such a bomb combination with the saltiness of Parmesan cheese. Especially when that sweet and salty combo comes in the form of crispy, oven-baked fries. PUMPKIN FRIES. THIS IS REAL LIFE. Via backtoherroots.com
Mini Pumpkin Mooncakes

Another fall celebration means another year of mooncakes, and this time their filled with pumpkin and chocolate chips. Surprised? I'm betting you are. These delicacies are a nice change from your every September mooncake, and better yet, they're delicious and in keeping with the season! Via thirstyfortea.com
Whole Grain Pumpkin Spice Butternut Squash Muffins

These whole grain pumpkin spice butternut squash muffins are a healthy, flavorful, aromatic, and fluffy treat that are perfect for fall! Via thisrunnersrecipes.com
Japanese Pumpkin Pancakes Recipe

Japanese kabocha squash, often translated as "pumpkin," is superior to the pumpkin you get in America in every culinary way (its only shortcoming: not good for jack o'lantern carving). It tastes great on its own, so you can make any American pumpkin treat substituting kabocha and dramatically reducing the sugar, or you can add it to any number of baked goods. Via transenzjapan.com
Gluten free Pumpkin Cheesecake Recipe

If you love hot chocolate and fall flavors… like pumpkin, feed your craving ideas with this gluten-free Pumpkin Cheesecake. Via twoceliacsandababy.com
Pumpkin Bundt Cake Recipe

This easy pumpkin spice cake is definitely a fall favorite! It is perfectly spiced and will smell amazing while baking. Don't worry it isn't hard to make, I bet you have all of the spices in your cabinet now! You just need to combine them all:) And it's so much cheaper than buying it at the store! Via twopeasandtheirpod.com
Walnut Raisin Pumpkin Bread

All that smell of pumpkin, pumpkin pie spice, cinnamon and ginger, all of it makes us happy and gives us a very good reason to love fall. To get into the spirit of autumn, try this delicious walnut raisin pumpkin bread recipe. Via unicornsinthekitchen.com
One Bowl Vegan Pumpkin Cream Cheese Muffins

These are lightly sweet, wholly spiced, whole grain Spelt flour, with loads of pumpkin puree. Dress with pumpkin seeds or chocolate chips. These muffins are super easy and use only One bowl! Via veganricha.com
Gluten-Free Pumpkin Cream Cheese Muffins

Gluten-free pumpkin cream cheese muffins that will send you straight into a fall nostalgia. No worries though, these gluten-free pumpkin cream cheese muffins will not throw you into a sugar coma, being that they are low-sugar, gluten-free, low-fat, no oil added, and packed with pumpkin goodness. Via veggiebalance.com
Pumpkin Apple Bread with Garam Masala

This pumpkin apple bread is sweet and spicy because instead of the usual cinnamon and cloves, it's flavored with garam masala, a northern Indian spice mix that includes cardamom, cloves, cinnamon, cumin, coriander and black pepper. Via westoftheloop.com
Amazing Pumpkin Sauce

This is a lighter and extremely delicious pumpkin sauce for gnocchi or pasta. It really is amazing, the best ever, unbelievable and so on. 🙂 It's easy to cook and even children like it. Via whereismyspoon.co
Pumpkin Carrot Cake Streusel Donuts

Soft, moist and delicious homemade baked donuts. These carrot cake donuts are made with and addition of pumpkin and cinnamon flavored streusel. Via willcookforsmiles.com
Kumbalakai Palya (Seasoned Pumpkin) Recipe

Kumbalakai palya is well liked dish in Udupi and prepared in every functions. It is very simple and easy to make recipe for chapathi and steamed rice. Pumpkins are cooked with green chilies and seasoned with mustard seeds, urad dal, channa dal and a pinch of hing. In the end, it is topped with freshly grated coconut and coriander leaves. Via hebbarskitchen.wordpress.com
Spring Onion, Pumpkin and Lentil Soup Recipe

Come fall, pumpkin is the ingredient to reach out for, and this soup will fit in perfectly with your scheme of things. Try this recipe for spring onions, pumpkin and lentil soup, it is simple, homely and heartwarming and it may just be a cure for sniffles too 🙂 Via saffrontrail.com