April 28 is National Blueberry Pie Day. Sweet, fresh blueberries are packed with disease-fighting antioxidants and nutrients. Take a look at these 5 interesting facts about blueberries:
– Blueberries are one of the only natural foods that are truly blue in color.
– Because of the high amount of antioxidants in blueberries, it is thought that they may help prevent damage caused by cancer, heart disease and Alzheimer's.
– Blueberries grow best in acidic soil at a pH of four to five and make a good container plant.
– The peak season for fresh blueberries runs from mid-June to mid-August.
– The U.S. is the world's largest producer of blueberries, harvesting a total of 564.4 million pounds of cultivated and wild blueberries in 2012.
Here are 15 delicious blueberry pie recipe variations that you can try RIGHT NOW. Happy Blueberry Pie Day!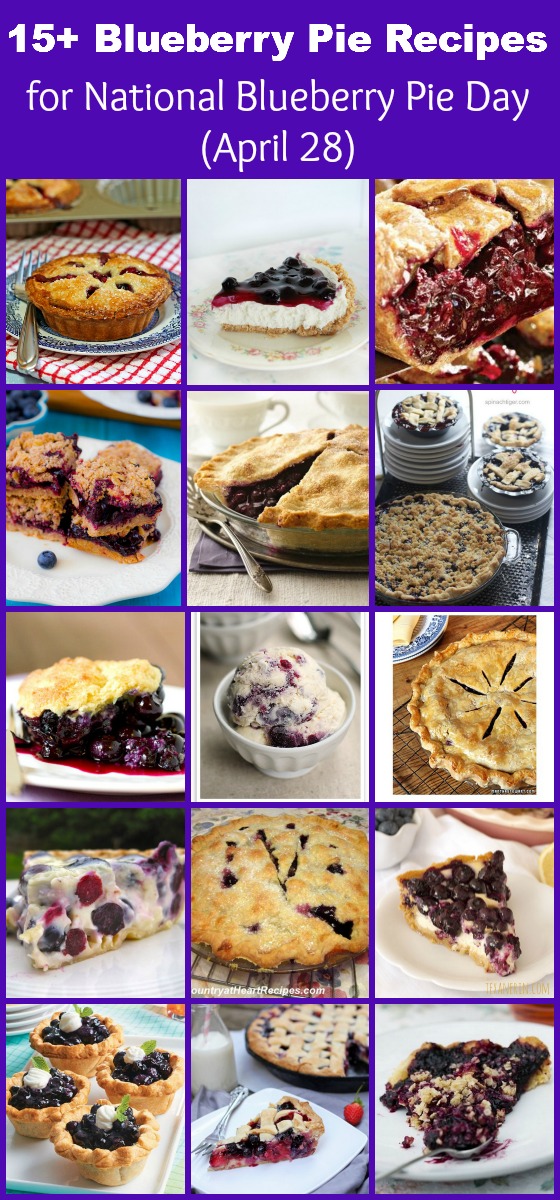 No-Bake Blueberry Cheesecake Pie

Betty Crocker Blueberry Pie

Sour Cream Blueberry Pie

Apple Blueberry Pie Bars

Blueberry Pie Ice Cream

Blueberry Crumb Pie

Blueberry Cobbler Pie

Apple Blueberry Mini Pies

Strawberry and Blueberry Custard Pie

Country Blueberry Pie

Diabetic Blueberry Pie

Mini Blueberry Pies

Blueberry Pie with Tapioca

Blueberry Cream Cheese Pie

Pillsbury Blueberry Pie

Martha Stewart Blueberry Pie