Shrimp scampi is a wonderful pasta dish that includes the use of some type of pasta along with different types of shrimp. Usually, large shrimp are used for the dish although it is possible to make use of smaller or popcorn shrimp in the recipe. Along with the pasta and shrimp, the preparation of shrimp scampi generally includes such ingredients as butter, white wine and garlic.
While shrimp scampi is sometimes thought of as being an elegant dish, the fact is that a basic recipe can be prepared using a skillet and a pot for the pasta. After melting the butter in the skillet, the deveined shrimp are sautéed in the skillet. As the shrimp begin to firm and take on a pink hue, other ingredients are added to help create a thin sauce. One simple recipe for the sauce includes lemon juice, a dash of white wine, and green onions and finely chopped parsley to taste. Since the shrimp does not need to cook for very long, the sauce is only allowed to cook for another moment or two.
In the USA, "scampi" is often the menu name for shrimp in Italian-American cuisine (the actual word for "shrimp" in Italian is gambero or gamberetto, plural gamberi or gamberetti). The term "scampi", by itself, is also the name of a dish of shrimp served in garlic butter and dry white wine, served either with bread, or over pasta or rice, although sometimes just the shrimp alone. Most variants of the "shrimp scampi" come on pasta. The word "scampi" is often construed as that style of preparation rather than an ingredient, with that preparation being called "shrimp scampi", and with variants such as "chicken scampi".
In the United States, National Shrimp Scampi Day occurs annually on April 29. [source: Wikipedia]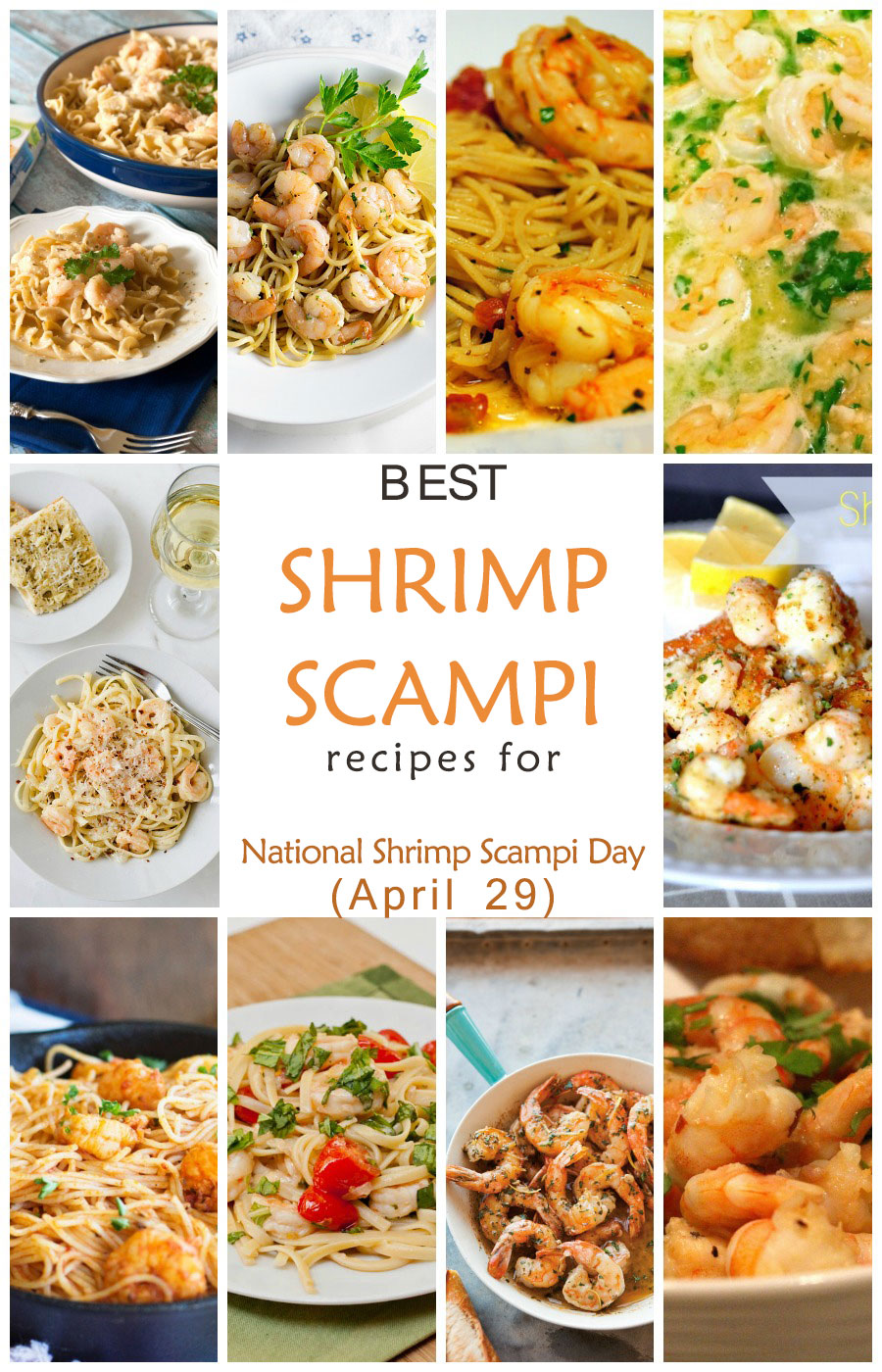 One of our favorite seafood recipes is shrimp scampi. It's so simple, but manages to be extremely decadent at the same time. I love the rich buttery sauce paired with the tangy zest of freshly squeezed lemons and a healthy splash of white wine. It's the perfect intermezzo between appetizers of fried calamari and baked clams and an entree of hearty pasta in a creamy crab sauce.
Here are the most delicious shrimp scampi recipies we found on the internet. Happy Shrimp Scampi Day!
Simple Garlic & Butter Shrimp with Spaghetti (Shrimp Scampi)
This is a recipe that you can throw together for dinner when you have nothing prepared because it's quick and easy and it tastes really good. If you can pick up some fresh shrimp or have some really good frozen shrimp in your freezer, you should have everything else you need in your pantry.

Shrimp Scampi
What's not to like about shrimp? They are pretty. They are a nice color. They taste like the sea. They are a little sweet. They are a little crunchy. They go with lots of things… pasta, rice, risotto, steak, sour dough bread, spicy sauce, butter, garlic, and, of course, wine. And they are good all by themselves. You can also eat them hot or cold. They are truly versatile while being delicious. You can even eat them "cooked" in lime juice (ceviche), without any heat.

Shrimp Scampi Pasta
This recipe is not only delicious but also a little more healthy than many of the other ones on this page.

Marinated Spicy Shrimp Scampi
To intensify the flavor grill the shrimp instead of sautéing them. Add more hot sauce if you like it super spicy.

Shrimp Scampi with Fettuccine
This dish, while definitely not exactly healthy since it doesn't skimp on the butter and oil much, is probably a good deal better for you than what you'd have in a restaurant. It's so quick and easy, and perfect for those nights that you want to feel like you're having a treat. Paired with homemade garlic bread and a glass of wine, it's the best meal for an at-home date night!

Creamy Shrimp Scampi
For this recipe, combine a few favorites: pasta, shrimp, and a creamy sauce that is just plain rich and decadent. Add on some Parmesan cheese and a little home-grown parsley for garnish and you've got yourself a winner.

Garlicky Shrimp Scampi
If you like, substitute scallops instead of jumbo shrimp, or use a combination of both. They're delicious with the sauce, and small bay scallops will cook in about the same amount of time as the shrimp. Serve the saucy scampi over fresh pasta for a simple but special dinner.

Shrimp Scampi Pasta
For shrimp and pasta lovers this dish is perfect. This recipe is fairly simple but with fresh quality ingredients you really don't need too much. Aim for the best Parmesan – it'll make a world of difference.

Shrimp Scampi over Zoodles
This dish would make a great show for your significant other on Valentine's Day, at a supper club night, or just for you on a perfectly nice perfectly ordinary night. To create the "zoodles" – zucchini noodles – you will need a vegetable spiralizer of some sort, like this one.
Shrimp Scampi
You can eat the scampi plain, or serve them over pasta with a simple sauce of lightly heated fresh tomatoes like I did. Either way, simple and delicious!

Shrimp Scampi with Puff Pastry
Garlicy, lemony, buttery goodness. What's not to love about shrimp scampi?? And when you put all that goodness on top of a buttery puff pastry… well… you are pretty close to heaven!

Shrimp Scampi
This is a such a quick recipe to make, there's nothing complicated about it. Just simple ingredients combined, to result in an amazing dish. The shrimp sits in a garlicky, buttery sauce that is perfect for mopping up with bread, or served over pasta instead. It´s a great week night meal, but would also be great as an appetizer at a party.

Tequila Lime Shrimp Scampi Linguini
The thought process of this dish is simple: if you love tequila lime shrimp and shrimp scampi; combine them into one. The marinade is almost like a Mexican sangria, based in white wine and tequila with the zest and juice of a lime. The "scampi" part of this is the garlic, butter, parsley, and spritz of lemon juice you add at the end. How could those ingredients not make something delicious?

Shrimp Scampi for Lenten Dinner
During the Lenten season seafood becomes the traditional meal of choice of those who observe. From Ash Wednesday to Easter Fridays are typically considered days to avoid meat and go meatless. Shrimp Scampi is a flavorful dish of sautéed shrimp with garlic in butter, olive oil, and white wine. It is quick and simple to prepare. Perfect for those Friday meals when you are tired from a long week of work but want to get a homemade dinner on the table.

Weight Watchers Shrimp Scampi
This meal is quick and easy to prepare, and can be safely enjoyed by those who suffer from diabetes as well.

Simple Shrimp Scampi
Shrimp scampi is favorite anytime of year, and preparing it does not have to be complicated. Here we have a simple recipe you can use to whip up a batch for a group of guests in minutes.

Shrimp Scampi
This shrimp scampi is SO simple and fast. You can literally throw this together in 20 minutes from start to finish. However, it's SO beautiful that those you serve it to will think you slaved away in the kitchen for hours.

Quick and Simple Shrimp Scampi
Pair this with grilled zucchini squash and a piece of garlic toast.

Classic Shrimp Scampi with Risotto Milanese
Shrimp Scampi has nothing to do with pasta, it simply refers to the succulent shrimp tenderly cooked in a white wine garlic and butter sauce. Here, it is pictured served with a very basic Risotto Milanese- arborio rice, slowly cooked and stirred until creamy and tender, and served with parmesan cheese and saffron. The risotto is a meal and art form all on it's own, and so I bring you two great recipes that can be served together or separate- delicious either way!

Skinny Shrimp Scampi with Zucchini Noodles
The beauty also of this dish is you make it in one pan. Start with the zucchini and peppers to saute them in the garlic and olive oil, then add the rest of the ingredients and simmer until there is a reduction in the sauce and it clings to the ingredients. It isn't long, just watch it.

Shrimp Scampi with Linguine
A classic recipe for shrimp scampi with linguine pasta.

Perfect Shrimp Scampi
Don't be afraid of how much garlic is in this recipe, either. It's a delightful accompaniment to all of the butter and wine used. It adds a complex, spicy flavor without being overwhelming for your palate.

Skinny Shrimp Scampi
This recipe is a no brainer. It is prepared in a way that you don't have to feel guilty, but the taste is right in your face. It is restaurant quality delicious but made at home. It's definitely got of lovely qualities but our favorite is the FLAVOR!!

Famous Red Lobster Shrimp Scampi
This recipe tastes EXACTLY like the Red Lobster Shrimp Scampi.

Garlic Shrimp Scampi
This is such a super simple yet delicious recipe for Shrimp Scampi, it takes 20 minutes from start to finish and is an amazing meal.

Cumin Scented Shrimp Scampi
Let's face it. Shrimp scampi is delicious. Butter, butter, and more butter. Shrimp is pretty great too. Oh, and so is the soft and slithery goodness of baked spaghetti squash, slathered in butter. …but cilantro and cumin are also some of the very simple culinary wonders of the world.

Grilled Shrimp Scampi
This recipe is very fast and easy, and has a nice, subtle flavor (you can add more garlic and pepper if you want a stronger flavor).

Shrimp Scampi with Zucchini Noodles
Zucchini noodles are not a true noodle substitute. What you get instead, is a super fresh and spicy dish that leaves you wanting more. The good thing is, you can have as much as you want! This dish is also very tasty with chicken in place of the shrimp.

Low FODMAP Baked Shrimp Scampi
This version is relatively easy to prepare – and most of the work happens in your oven. This is a low FODMAP version – but this recipe is adaptable for wheat-eating folks too.

Paleo Shrimp Scampi
This is cleaned up version of shrimp scampi.