If you're eating at chain restaurants when you're traveling, you're not really traveling. Eating is an adventure in itself. Exploring a culture includes hunting down and feasting upon the ultimate culinary offerings. But with each foreign land providing its own bounty of choices, how's a hungry man supposed to choose? Trust this edible travel guide.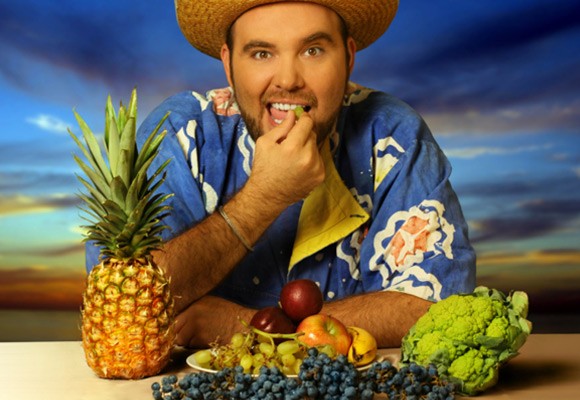 1. Full Irish Breakfast (Ireland)

American diners love to boast about the size of their breakfast platters, but those flapjack-laden plates can't stack up to how the Irish start their day. The order includes sausage links, blood sausage patties, sunny-side up eggs, bacon, baked beans, potatoes, and—for the hell of it—a broiled tomato. That's enough food to make a Grand Slam look like a bunt.
2. Poke (Hawaii)

Few foods in the world taste as fresh as this island delicacy. To prep poke, you dress chopped seafood such as tuna, octopus, or salmon, with onions, sesame oil, soy sauce, and maybe some seaweed and/or chili flakes. You can eat the meal straight-up or atop a mound of steamed rice, preferably with the Pacific in view.
3. Jamón Ibérico (Spain)

Walk into most Spanish tapas bars and you'll find legs of cured pork dangling from the ceilings. A heady aroma of nuts, aged cheese, and bacon overtakes you. Order a plate of the thinly sliced meat and behold the thick bands of white fat running beside rose-colored meat. Taste the jamón and you'll notice grassy, herbaceous flavors with a strong acorn backbone—remnants of the pig's foraged diet. Sliced deli ham, this is not. A funny thing happens when you raise a happy pig: You make the eater of said pig happy, too.
4. Cherry Tomatoes (Sicily)

The Piazza Carlo Alberto market in Catania is madness. Butchers with blood-spattered aprons cleave animal bones with giant knives. Tiny live fish leap in shallow pools. Vendors bellow like carnival barkers. But amidst all the chaos you'll experience foods so pristine in flavor that the world silences around you. Taste just one of these super-sweet tomatoes and you'll understand. Foods worth traveling for can also take you away.
5. Gosht Korma (India)

Indian cuisine is so much more than chicken tikka masala. Take this dish, which simmers mutton with a potent blend of complex spices until tender. At this point, the lamb has also released its fat into the sauce, making this meal equally robust, rich, and aromatic. Enjoy it with a Kingfisher.
6. Hoagie (Philadelphia)

No American city does sandwiches better than Philly. (A tip of the hat to you, though, New Orleans.) The town runs on roast pork, steaks wit' whiz, and the Schmitter. But though each of those renditions deserves space in the culinary canon, it's the hoagie that steals place of pride. And don't you call it a damn "sub," either. Hoagies are made with fresh-baked thick, hearty, sesame-seed-speckled rolls. Sub rolls are flaccid facsimiles. Hoagies cram in flavor with capicola, mortadella, fresh mozzarella, pepper shooters, and those honkin' huge Jersey tomatoes. Subs depend on squeeze bottles of dressing to cover up the flat taste of lackluster meats. Hoagies are king. Subs are, well, subservient.
7. Pollo en Mole Poblano (Mexico)

In the worldwide battle for sauce supremacy, mole reigns. Recipes for mole often include twenty or more ingredients, from various chilies to secret spices to nuts and fruits. True mole is a labor of love, involving sweat-inducing multi-tasking. But the flavor payoff—an intense combination loaded with chocolatey, smokey, and earthy notes—makes you recalibrate your perspective on Mexican food.
8. Fish and Chips (New Zealand)

The Brits may have adopted "chips" as an unofficial national dish, but this country has perfected the fried feast. Kiwis exchange Britain's cod or haddock for the more readily available red snapper and serve the more flavorful fish with tartar sauce and Wattie's Tomato Sauce. (Shhh, it's basically Heinz ketchup).
9. Lapin a La Cocotte (France)

French food isn't always fussy. In fact, more often, the mother cuisine is simple and focused on the best possible ingredients. Take this rabbit stew, which contains little more than vegetables, red wine, lardons, and herbs. The result produces an after-meal satisfaction that is matched perhaps only by the completion of a bottle of French wine. Oh, you don't like the idea of eating rabbit? Look who's being fussy now.
10. Prik Pao (Thailand)

Like Sriracha? Prik pao puts the vaulted condiment to shame. You'll often notice the funky smell of prik pao before you see street food vendors cooking it in their woks. The blend of garlic, shallots, shrimp paste, dried shrimp, tamarind, and whole dried chilies is sour, spicy, garlicky, and strangely addictive. Thai cuisine often deploys the paste in stir-fries for a kick of complexity, though you'll also find it providing a depth charge of flavor in some tom yum soups.
11. Caviar (Russia)

Whoever came up with the phrase "they go together like peanut butter and jelly," never tasted the simple, elegant, unparalleled combination of sturgeon roe and vodka.
12. Baklava (Greece, Turkey, Jordan)

Making traditional baklava is a tedious task that requires layering buttered filo dough with chopped nuts and sugary syrup. The best recipes include rose water, which perfumes the dish to a level that makes smelling the baking dessert damn near unbearable. Somehow, biting into a baked square is light and decadent all at once. The flaky filo tickles your lips. The honey coats your tongue. And if you don't moan with pleasure, you're doing it wrong.
Source: menshealth.com