Phanaeng curry, panang curry, or penang curry is a type of Thai curry that is generally milder than other Thai curries. It traditionally includes dried chili peppers, galangal, lemongrass, coriander root, coriander seeds, cumin seeds, garlic, shrimp paste and salt, and sometimes also shallots and peanuts. A popular phanaeng curry dish is beef phanaeng, which is a dish based on beef in a curry sauce. The traditional dish contains beef cut in thin strips, kaffir lime leaves, coconut milk, phanaeng curry paste, palm sugar and fish sauce. The dish typically contains thick coconut milk and will have very little other liquids added. For vegetarians, tofu can be used in place of beef.
Phanaeng curry is named after Penang island, an island which is located in Malaysia. In Penang, this dish is mostly served by the Malay and Peranakan people of Penang.
There are 463 calories in 1 serving of Typical Restaurant Panang Curry Chicken.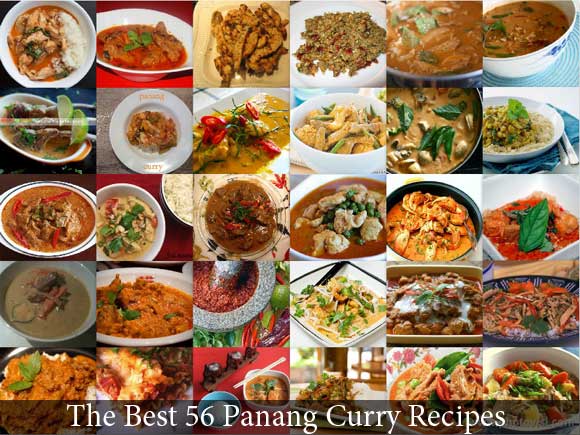 Here are the best 56 panang curry recipes, listed in no particular order. Please scroll down to vote for your favorite. Warning: this is a very image-heavy post!

1. Panaeng Curry with Beef (พะแนงเนื้อ) recipe by She Simmers
If you like your panaeng more unctuous and nuttier, this beef panaeng curry recipe will suit your taste. Remember that having fresh kaffir lime leaves on hand is essential in creating good panaeng curry. Dried kaffir lime leaves just won't do.
2. Panang Curry Lasagna recipe by The Morning News
If not making fresh curry paste, a store-bought paste should suffice, but, really, you can do better. Leftover paste will keep, wrapped, in the refrigerator for about a week and in the freezer for a month.
3. Thai Panang Curry with Beef recipe by Rasa Malaysia
Spices commonly used in Malaysian curries (coriander and cumin) are shared in this Thai curry, along with other aromatic herbs (kaffir lime leaves, lemongrass, galangal, etc.). An authentic Panang curry is fried in thick coconut cream as opposed to boiling, as in the Red curries, providing a thick, creamy, soup-like gravy.
4. Panang Curry Paste recipe by Food People Want
In this recipe, citrus notes dominate due to the heavy use of lime zest, lime leaves, coriander seeds and lemongrass.
5. Chicken Panang Curry recipe by The Domestic Man
Panang curry is similar to Thai red curry but is richer and creamier, and typically uses crushed peanuts as a major part of the dish. It is often served with beef, pork, chicken or shrimp in Thai restaurants in the United States, although beef is the traditional meat used in this dish. This recipe is made with chicken for its taste and texture.
6. Lamb Chops with Thai Panang Curry recipe by What To Cook Today?
Panang (phanaeng) curry is milder compared to Thai red and green curry and perfect to be used in meat like chicken, beef, and in this case, lamb. You gotta try this lamb chops with Thai panang curry. Very simple to make and the taste is super impressive.
7. Thai Panang Curry with Beef and Tofu recipe by My Kitchen Snippets
This dish is great to be serve with some savory rice.
8. Chicken Panang Curry recipe by Harbourside Fitness Sydney
Perfect recipe for a cold winter night.
9. Quick and Easy Thai Panang Curry recipe by In the Kitchen with Kath
This curry is made with chicken, but you could use beef (Panang Neau), Pork (Panang Moo), Shrimp (Panang Goong), or mixed seafood (Panang Talay). Feel free to substitute any vegetables that appeal to you for the bamboo and red pepper.
10. Authentic Thai Panang Curry recipe by Real Thai Recipes
Panang Curry should be dry and thick like this, and not soupy like red or green curries. While Panang is usually made with meat, some restaurants serve Panang with shrimp. It's up to you!
11. Thai Panang Curry recipe by Food Nasty
This recipe is actually quite simple to make a wonderful panang curry. The flavor of kaffir lime, coconut, and the curry paste are really fresh, and bring a bright pop to your palate; things that we tend to crave in the spring. Serve it with rice or on its own, you can even substitute the beef with chicken or firm tofu.
12. Panang Curry Beef recipe by FastPaleo
A Paleo panang curry recipe made with beef.
13. Panang Curry with Coconut Cauliflower Rice recipe by Jennifer Chong
Another Paleo recipe, for panang curry with coconut rice. Delicious!
14. Panang Curry with Beef recipe by Apple A Day
You should be able to find most of the ingredients in a well-stocked grocery store and the rest in an Asian market. Don't be intimidated by the ingredient list; you pretty much just dump everything in a food processor and you're done. Once made, the curry paste then becomes part of one seriously flavorful and comforting dish.
15. Gluten Free Nut Free Vegetable Panang Curry recipe by Simply Gluten Free
Whether you are vegan, vegetarian, or just trying to add some meatless meals to your menu planning, give this delicious recipe a try. For some added protein, serve this with quinoa instead of rice.
16. Panang Curry recipe by Recipris
This recipe started out as an experiment and was a huge success. You will love the rich flavors in this dish.
17. Thai Panang Vegetable Curry recipe by Joanne Eats Well With Others
This recipe for Vegetable Panang Curry is from Bon Appetit's October issue. It's a quick recipe with seasonally appropriate fruits and vegetables. This curry is big on vegetables and big on flavor.
18. Panang Moo (Pork Panang Curry) recipe by Thai Foodz
Panang curry's great savory taste lies in the blend of four basic tastes (sour, salty, sweet and little pungent), making the Thais love this delicious dish. This recipe is quite similar to other Thai curries that always contain meat, coconut milk, curry paste and a couple types of vegetables, except the panang curry uses less coconut milk and it also contains an extra ingredient like ground-roasted peanuts that act as a thickener, making it more viscous than other Thai curries.
19. Peanut-Free Thai Panang Curry recipe by Living Richly on a Budget
Make sure you get a curry paste that lists garlic or shallot as the first ingredients and not chili. Otherwise, it will be too spicy!
20. Shrimp Panang Curry recipe by Miss Delish
This curry is sweet and slightly spicy, with creaminess from the coconut milk. Your family will love this!
21. Plantain Panang Curry recipe by Love and a Pinch of Salt
A delicious panang curry made with plantains. Use plain, whole coconut milk rather than "lite" or "light" milk.
22. Easy, Healthy Panang Curry recipe by The Happygirl Experiment
This version of Panang Curry is quick, easy and healthy. I hope you enjoy it as much as we did.
23. Beef Panang Curry (พะแนง) recipe by Daisy & Darin
This dish is not complicated but it does require a bit of time. The time spent, however, is absolutely worth it. It is a curry dish that is not too spicy, is a bit on the sweet side, and has a lot of coconut flavor. Don't forget about the kaffir lime leaves on top.
24. Panang Duck with Homemade Red Curry Paste recipe by Paleo Parents
Once you make real curry paste with your own spices, you'll never go back!
25. Chicken in Panang Curry Ginger Sauce recipe by Travelling Culinary
Serve with Jasmine Rice for a quick and complete Thai dish.
26. Panang Tofu Curry recipe by Epicurious
A vegetarian panang curry made with tofu.
27. Panang Curry recipe by Food Mamma
This recipe uses chicken instead of beef and the veggies available in the fridge. Served with a bowlful of delicious coconut rice, it is a satisfying and comforting meal.
28. Panang Chicken Curry recipe by Rasa Malaysia
This is a really simple, painless yet delicious curry dish ready in less than 30 minutes. It tastes like it's straight from Bangkok and is as good as what you get in Thai restaurants.
29. Panang Curry recipe by For the Love of…
The secret to a good Panang curry is to invest in a high quality Panang curry paste to use in your sauce rather than relying on those bland curry powders that add little in the way of authentic curry flavour.
30. Panang Curry recipe by TuroK Like Food
To make this dish more substantial, add onions, bell peppers, peas, or other vegetables in with the chicken. This might break tradition, but it'll still taste delicious.
31. Beef Panang Curry recipe by Best Thai Cuisine Menu
Another traditional Thai beef pananag curry recipe.
32. Duck Panang Curry recipe by Gist Us
Panang Curry originally called Phanaeng curry, is named after the Penang island, it is a dry curry which is fried in coconut cream and not boiled. If you don't havebeef on hand at home, you can try using duck legs.
33. Panang Curry recipe by Gagabber
This is similar to red curry but uses dried chilies instead of fresh and has the addition of peanuts. Once you try making the curry paste at home, you'll never want to use store bought again.
34. Panang Curry with Tofu recipe by Running on Vegan
If you're vegetarian or vegan, this vegan panang curry is what you're looking for. Serve with Jasmine rice and it's perfect!
35. Beef, Green Bean and Cauliflower Panang Curry recipe by Taste.com.au
This Asian beef curry is a delicious healthy meal that can be on the table in less than half an hour.
36. Panang Curry Chicken recipe by The Divine Hostess
This Panang Chicken dish is from the Peach blossom Restaurant in Upstate New York, and is raved about by guests for its rich flavor.
37. Thai Chicken Curry recipe by Sustenance
This Thai chicken curry recipe is very simple and is quite adaptable to whatever vegetables you have in your fridge.
38. Vegetarian Panang Curry recipe by Saumya's Kitchen
"Vegetarian Panang curry" is a famous dish of Thailand, which when served with rice makes the food delicious and tasty.
39. Thai Green Curry Chicken recipe by Designer Bags and Dirty Diapers
This curry is amazing. The flavors are so rich and complex. If you don't like chicken you could sub beef or shrimp. You could also serve this over noodles instead of rice, but rice is how they usually serve the curries in restaurants.
40. Crab Panang Curry recipe by Elra's Cooking
Panang curry is spicy, of course, but also has sweet flavor from the coconut milk and palm sugar. Fragrant? Yes! Thanks to aromatic kaffir lime leafs and the lemongrass, they really add beguiling sweet-citrusy to this curry. Food that is delicious, and has good aroma, will help you to sleep better and have a beautiful dream.
41. Panang Curry Soup recipe by Rainy Day Gal
This might be too rich to be drunk. But its flavors – creamy coconut, salty chicken broth, spicy red curry – they were destined to be in sippable form. So try making this classic Thai dish into a soup that can be both eaten and slurped, both without judgment.
42. Panang Curry recipe by Finger Licking Food
The authentic Panang curry paste contains Shrimp, but this is a vegetarian version of the Panang paste and curry. The mild yet distinct flavors bite after bite, will have you hooked!
43. Panang curry with Tofu and Vegetables recipe by Home Cook Food
Concept: curry paste + coconut milk + protein + vegetables = delicious curry. You can use any vegetables or fruits you want (sweet potatoes, pumpkin, spinach, green beans, etc). This recipe uses Maesri brand curry paste, which you can get from Asian grocery stores or from Amazon, but Thai Kitchen curry pastes are good, too.
44. Panang Curry recipe by Kitchen Monki
Yet another panang curry recipe with coconut milk.
45. Panang Curry with Beef recipe by The Spicy Bee
This recipe is really a winner when it comes to having fresh ingredients on hand. What other fresh ingredients would you have added to this recipe if you could?
46. Panang Gai (Thai Panang Chicken Curry) recipe by Thai Food Recipe
An authentic Thai Panang chicken curry recipe.
47. Vegan Panang Curry recipe by Zesty Vegan
Soy-free, gluten-free, delicious, take-out at home! Try this delicious, quick vegan panang curry.
48. Panang curry with Beef recipe by Cooking with Thas
The one ingredient that makes this dish exceptionally good is lime leaves. It's just phenomenal how muchflavor the simple lime leaves impart to this dish. Serve this curry with rice noodles. This recipe definitely beats the restaurant style panang curries.
49. Panang Curry with Broccoli & Cauliflower recipe by Meez Kitchen
Say goodbye to your favorite Thai restaurant! This curry is fresher and tastier than anything you can have outside of Bangkok. It's cooking broccoli and cauliflower up in a delicious coconut and Thai basil curry. Adzuki beans and jasmine rice round it out. Yum!
50. Panang Curry Chicken Satay recipe by Suite101
Looking for something besides burgers and hot dogs to put on the grill this summer? This recipe for Chicken Satay is a good way to spice up those backyard barbecues.
51. Warm-You-Up Thai Panang Curry recipe by Steph's Apron
The perfect curry has to be… Tangy, but not spicy. Silky smooth, but not creamy. Flavorful, but not overbearing. This crock pot recipe might be of the best Panang Curry you have ever tasted: light, fragrant, and with a unique balance of flavors.
52. Chicken in Panang Curry Ginger Sauce recipe by Group Recipes
Serve with jasmine rice for a perfect quick Thai meal.
53. Panang Curry recipe by Butler Life
This recipe is not authentic, but it's delicious nevertheless. It has pesto in it which gives an amazing basil flavor to the whole dish, and a little more garlic never hurt anything.
54. Panang Curry Paste Stir Fry with Shrimp and Baby Corn recipe by Avocado Pesto
This stir fry recipe is absolutely delicious. You will probably find yourself incapable of eating this without obnoxiously slurping up the noodles and licking the sauce off the plate. Depth of textures and flavors aside, it's usually easy to throw together and quick to cook.
55. Panang Curry Paste recipe by Closet Cooking
This recipe replaces galangal with ginger and the kaffir lime with regular lime. It also freezes well.
56. Panang Gai or Panang Curry with Chicken recipe by Thai Recipes From My Kitchen
Panang curry is a common, well-known and popular dish among Thai food. The texture of this dish is pretty much like the butter chicken in Indian food – chicken in creamy thick sauce but Panang is less rich. Panang curry has a very nice scent of the chopped kaffir leaves. The scent of kaffir leaves is really pronouncing a real Thai food.
[poll id="3″]