Looking for the best Gluten–Free chicken recipes? We have compiled a list of 61 fresh and healthy gluten–free chicken recipes that are easy to prepare and really delicious!
Figuring out a gluten–free diet can be difficult, but you can rest assured that in many cases, depending on how it's prepared, chicken is safe to eat.
It is surprising how many chicken recipes are gluten free. These chicken recipes are fried, stir fried, stewed and casseroled yet contain no gluten. These high protein, healthy and delicious Gluten Free Chicken recipes will be devoured in no time!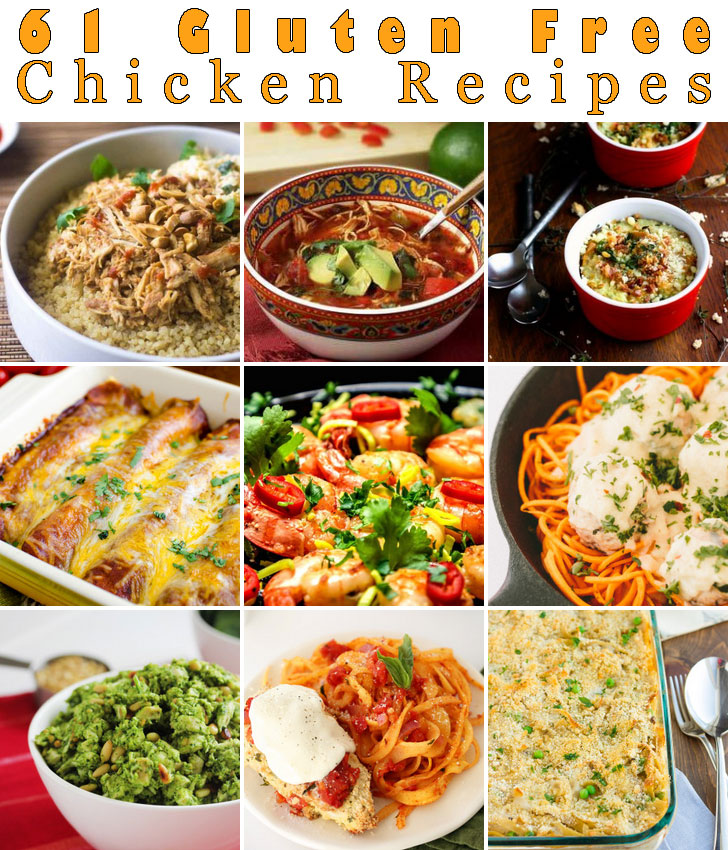 Paleo Cauliflower Alfredo with Gluten-Free Chicken Meatballs and Sweet Potato Noodles

The combo of the cauliflower alfredo with the sweet potatoes is SO good. I really couldn't find a better adjective, because the combo of flavors happening in this recipe are just solid. Really good. via Inspiralized
Gluten Free Chicken Lettuce Wraps

Don't miss out on these Gluten Free Chicken Teriyaki Lettuce Wraps. Everybody deserves to eat these flavorful Asian appetizers! Via breezybakes.com
Gluten Free Chicken Enchilada Deluxe

If you enjoy Mexican food, you will love this recipe! This dish makes 6 – 8 large enchiladas. There will be plenty for you and your whole family (and you may even have leftovers). If you happen to be a small family, I would recommend cooking only half of it, and freezing the other half, to pull out to heat on one of those nights that you just don't feel like cooking. Via chefvedam.com
Gluten Free Chicken Caesar Wrap

I just love Caesar salads but sometimes I am having such a crazy busy day that I am standing at my counter, eating lunch / dinner, and doing stuff around the house at the same time. Really not having enough time for a sit down meal I love wraps for those busy days. They are perfect for grabbing a bite. Sitting it down, and then doing something.. it's like do things around the house in between bites. Via connectglutenfree.com
Gluten Free Fried Chicken Tacos

Fried chicken isn't something typically offered as gluten-free. It's actually traditionally not, but the demand for gluten-free options is increasing dramatically. The only difference in this recipe is that we substitute all-purpose flour for cornstarch and tapioca flour, which adds that crispy crunch and doesn't retain oil. So it's healthier than all-purpose, it's not as greasy… and the taste is spot-on! Via mensjournal.com
Gluten-Free Slow Cooker Butter Chicken

The garam masala, ginger, curry paste, coconut milk, and garlic create a deliciously savoury flavour, that couldn't be mistaken for anything BUT Butter Chicken! This dish definitely hits the spot, and is a healthier version of the traditional butter chicken that is typically full of saturated fats! Via nutritionistinthekitch.com
Gluten-Free Chicken with Balsamic Peppers

This a great make-ahead dish. Assemble it, cover with foil, and chill until you are ready to bake it. Serve with a side dish of cooked rice or quinoa, brown rice pasta tossed in pesto, or creamy mashed potatoes, and crisp baby greens on the side. Via glutenfreegoddess.blogspot.ro
Gluten-Free Crispy Paprika Honey Chicken Thighs

The ultimate chicken thighs recipe infused with a delicate sweet and spicy balance of flavors. Two different types of paprika and Nektar honey crystals work wonders to create a tender, and flavorful chicken dish. Via avocadopesto.com
Gluten-Free Viking Chicken with Honey, Butter and Herbs

The recipe calls for a whole chicken; I had lots of boneless, skinless chicken breasts on hand, so I adapted, with delicious results. You can use skinless chicken thighs, if you prefer, or a couple of small Cornish hens. I ate the picnic-perfect leftovers cold the next day with cucumbers, which seemed somehow a bit Norwegian to me. Via theperfectpantry.com
Gluten-Free Crock Pot Chicken Dumplings

This spicy gluten-free slow cooker chicken and dumplings recipe is so easy to put together, you need just 5 minutes, and let simmer all day. The spicy taste {easily adjusted to your spice level!} pairs well with the sweet doughy gluten-free dumplings and tender bites of chicken and vegetables. Perfect for a busy fall weeknight that the whole family will love, just serve and enjoy! Via blessherheartyall.com
Baked Paleo Chicken Tenders

These chicken tenders are Paleo and grain-free so the crust is made with almond meal instead of rice cereal and an egg instead of Greek yogurt. Easy peasy! Via popsugar.com
Spicy King Ranch Chicken

I wasn't feeling well yesterday and wanted to curl up in the fetal position all night. But I didn't, I made one of my comfort foods instead (this recipe!). And today, I am all better! Spicy King Ranch Chicken fixes 24-hour bugs y'all….! Via blessherheartyall.com
Gluten-Free Chicken Schnitzel

The challenge of creating a gluten-free schnitzel rests not only with pounding the cutlets (pork, veal, chicken and turkey) paper thin (between 1/8- to 1/4-inch thick), then dipping it in egg and then flour and breadcrumbs but, the final test, frying it quickly to what makes a schnitzel a schnitzel: crisp on the outside and tender and juicy on the inside. Via gffamilyfood.com
Cheesy Chicken Enchiladas with Homemade Gluten-Free Enchilada Sauce

Cheesy Chicken Enchiladas with Homemade Gluten-Free Enchilada Sauce will please the whole family. Make ahead, and so simple! Via iowagirleats.com
Gluten-Free Chicken Parmesan with Rutabaga Noodles

Now, this chicken parmesan is my "ultimate parm" recipe. By using almond meal instead of processed breadcrumbs, you get extra nutrients and flavor. Plus, a bag of almond meal lasts much longer than a bag of bread. Via inspiralized.com
Ugly Chicken Dinner

Ugly Chicken Dinner – a Gluten Free Recipe which is a delicious chicken stew. Via thekitchenmagpie.com
Make Ahead Freezer Chicken Fajitas

You're going to love this easy and healthy recipe for make-ahead freezer chicken fajitas. Simply combine all of the ingredients in a plastic freezer bag and freeze for a busy weeknight. Then, when you're ready to eat, cook it in a big pan on your stovetop. Easy-peasy, dinner is done! Via newleafwellness.biz
Crockpot Chicken Soup with Mexican Seasonings

You're going to love this twist on traditional chicken noodle soup. It's gluten-free, dairy-free, delicious, and so easy to make! Via newleafwellness.biz
Gluten Free Dairy Free Honey Bourbon Chicken in the Slow Cooker

Gluten Free Dairy Free Honey Bourbon Chicken is a snap to pull together and, because is cooks in the slow cooker, is an easy meal to serve your family. Via onceamonthmeals.com
Slow Cooker Chicken Curry

This recipe for slow cooker chicken curry is absolutely delicious and so easy to make. I promise that even your pickiest eaters will love it! Via newleafwellness.biz
Slow Cooker Asian Chicken Lettuce Wraps

This recipe for slow cooker Asian chicken lettuce wraps is sweet, slightly salty, and so easy to make. If you think slow cooker recipes are only for cold weather, think again. Add this light and delicious recipe to your must-have list this summer. Via newleafwellness.biz
Gluten Free Asian Chopped Chicken Salad

I've combined the gluten free chicken breast tenders with a quick and easy Asian chopped salad and a gluten free orange ginger salad dressing in the salad recipe below. You can also use the dressing as dipping sauce if you think your younger kids won't like the Asian Chopped Chicken Salad. They can have the chicken tenders with some mandarin oranges on the side instead! Via thismamacooks.com
Gluten Free Cauliflower Chicken Fried Rice

The winter is quickly approaching and that can only mean one thing; I will be eating my body weight in horrible food. Without a doubt, every single year I begin to ferociously shovel high calorie and greasy food into my body. So this year, I wanted to end this delicious and viscous cycle. I took off to the kitchen and started to flip through all my favorite recipes in my mind. Man do I want Chinese. Voila! Chinese food! I decided to make a healthier version of my favorite meal. Today, I will showing you how to make incredibly simple, yet tasty Cauliflower Chicken Fried "rRice". Via theglutenfreechefblog.com
Posana's Gluten-Free Fried Chicken

We're in the heart of comfort food season and, for some people, that means fried food. This week for Recipe Friday we're sharing our gluten-free breading, perfect for fried chicken or pork chops. Via posanarestaurant.com
Grilled Chipotle Orange Chicken

I like to serve this tangy, gluten free chicken dish with grilled broccoli. And what do I like best about this meal? No pots to clean! Via elanaspantry.com
Korean Fried Chicken Wings

From Edward Lee, author of Smoke and Pickles and chef at 610 Magnolia and Milkwood in Louisville, KY. Via bonappetit.com
Vietnamese Chicken Noodle Soup

Chef and author David Tanis insists on making broth for this restorative and iconic soup (pho ga) from scratch and warns against over­cooking the noodles: "They should be pretty firm and snappy, not flabby." Via bonappetit.com
Chicken and Rice Patties

My kids adored these. They thought they tasted just like my fried rice. I wasn't sure I would like them cold and while they are even tastier hot, they did taste great cold too. I made these for school lunches, but they would make a great picnic food or made in mini muffin trays they would be a great finger food for a party. Via planningwithkids.com
Gluten Free Chicken Rice Paper Rolls

I do like rice paper rolls a lot! This recipe also contains sweet chilli sauce which is a stand out flavour addition for me. This recipe is gluten free, but do check when you buy your rice paper sheets to make sure there is no wheat flour contained in the ingredient list if it is important to you that the food be gluten free. Via planningwithkids.com
Gluten Free Grilled Orange Chicken

If you, like me, miss the taste of orange chicken at the mall you will be happy to know that you can make a much healthier grilled version very easily with the help of some honey and gluten-free Orange Sauce from San-J. With a little forethought, I can have this recipe mostly prepared and waiting in the fridge for me when I return from shopping and finish my mall experience at home. Via howtocookspaghettisauce.xyz
Homemade Chicken Spring Rolls

My kids keep asking me to make these for their lunch boxes. They loved them and I now make them in bigger batches as this batch only lasted a day. You could add all sorts of grated veggies to the chicken mixture, but I opted to go for straight chicken. While they do take a little time to make up, setting yourself up a production line works well. Via planningwithkids.com
Gluten Free Meatballs

My kids are big fans of the meatball and I am pretty partial to them myself, but since dropping gluten amongst other things from my diet, I haven't been eating them when I make them for the family. I have tried a couple of different gluten free versions and found them lacking in taste, but this weekend I cracked it! Tasty, tasty gluten free meatballs that the kids and I both love. Via planningwithkids.com
Spatchcocked Chicken with Fingerlings and Brussels Sprouts

This recipe is just a whole, albeit organic, chicken with a few fingerling potatoes and a handful of Brussels sprouts. By removing the backbone or spatchcocking the chicken, it cooks more quickly, and you get a super moist, and fabulously crispy chicken. Via pamelasglutenfreerecipes.com
Gluten Free Chicken Pot Pie

This recipe can be prepared with just about any meat, or none at all. And the veggies can range from frozen or whatever's fresh at your farmers market! It freezes fantastically & can be prepared in bulk so you can have it ready for dinner in a pinch! Via alittleinsanity.com
Kung Pao Chicken [Vegan, Gluten-Free]

A veganized and gluten-free version of a Chinese takeout classic, this Kung Pao "chicken" makes use of soy curls to give the dish a chewy, satisfying bite. Via onegreenplanet.org
Easy Gluten Free Herbed Chicken and Biscuit Bake

A comfort food made healthy, gluten free, and ready in under 45 minutes. Via cottercrunch.com
Creamy Cauliflower Chicken Baked Pasta {Gluten-Free, Dairy-Free}

This is recipe is designed to be adapted to your allergy needs. If you have no food allergies and just want a delicious cauliflower sauce, use milk and the parmesan cheese. I personally can eat butter, so I use that along with the cashew cream and no parmesan cheese. The soy sauce may seem like an unusual ingredient, but it adds a delicious savoriness to to sauce! For the topping I use a homemade dairy-free parmesan cheese and gluten-free breadcrumbs. Again, if you can eat hard cheese use regular parmesan if you like. Via blog.meaningfuleats.com
Gluten Free Chicken and Dumplings

One thing that makes this recipe so special is the topping – a combination of bacon, mushrooms, and green onions that is sprinkled on top of the soup when served. It is of course totally optional but if you eat bacon I suggest you give it a try – trust me on this! Via simplygluten-free.com
Baked Chicken with Cherry Tomatoes and Garlic

This dish produces a lot of flavorful liquid. You can remove the chicken, tomatoes, and garlic to a serving dish and pour the strained liquid into a small saucepan and boil until reduced to a thicker sauce. You can pour this sauce back over the chicken or pour it over rice or pasta. Via simplyrecipes.com
Gluten Free Chicken and Chorizo Jambalaya

This Gluten Free Jambalaya recipe is the perfect dish to serve both for either a family dinner or upscale it and it will easily feed any number of guests. Via coeliacpages.wordpress.com
Gluten Free Spinach Chicken Alfredo Pizza

This GF Freschetta Pizza is packed full of cheesy chicken alfredo flavor with a deliciously crispy gluten free crust. On it's own it has plenty of mozzarella cheese straight out of the box but you can add some extra to hold all the spinach chicken alfredo toppings together. Via flouronmyface.com
Chicken Tikka Wings (Gluten Free)

The yogurt helps tenderize the chicken; the spices in the marinade infuse this popular mild Indian dish with lots of flavor. Via food.com
Southern Fried Chicken Recipe (Low Carb and Gluten Free)

A low carb and gluten free recipe for Southern fried chicken. Via ibreatheimhungry.com
Gluten Free Chicken Parmesan

Gluten free chicken parmesan has all of your favorite classic Italian flavors in a gluten-free meal the whole family will love. An easy and delicious dinner. Via foodfanatic.com
Chicken Enchilada Casserole (a.k.a. "Stacked" Chicken Enchiladas)

This chicken enchilada casserole recipe — a.k.a. "stacked chicken enchiladas" — is simple to make, gluten-free and also easy to adapt to be vegan. Oh, and it's also CRAZY good. Via gimmesomeoven.com
Gluten Free Chicken or Turkey Biscuit Pot Pie

Gluten Free Chicken or Turkey Biscuit Pot Pie is the perfect recipe for left over cooked poultry with an easy biscuit topping! Via sugarfreemom.com
Pumpkin Chicken Enchiladas

Don't be turned off by the pumpkin sauce because it really does well as the base for this enchilada sauce. And besides, pumpkin is very nutritious. Here is Martha Stewart's recipe with just a few minor adjustments. Via glutenfreemommy.com
Gluten-Free Chicken and Leek Pie

When you're trying to avoid gluten, cooking comfort food can be a challenge, but with this easy gluten-free chicken and leek pie recipe, whipping up your favourite pie couldn't be simpler. Packed with big chunks of meat, savoury leeks and rich, creamy sauce, you'll never know the difference – and once you've mastered gluten-free pastry you can make all sorts of other classics too! Via goodtoknow.co.uk
Slow Cooker Indian Chicken Curry

Just throw a few things in the slow cooker and let the smell of the spices warm the whole house. A half hour before you're ready to eat, cook up some basmati rice (I love my Zojirushi for this!) and stir in some peas for a low calorie, gluten-free meal. I also like to whip up a quick raita of nonfat yogurt, shredded cucumber, and cilantro. Via homesweetjones.com
Crock Pot Sesame Honey Chicken

Sweet, savory and a little spicy, this simple Asian inspired chicken dish has a balance of flavor combinations – serve this over your favorite rice and dinner is ready! Via skinnytaste.com
Thai Chicken Quinoa Bowls {Crockpot}

These Crockpot Thai Peanut Chicken Quinoa Bowls are topped with peanut sauce and a spicy cabbage slaw to make a tasty, gluten free and healthy meal! Via foodfaithfitness.com
Paleo Crock Pot Chicken Soup

One of the things I love about this simple soup is that it is so quick and easy to put together. Just add everything to the crock pot and walk away. The slow cooker does all the work — it's perfect when you don't have the time (or the energy) to do anything else. Via cookeatpaleo.com
Slow Cooker Southwestern Chicken and Quinoa

What I love about this recipe is that it is made in the slow cooker and the hands-on time is minimal. The quinoa is added at the end so it soaks up the juices from the slow cooker, making it packed with flavor. It's also a one-pot meal, which is always great when it comes to clean up time. Between the chicken breasts, the black beans and quinoa, it's a protein powerhouse so it's also very filling. There is just enough heat for my tastes, but you can easily adjust the amount of heat to your tastebuds by using hot salsa or adding more cayenne pepper. Whether you indulged a little too much this weekend or just want a delicious, easy, healthy meal, this one is great. Via heatovento350.com
Slow Cooker Cashew Chicken Curry (gluten & dairy free!)

Healthy, whole grains, with this delicious curry sauce that is high in protein, a great source of healthy unsaturated fats, and it also has tumeric which is a well known healing spice! Via nutritionistinthekitch.com
Crock Pot Garlic Chicken

This gluten-free meal is from Fresh 20, the innovative recipe service featuring quick to make, healthy, budget-friendly meals (that are delicious)! I love all three of these recipe and I know you will too. A Fresh 20 Tip: No crockpot? Follow same directions as below, but put into a large pot with lid, such as a Dutch oven. Add 1 cup water to the pot and cook at 350 degrees for 2-3 hours. Via boulderlocavore.com
Crock Pot Buffalo Chicken Chili

I loved the easiness of this chili and my boys loved crunchy carrots. It really felt like eating chicken wings sans fat. I topped my chili with low fat feta cheese. If you are a fan of blue cheese ( I am but didn't have any on hand), you could use a bit of it for a true buffalo chicken wings experience.:) Via ifoodreal.com
Paleo Crockpot Chicken Fajita Soup

Lots of rich flavors with protein-packed chicken, zippy peppers, and a good dash of warm fall spices. No grain tortillas in this gluten-free recipe of course, but it's loaded with veggies. So yummy! Via paleonewbie.com
Crock Pot Whole Chicken

Preparing this main dish was surprisingly easy and enjoyable. For hands on preparation, all you do is to mix all the dried seasonings and rub the mixture on a cleaned chicken. You don't have to worry about a thing from that point because the chicken will be soaking up the savory spices at night in your fridge while you are having your sweet dreams about it. Via gourmetpersuasian.com
Crock-Pot Pesto Chicken Salad

Making crock-pot shredded chicken is as easy as 1-2-turn it on and leave. I love this lunch in particular because you can do a lot with it. I eat it in plain a bowl, wrapped in a lettuce leaf, top it on a salad, etc. Anything you'd like to do with pesto chicken, do it here. Delicious, easy, and makes a lot! Via lexiscleankitchen.com
Easy Slow Cooker Pulled Chicken

This Easy Pulled Chicken is just that, EASY! If you have a slow cooker, or a crockpot at home, that's all you really need. It tastes amazing, and is super versatile! Via nutritionistinthekitch.com
Gluten-Free Orange Chicken in the Crock Pot

This recipe for orange chicken is just as good if not better than any take out. The chicken is tender and the citrus sauce is sweet and tangy. It's made from natural ingredients and of course it's gluten-free and allergy-friendly. Via realfoodallergyfree.com